About

Having worked as a professional writer for more than 20 years, Monte Cook can honestly say that he's never had a real job. As a fiction writer, he has published numerous short stories and two novels, The Glass Prison, a heroic fantasy set in the Forgotten Realms, and Of Aged Angels, a modern day conspiracy and paranormal tale. He attended both the prestigious Clarion West SF&F writer's workshop and the NASA-funded Launchpad workshop. As a comic book writer, he has written a limited series for Marvel Comics called Ptolus: Monte Cook's City by the Spire, as well as some shorter work. As a nonfiction writer, he has published the wry but informative Skeptic's Guide to Conspiracies.
His work, however, as a game designer, is likely most notable. Starting in 1988, he has written hundreds of tabletop roleplaying game books and articles and won numerous awards. Although he started working for Iron Crown Enterprises, managing the Rolemaster and Champions game lines, he soon went to work for TSR where he worked on Dungeons & Dragons, and in particular the Planescape setting.
Monte is likely best known for D&D 3rd edition, which he codesigned with Jonathan Tweet and Skip Williams. In 2001, he started his own game design studio, Malhavoc Press, and published such notable and award-winning products as Ptolus, Arcana Evolved, and the Book of Eldritch Might series. As a freelance game designer he designed Heroclix, Monte Cook's World of Darkness, and has worked on the Pathfinder rpg, the Marvel Comics massively multiplayer online game, as well as numerous other games and related projects.
You can read his ongoing Cthulhu Mythos fiction in Game Trade Magazine each month and his thoughts in his column on games in Kobold Quarterly. He is
currently hard at work on new stories and games.
Oh, and in his spare time, he investigates the paranormal on the Geek Seekers web series.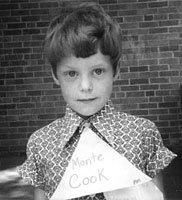 He's a music snob, a movie buff, a Lego maniac, and a number of other only mildly accurate sobriquets.