Comics in Review
In between writing Numenera and trying to organize the logistics of launching a game line next year, I have been reading a lot of comic book trade paperbacks. I used to scoff at people who only read collections–I was a "get each issue every month" kind of comic fan. But now I have completely flip-flopped and now only read the collections. At first I thought this was because my available reading time had changed–I found that I was saving up issues and reading three or four of the same title at a time anyway, and trades store better than individual issues. But that's not really the reason. I was subconsciously saving up issue because modern comic storytelling has evolved so that 4-6 issues at a stretch is the best way to enjoy the story. Gone, for the most part, are the single-issue stories. Reading a comic book today is like watching an hour-long television episode 15 minutes per month. (And to get even more meta, many shows today are created to be best enjoyed with multiple episodes at a sitting, on DVD or Netflix–but now I'm way off topic.)
So I've read a lot of comics lately. Here's some short reviews of a few:
The Manhattan Projects Vol 1: What if the collection of scientists working on the atomic bomb project at the end of WWII were actually working on far more advanced projects, and the bomb was a cover story? And what if those scientists–Oppenheimer, Einstein, Von Braun, etc. were all insane, drunkards, or downright evil? That's basically the premise of this comic. The first collection of issues never gets much farther than this premise. It's interestingly written and in many ways innovative. The art is very reminiscent of Frank Quietly's work, but that's a positive thing for me. Something about the comic just doesn't completely appeal to me, though. Maybe because some of the people in the comic are sort of heroes of mine and they're not depicted very favorably. Maybe because all the ideas in it just don't quite gel. But maybe they will eventually, and I like it enough that I'll read Vol. 2 when it comes out.
Captain America and Bucky: I will read anything Ed Brubaker writes. That said, this look at the early days of Bucky was a little thin. I'm not actually sad that Brubaker left Marvel. He was starting to write too many books at a time. I'd rather see him focus on more creator-driven stuff like Fatale.
Fatale, Vol 1: I couldn't put this book down. Brubaker takes a familiar story type (pulpy crime noir with occult undertones) and makes it all compelling and fascinating. This book is the perfect example of how great writing can take something you've seen done to death and make it not just fresh but riveting.
Frankenstein Agent of SHADE Vol 1: I tried all the New 52 books from DC. All of them. The first couple issues. And I wasn't compelled to keep reading any of them. Even former favorite Grant Morrison's work with Superman or Batman. On someone's recommendation, however, I read this collection, and, while I read the whole thing, I ended up feeling rather unimpressed. The premise is that Frankenstein and some other familiar monsters are all part of a secret agency go out and fight still more monsters. It's Hellboy redone the same way as Atomic Robo is Hellboy redone, but not redone nearly as well. DC has completely lost me other than a couple of Vertigo titles (Fables and Unwritten). Sad face.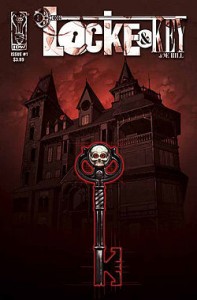 Locke & Key Vol 1 through Vol 4: This. This is great stuff. It's a horror comic about a family living in a house with a lot of keys that do really imaginative, supernatural things. There's a lot of dark past, a lot different agendas, and the choices people make have real consequences in the ongoing story. I like the art, but mostly I like it for the writing. Joe Hill, not surprisingly, does the Stephen King thing (mixing believable, interesting real world characters and events with supernatural horror) very, very well. This is my favorite series at the moment.
Kull Vol 2 and 3: This series from Dark Horse take the less-well-known version of Conan and gives him an identity he didn't really have in comics before. Kull is both a leader and a fighter here, softer than his better known barbarian successor (if you don't know, Kull lives in the same universe as Conan, but hundreds of years before) but still extremely capable. He lives in a slightly more fantastical setting than Conan as well, so if you want REH sword-swinging but also want to see more monsters and magic, check this out. This title is well written and the art is very enjoyable. I'm a huge Dark Horse fan, and read a great many things they produce–Conan, Solomon Kane, and all the Mignola stuff–and I'm rarely disappointed.