I Like My 20-Sider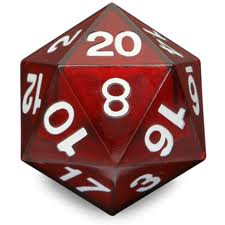 Last week I talked about how I was designing a new system rather than using the well-known d20 System that I helped create. The d20 System, of course, gains its name from the fact that its most common die roll is the d20. It lies at its core mechanic.
And I must admit, while I don't want to use the d20 System for my current project, I still really, really like 20-siders. There's something uniquely satisfying about its shape and how it feels in your hand. There's something iconic about the thrill of rolling a 20 and the crushing defeat of that oh-so-terrible 1.
The Flaws of the d20
There's some problems with my favorite die though. Using the d20 introduces a great deal randomness into a game. It's difficult to use a d20 as a task resolution die and still have character aspects play as a big part in success or failure without all of a sudden finding yourself using pretty big numbers. A smaller die would offer a narrower range, and a set of dice (say, 3d6 or something) offers a nice, reliable bell curve.
For example, consider a smaller die, let's say the d10. Once I'm adding at least +6 to a d10 roll, what I'm adding is more significant than the die roll (averaging 5.5). So anything from, say, +3 to +7 makes your bonus–presumably coming from your training, natural ability or both–very significant. It means that capable people aren't going to fail as often as those with less training. But with a d20 (averaging 10.5), those same numbers would have to be much larger.
Worse, there are wild and wide swings of randomness with a d20. Even though the "average" is 11–we'll round to the nearest– you have just as much chance to roll a 20 as an 11. (And I put "average" in quotes because it's more accurately the "median.") Let's say someone who doesn't know what he's doing with a bow adds a +1 because he's got decent hand-eye coordination. Let's say you've got an archer with some skill who adds +8. Now let's say that the target number to hit a bullseye is 20. The archer hits that any time he rolls a 12 or higher. That's 45% of the time. He's awesome. But the guy who's never picked up a bow before still hits the bullseye (not the target, but the bullseye) 10% of the time, just because of the way the die works. Now imagine that you used 2d10 instead. 2d10 gives us a more normal distribution. In other words, you end up with a much better chance of getting a 10 than a 20. Using the same bonuses, the archer still hits the bullseye 45% of the time, but the unskilled guy only 3% of the time. That makes more sense.
But man, I like how that d20 rolls. And so do a lot of gamers. Plus, using one die means I'm not adding two numbers together all the time. (Or, in the case of a dice pool, searching through a bunch of dice looking for those that give a certain result.)
Easier on the GM
There's another big advantage to one die. If you're using a system where the GM has to assign a target number for a task, it's a lot easier to do that on the fly with a d20 than, say 3d6 or 2d10. Why? Because with a d20, the difference between, say, 17 and 18 is the same as the difference between 8 and 9. They're basically just 5% increments. That means that if I figure a character should have about a 75% chance of success, the target number should be 6, because I'll roll a 6 or higher 75% of the time. With a bell curve, that's a lot harder to figure for the GM, particularly on the fly. And one of my goals is to design a game that is very easy to run.
Of course, that assumes just a flat die roll, without modifiers.
I am currently working on the premise of using the d20 as a task resolution die, but without a lot of situational or character skill or ability modifiers, and a different set of assumptions about what it means to be good at something. Basically, things like skill and favorable circumstance don't add modifiers to your roll, they change the target number you're looking for. While this is mathematically similar, the target number is reduced in large, meaningful steps that are quite different than a +1 to the roll, most importantly because you can reduce the target number down enough steps for assured success if you've got a lot going for you (or the task wasn't that tough to begin with).
What that means is that you're not often adding much to the roll. Most of the time, nothing at all. It makes task resolution–and in particular combat–move much, much more quickly if you're not waiting for people to add together numbers (or to ensure they have all their various miscellaneous modifiers accounted for). Setting target numbers never has to involve ridiculously high values, even for really tough opponents and/or PCs. If you're never adding more than a bit to the roll, the d20′s numerical steps become 5% steps, more or less, which is intuitive and easy to work with.
Now, of course, if that's true, game-design-wise I'm just a few changes away from using a BRP (i.e., Call of Cthulhu) style percentile system–which is a game system I've always loved too–but now we're back to that whole d20-as-visceral-object-I-like-to-roll issue.
Player Authority
As I wrote earlier, I'm toying around with ways to give players more authority over their own characters' actions by allowing them to focus their effort at certain times. This can be expressed as a way to further lowering of the task's difficulty a few steps (rather than say, a bonus to the roll). This particular setup also allows me to play around with a lot of factors. I could, for example, attach special properties to either natural die rolls (not unlike a crit on a nat 20 but expanded, or developed differently) or, alternatively, I can attach those to the lowering of the target number, which puts more authority in the player's hands and less in the dice. Or maybe even some combination of the two.
There's still a lot of development to do, and ideas are actually changing and evolving on the project very quickly at this point, but that's how it looks at this moment. More alpha testing may develop this further.
 One Last Note
Before you ask, I'm familiar dice pool mechanics, and enjoy games that use them. I haven't mentioned them in the above analysis, but I considered different dice pool mechanics in my design. Most end up producing a bell curve (or something similar) of results, and I know that a lot of people like bell curves. However, the conclusion that I came to is that I'm not sure a more normalized set of results is right for this project. First of all, like I said, it's harder on the GM to assign difficulty. Second, I like the flat progression and the swings of fate it provides.
But like I said, I know that a lot of people like bell curves. Playtesting may show that something more like 3d6 is better than 1d20. If I want a more normalized distribution, though, I lean toward 2d10, actually. And here's the thing–the game system that I'm working on is simple enough that it would be easy to include rules for using different die mechanics right in the rulebook, say in an appendix. There would be implications, of course, and I could cover that. 2d10, for example, would make easy tasks easier and hard tasks harder, but not so dramatically that it wouldn't be workable.
Or, if I wanted to go really crazy, I'd use a mechanic that would allow me to keep my beloved 20-sider and yet produce a bell curve. To do this, you just roll three twenty siders and ignore the high and low rolls of the three. Very weird in game play, but it would end up with normalized results.
Dice are funny little creatures. They really can do a lot, though.
Pingback: Numenera – Dice in Numenera

Pingback: Dados en Numenera | Numenera.es