Kicking It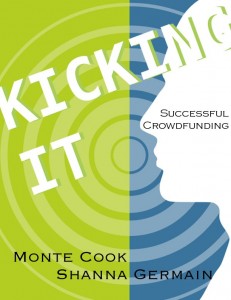 So, as you probably know, I spent a good deal of my summer planning and managing a Kickstarter campaign for Numenera. A lot of that was simply watching other people run their campaigns, and seeing what I thought worked and what didn't. It also involved a lot of research into crowdfunding in general. The campaign was not only successful, but we reached 2586% of our goal to fund at over half a million dollars.
Shanna Germain also ran a successful Kickstarter campaign in recent months, Geek Love. After a lot of discussions about our campaigns, crowdfunding, what worked and didn't work for us, and what seems to work and not work for other people, Shanna and I decided to write a book.
That book is Kicking It: Successful Crowdfunding. It is now available in PDF, .epub and .mobi from DriveThru or in .mobi (that's Kindle format) from Amazon.com. We hope to have other formats soon.
Kicking It provides a step-by-step guide through all the choices you will have to make while planning and–just as importantly–managing your crowdfunding campaign. While it does focus on Kickstarter, the most popular platform for crowdfunding (by far), it also takes a look at others as well.
Topics covered include:
Planning and scheduling your campaign
Creating a plan that utilizes the unique nature of crowdfunding to your advantage
Devising the best sort of backer levels
Designing stretch goals
Getting the most out of your launch
Dealing with backers
Spreading the word
Getting the most out of social media
Getting through the lackluster "middle" part most campaigns face
Having a big finish
How to handle fulfillment and other issues
And more, including a lot of little tips and tricks that you just won't know about until you've run a Kickstarter or two. It's perfect for people who would like to run a crowdfunding campaign and never have, but it's useful even if you've run one and plan on one day running another. It also would be a good read if you're just interested in the whole "Kickstarter phenomenon."
I hope you'll check it out!