Ninth Worldbuilding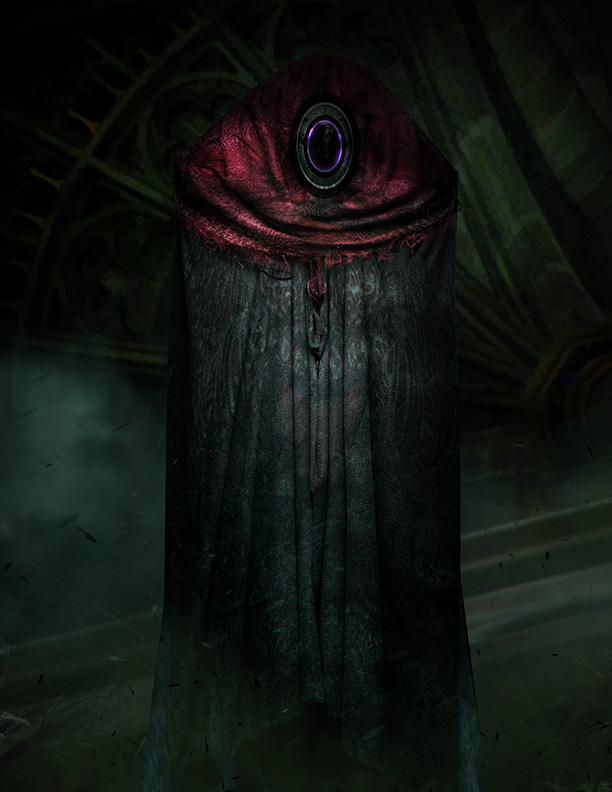 The Ninth World is the setting for Numenera. Building this world is one of the real joys for me as a game designer. As Shanna Germain and I develop the setting, we are using a technique that I developed for my book, Ptolus. That technique is something that I refer to as the microscope approach.
The Microscope Approach
With a microscope, you can closely examine things. And perhaps the best part is, you can choose different magnifications when you look at things. With the microscope approach to setting design, I do the same thing. When discussing a particular area, I might provide one level of detail that gives the reader information about the ruler of that region, some of the larger cities in the area, and maybe a paragraph with 1-2 interesting locations. For another region, however, I might increase the magnification and provide not just a bit of information about the ruler, but an in-depth look at her and the political situation of the land, and the other major players. Then, perhaps, one of the cities in that area gets an even further increase in magnification. Rather than just a few sentences, the city gets a map, a discussion of its own leaders, and descriptions of important locations.
Adventure material can be presented in the same fashion. At the lowest magnification, you might just have a list of adventure ideas. A greater magnification might provide a brief synopsis of the action with some of the potential outcomes. Still another increase in magnification would provide a map and a general outline of the ways in which things might go. The greatest magnification, of course, would be a full-blown adventure with each encounter provided in full detail.
The weird thing about this approach to some readers is that not all the material of a given type is presented at the same magnification. One huge city might get a few paragraphs while another gets a full page. Many villages might not get any description at all, while another might get a detailed write-up larger that the description of some entire kingdoms. This isn't random or haphazard inconsistency, however. There's a method to this madness. In effect, all setting and adventure material gets precisely the level of detail it needs.
Serving the GM
Sometimes, a GM needs different things from different bits of material. While a GM might need a great deal of attention on a village, he doesn't need that amount of attention on every village (and he doesn't need or want a book that is thousands of pages long, which is what would happen if everything got the maximum magnification). And sometimes, all the GM really needs is an example–a good look at one Ninth World village, for example, will inspire and inform most GMs to enable them to create their own if need be.
Further, different GMs have different needs. Some GMs have the opportunity to expand on material and spend time developing original creations. They appreciate a lot of room to exercise their own creativity within the bounds of the setting. They need little more than a few ideas to get them started. Other GMs have less time. They need a lot more done for them. They can use the fully-fleshed out material in the book with little time commitment.
Still other GMs might find the concepts in Numenera intriguing but difficult. After reading and using the more detailed material, they'll be ready to create their own with more confidence.
Room For Creativity
While there will be plenty of material that gets a high level of magnification in the Ninth World, and there will likely be more with support products that come later, it's an important goal of mine to make it friendly to GMs who like to create their own stuff. First of all, the very nature of the Ninth World, with its isolated communities, and difficulty and danger of traveling and communicating, makes it easy to insert an interesting site, village, town, or even a whole city that had been heretofore unknown. It's a wild and unexplored world, full of mysteries of all kinds. There's almost nothing that a GM could create that he couldn't plunk down almost anywhere on the map and have it make sense.
And that also is due to the design approach of the world. Even the more settled areas, which are called the Steadfast, don't present themselves in a "completist" sort of way. In other words, when I write about the land of Navarene, and I talk about some of the cities there, at no point is there any suggestion that those are all the cities of Navarene. Likewise (but even more so) with smaller communities, natural features, weird locations,  fortresses and castles, ruins, crashed starships, secret bio-mechanical factories, ancient interdimesional gateways, and well, you get the idea.
It's important, in fact, for the essence of the Ninth World, that at no point does it feel fully understood, fully detailed, or "finished," because those things are incompatible with weird, with mystery, and with amazing, astounding discovery. And those are important parts of Numenera that we can't do without.