Numenera Update, plus Aliens, Mutants, and Transmissions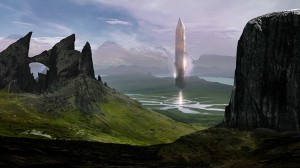 Things are going really well for Numenera. The playtest has been going strong for weeks, and the playtesters are providing good feedback. We've also got the first round of artists beyond lead artist Kieran Yanner working on the game now, and everything is coming out astonishingly beautiful. Look for some great new art previews in January.
All the related stuff–dice, screens, the licensed Thunderstone deck building game, the t-shirts, and everything else–is also on track. It's a lot to manage, but so far so good. I'm excited to put this all together and get it into people's hands, both our Kickstarter supporters and new fans that come along as we proceed toward the release date next summer. (And I can tell you that there's at least one more, really big surprise announcement coming quite soon!)
Design-wise, the Ninth World is getting fleshed out with weird locales, cities, and organizations as well as creatures and characters and all sorts of fun stuff. I think I'll write more about that extensively next time. I will say that I've created two non-human races for PCs (as a special, optional choices–they're more complex so they're probably not for beginning characters) and I'm quite jazzed about them. Collectively, they are called visitants. Both are the descendants of extraterrestrials that came to Earth a million (or more) years ago when our planet was the hub of a vast interstellar empire. That fact makes them intriguing all on its own–their ancestry is from a completely alien world, but as a species they've been on Earth for longer than we 21st-century humans have been here in our time. So are they truly alien or not? I can tell you one thing. They're not humans in furry suits or with bumps on their foreheads. They are my take on truly alien species, while still being playable by human players. We shall see what playtesting says. A third type of optional race that I want to work on are playable PC mutants (lots of PC options in Numenera assume some level of biodiversity or mutation, but I'm talking hard-core full-on science fiction mutants here), but the amount of space that would be required to do them right might necessitate that they go into a later book. The Ninth World Bestiary would not be inappropriate. Still, I'm going to give this further thought.
Lastly, It occurs to me that when I posted about podcasts last week, I didn't mention one because I wasn't a guest on it, but it's still one that's quite cool. It's called Transmissions from the Ninth World and it is, yes, you guessed it, a fan-created podcast for Numenera. I didn't even know it existed until episode 2 was out. Anyway, it's cool, it's insightful and informative, and I recommend it. I'm going to be a guest on it sometime quite soon.