The New Hero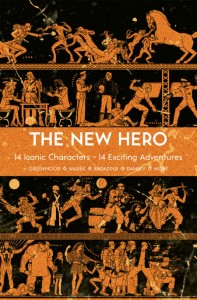 I have a story in the Stone Skin Press anthology, The New Hero, which is coming out soon. You can check out the cover art at the link. That's my story being depicted on the top panel. I hope you'll enjoy reading about Iona and her psilent hound companion, Duncan.
Duncan's ears perked up. He growled at the sorcerer. A good length of Eradian rope bound Nihilan's hands, ensuring that he could work none of his necromancy, but that did not keep the stalwart canine from watching the prisoner with a suspicious eye.
'Easy, boy,' Iona said. 'He won't cause any more trouble. Isn't that right?' The last remark was aimed at Nihilan, but she of course expected no answer, due to the gag in his mouth.
You can never be too careful with his kind, Iona.
Iona sat astride her roan, Lotus, with Nihilan's rope lashed to the saddle. She pushed her brimmed hat back so that it dangled behind her neck by its leather cord. Long, reddish brown tresses spilled from her head. She heard Duncan through the psilence, but didn't bother to answer him directly. Instead she just smiled.
A normal dog wouldn't be able to interpret such a gesture, but Duncan was a soulbound companion, far from a normal animal.
And as a soulbound knight, Iona was no ordinary woman.