The Shandler Chronicles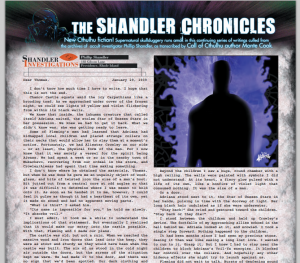 The Shandler Chronicles, my serialized Cthulhu Mythos fiction, is featured free each month in Game Trade Magazine.
Assault on Chanov Castle! With little time left to lose, Shandler, Fleming, and crew breach the walled defenses of the castle ruins under the cover of darkness. Once inside, a cursory search of dank passages and foreboding stairwells leads the intrepid and determined men to a dimly lit alcove. But, nothing could have prepared them for the spectacle awaiting them in the antechamber – of a fuming Adriana bristling with Vril-Ya energy and a fiery, pulsating bonfire of violet light that yawns to receive them! Read the entire chapter here.