Small Matters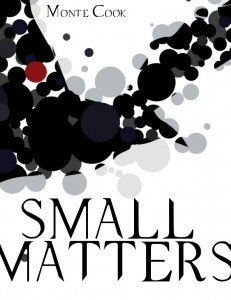 Small Matters is a new collection of some of my short fiction. It includes seven stories, all of which are science fiction and fantasy tales. As the title might suggest, these are not stories about saving the world or mighty quests to defeat the ubiquitous dark lord. These are smaller stories. Nevertheless, they have big implications for the lives of the characters involved.
The stories include:
Familiar Things: A tale of magic and wizards, told from the point of view of a no-nonsense raven familiar. This is a story about loyalty.
World of Glass: A pair of sorcerer-seeking hunters makes their way through a very deadly realm made entirely of glass. This is a story about vengeance.
Of Course I'll Still Love You: In the process of transporting themselves to a new life in the stars, a couple gains new bodies. Surely that won't change their relationship, right? This is a story about love.
How It Works: A young girl discovers she's been granted a gift of magical power. Of course, everyone in her life thinks they have a better idea of how she should use it. This is a story about self-awareness.
Will of the Wisp: This is a fantasy story set in the strange city of Satyrine about a young man who thinks he must make a decision to take the high road or the easy road. This is a story about truth. (In a way, it is a story about stories.)
A Very Small Matter, Really: This science fiction tale involves a woman trying to use godlike technology to restore something lost. This is a story about devotion.
Day Maker: A man comes to a town with too many nights, and promises to bring day. But what does the light of day reveal? This is a story about righting wrongs.
How It Works originally appeared in the Malhavoc Press anthology, Children of the Rune. A Very Small Matter, Really, originally appeared on Escape Pod as audio fiction. The other stories are all brand new. Small Matters is now available as an ebook from Stone Box Press.
Check out Small Matters on DriveThruFiction.
Check out Small Matters on Amazon.com.