What a Long Strange Trip It's Been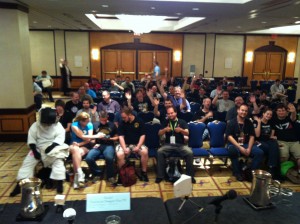 I've been on the road for about four weeks, give or take. First I went to visit my parents, and then it was off to GenCon, followed immediately by FanExpo Canada in Toronto, and then DragonCon in Atlanta. And just two weeks before that trip, I was in Brazil at WorldRPG Fest.
That's a lot of conventions (and traveling) in a short space of time. It was fun. It was exhausting. I met a lot of great people, played a lot of games, and ate a lot of restaurant food. I wrote about WorldRPG Fest and GenCon already.
This was my first time at FanExpo Canada. Lots of panels, including one on being a good GM, Kickstarter, the state of the tabletop industry, and of course Numenera. I closed out the convention with a game of Numenera that I ran for some players who had won seats in a drawing. It was a lot of fun. While there, I stayed with my friends James (of Fiery Dragon fame) and hung up with him, his family, and the other "Fiery Dragon Boys," Todd and Jason. We hung out, did some podcasts that I'm looking forward to James releasing soon, and played Flashpoint, Get Bit, and some other games. I wish I could have had even more time to spend with them, but managing "customer service" on the Numenera Kickstarter is about a full time job, particularly with all the conventions.
DragonCon was a blast, just like last year. From a guest's point of view, it's a well-run show from the point at which they picked me up at the airport, helped me check into the hotel, got me my badge and package of goodies, and made sure I had everything I needed at my panels. I participated in seminars about dungeon design, TSR, worldbuilding, bringing a product to market, and Numenera. Somewhere in there I wrote most of a short story set in the Ninth World as one of the Numenera Kickstarter stretch goals.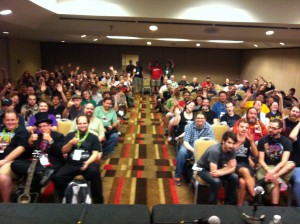 The whole thing was a very good experience, and has made me realize that my outlook on travel and the importance of home have changed. Home is really where you say it is, and as long as you're surrounded by good people and your loved ones, place doesn't matter as much. At least to me. But now that I'm back home I plan on working hard to get back into the normal swing of things. Particularly once the Kickstarter is over, I may "go dark" for a time, just to get a lot of design and writing done.