Beasts of Flesh and Steel is coming soon to enliven your 5e gaming table! Our friends at Here Be Dragons Games have a wonderful Kickstarter offering for you. I've found something cool to surprise Chas with for Christmas—and you might like it, too! All this and more, in today's Cypher Chronicles!
You can get Cypher Chronicles, and other MCG news, delivered right to your inbox! Enter your email address and click the Subscribe button in the right-hand column, and you'll never miss a post. You can also suggest topics for Cypher Chronicles by emailing us at [email protected]

NILDIR
Nildirs are creatures of endless hunger that slip between the folds of reality to hunt literally everywhere for their next meal.
Changed by Planar Travel. Once humanoid, nildirs—also called "planar cannibals"—were exposed to one too many transdimensional transitions, planar bleeds, and perhapseven shocks to their ego. Mutated and hungry, planar cannibals hunt humanoids and other beings with knowledge that seasons the flesh, though anything alive— even recently so—will do. Whatever mind and personality the nildir had before its conversion is gone, even if some memories remain.
Once changed, it is probably impossible that a planar cannibal could ever be returned to its former self, though suitably powerful numenera or magic might succeed.
Its claws are murder-red, its horns corpse-white, its footprints flickering flames across the worlds.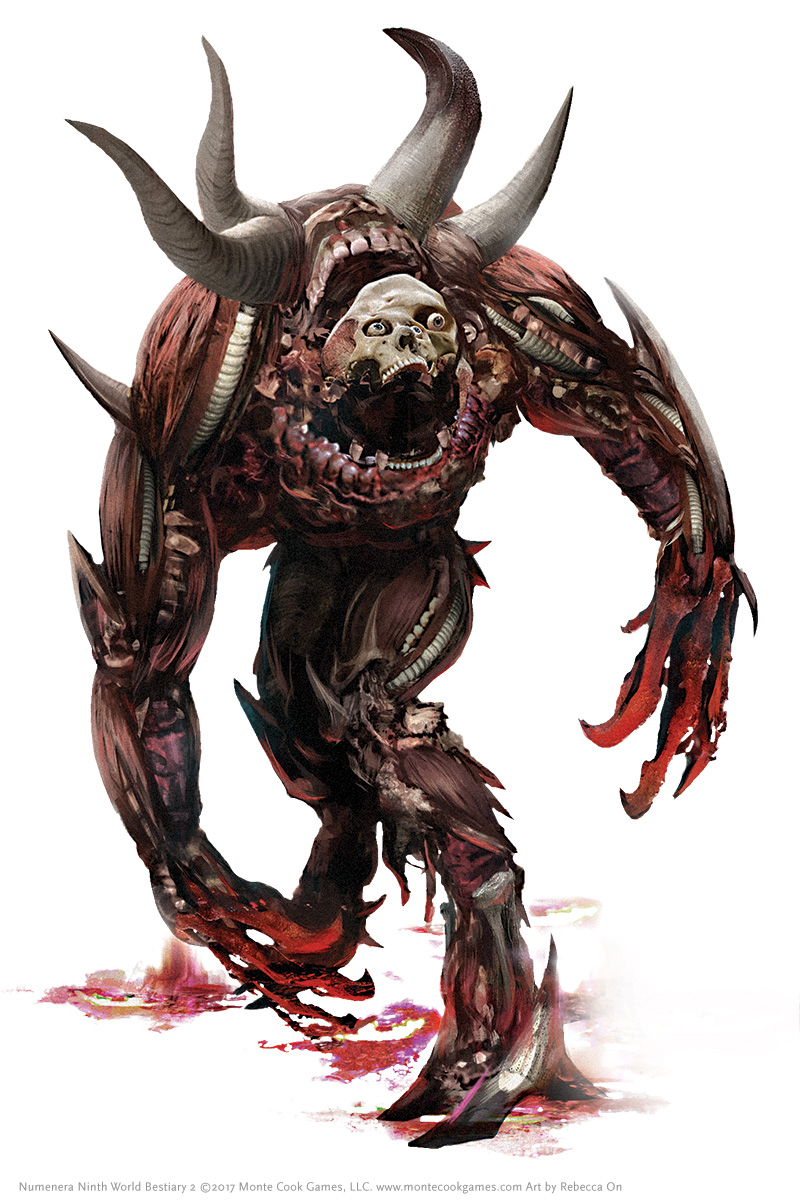 Characters investigating a site of transdimensional activity, or who are traveling by themselves, might be attacked by someone the characters once knew to be a planar traveler, if applicable.
NILDIR
Large aberration, chaotic evil
Armor Class 15 (natural armor)
Hit Points 102 (12d10 + 36)
Speed 30 ft.
Saving Throws Str +7, Con +6
Skills Perception +3
Damage Resistances cold, fire, lightning; bludgeoning, piercing, and slashing from nonmagical attacks
Senses darkvision 60 ft., passive Perception 13
Languages —
Challenge 5 (1,800 XP)
Transdimensional Halo. A dimensional bleed surrounds a nildir like a halo. Each round, disquieting emotions, sounds, visions, and even physical objects appear out of nowhere and can afflict foes, or at least distract them. All attacks made against the nildir have disadvantage.
Actions
Multiattack. The nildir makes two attacks: one with its bite and one with its claws.
Bite. Melee Weapon Attack: +7 to hit, reach 5 ft., one target. Hit: 15 (2d10 + 4) piercing damage. If the target is a humanoid, it must succeed on a DC 14 Constitution saving throw or take 15 (2d10 + 4) piercing damage immediately as the nildir vigorously chews.
Claws. Melee Weapon Attack: +7 to hit, reach 5 ft., one target. Hit: 20 (3d10 + 4) slashing damage, and the target is grappled (escape DC 14). Until this grapple ends, the target is restrained and the nildir can't claw a different target. If the target is a humanoid, the nildir uses Breach Plane as a bonus action, carrying the target with it to another plane if the grappled target fails a DC 14 Wisdom saving throw.
Breach Plane (Recharge 5–6). The nildir transfers into an alternate dimension, usually one it has previously visited. It leaves behind flickering footsteps that can be followed for one round if pursuers wish.
---