Iadace and Happy New Year from Monte Cook Games! We hope 2017 brings you health, happiness, and loads of gaming excitement!
MCG News
Team MCG took a much-needed break over the holiday. Thanks for your patience while we catch up on messages and customer service queries. Sean and I (Tammie) are working diligently through the backlog and should be caught up very soon.
If you are an international customer or backer and are awaiting your copy of the Numenera Starter Set, your wait is almost over. The re-supply shipment is on its way to Kixto, our fulfillment house in England. Once Kixto receives the inventory, they will process and ship the Numenera Starter Set to you as quickly as possible.
Thanks to you, the MCG 2016 Holiday Gift raised $1,775 for charities! Huzzah!

Doctors Without Borders: $775
ACLU: $740
American Refugee Committee: $260

We're very pleased that Geek & Sundry included Invisible Sun and Predation on the list of most anticipated tabletop roleplaying games of 2017.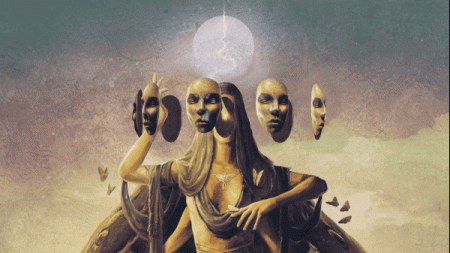 Check out the video of our Twitch live-streamed Numenera game on our YouTube channel. This game was great fun for the team, and it fulfilled one of the stretch goal rewards from the Numenera: Into the Ninth World Kickstarter.
If you or someone you know is ready to make the leap from player to GM, we're here to help you make it happen! Starting next week, we are celebrating New Gamemaster Month.
Hang out with us on the weekend of January 13th:
Get Inspired
For real-world GM intrusion inspiration, there's hardly a need to look further than recent science discoveries:
On a recent episode of Ego Check with the Id DM, Dr. Michael Mallen interviews Susan J. Morris about her work as a fantasy author and editor, including her editing work for MCG on The Poison Eater.
Support
Innsmouth: The Lost Drawings of Mannish Sycovia, by Alaxis Press: "Discover a lost portfolio of drawings by Mannish Sycovia originating from H.P. Lovecraft's Innsmouth in this beautiful new book."
Harlem Unbound, a Cthulhu roleplaying game sourcebook, by Chris Spivey, Darker Hue Studios: "RPG sourcebook set in 1920s NYC, the Harlem Renaissance, delving into Mythos mysteries for either Call of Cthulhu or Gumshoe system."
Universal Fan Con, by Universal Fan Con: "First multi-fandom Con dedicated to inclusion, highlighting Women, LGBTQ, the Disabled and Persons of Color."
Inspire Us
Got something you'd like to see published in Cypher Chronicles next week? A cool blog post you've written about our games, scientific news that inspires your The Strange campaign, an Atlas Obscura photo that makes you dream of the Ninth World, a Kickstarter campaign that kindles your imagination, a charity event near and dear to your heart…share whatever you think would inspire Team MCG and would also be a good fit for Cypher Chronicles. Send your recommendations to [email protected] (submitting a recommendation does not guarantee publication).
Share
Do you like us? Do you really like us? You can play an important role in helping us thrive and create more great games: Leave a review at DriveThruRPG, Amazon, or with your local game store owner. Share these chronicles with other gamers you know. Invite those you love to sit around a table with you and delve deep into their imagination to create shared memories that will last a lifetime.
~
P.S. You Rock
Hey, look! Now you can subscribe to get these blog posts right in your inbox. Right down there, at the bottom of this post! Just enter your email, and you'll never miss a post (we won't use your email for anything else, we promise). We've also added an easy way to share these posts on social media. You should see the buttons right at the bottom of this page!
Keep up with MCG! Follow Monte Cook Games, the Weird of Numenera, and The Strange RPG on Twitter, like Monte Cook Games on Facebook, and subscribe to our MCG channel on YouTube. We also have a Pinterest account, which isn't news, per se, but it has lots of pretty pictures.