Iadace and welcome to Cypher Chronicles!
Get Cypher Chronicles, and other MCG news, delivered right to your inbox! Enter your email address and click the Subscribe button in the right-hand column, and you'll never miss a post. You can also suggest topics for Cypher Chronicles by emailing us at [email protected].


Happy new year, everyone, and we hope you had a joyous and relaxing holiday season. With the launch this year of both Invisible Sun and Numenera Discovery and Numenera Destiny, we're looking forward to great things in 2018! Here's the news from the first week of the new year.
MCG Donates Hundreds through the 2017 Holiday Gift
Thanks to you and scores of other gamers, MCG has donated hundreds of dollars to Doctors Without Borders, the ACLU, and the Center for Disaster Philanthropy's Atlantic Hurricane Fund. The 2017 Holiday Gift ran from late November through December, with scores of gamers using the free $5 coupon code we provided to purchase a donation to one of those fine charities.
January is New Gamemaster Month!

Someone you know loves gaming, loves RPGs, and has been thinking about running their own game—but hasn't quite taken the plunge into GMing. Maybe that's even you! Well, join us this month and you'll be a GM in February, because January is New Gamemaster Month.
What is New Gamemaster Month? It's a program that gives you what you need to run your first game: Inspiration, advice, and a step-by-step process that guides prospective GMs up to and through their first game. Starting Tuesday, January 9th, we'll run a month-long seminar in the form of twice-weekly posts. Each session will take you through a step or two in the process, with a brief lesson on an aspect of GMing followed by some quick, enjoyable activities that actually get you ready to run your first game. It's a hands-on seminar. By the end of the program, in early February, you won't be a "prospective" GM any more: You'll have GMed your first full-on RPG session, running it without a hitch and having a great time doing it!
Several RPG publishers are participating in New Gamemaster Month 2018, which means you can choose one of several different RPGs for your first game. So make a New Year's resolution to join us, check out the New Gamemaster Month website, and finally take that leap into GMing! (And if you're already a GM, share this with friends you'd like to see take on the gamemaster mantle!)
Make Plans for Cypher Play Season 18-1!
Cypher Play Season 18-1 begins later this month. Set in and around the isolated Steadfast settlement of Ellomyr, it picks up themes introduced in the Numenera 2 Kickstarter, and leads into content you'll find in Numenera Discovery and Numenera Destiny later this year. Check with your friendly local game store to sign up for Cypher Play!
The Strange and Cypher System are on Bundle of Holding—for a Few More Days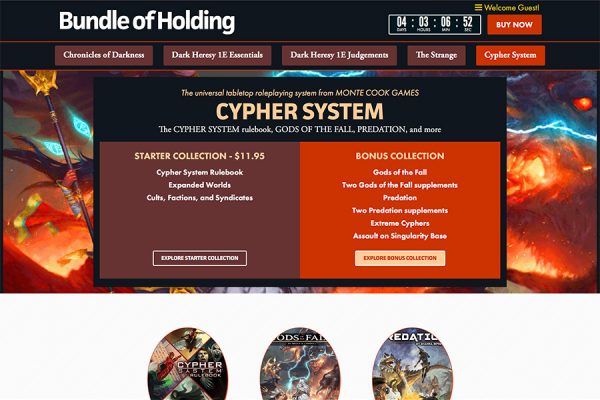 Seriously, the two Bundle of Holding deals on The Strange and Cypher System PDFs are too good to be believed. Even if you have a number of the titles, the overall bundle price is so awesome that it's worth checking out just to get the titles you've missed. It's not to late—but hurry; the offer ends in just a few days!


A #Numenera character: A Mad Jack Who Crafts Illusions pic.twitter.com/cPMapYVNXB

— Jupiter🌹[investigatory synth music] (@FluorescentWolf) January 4, 2018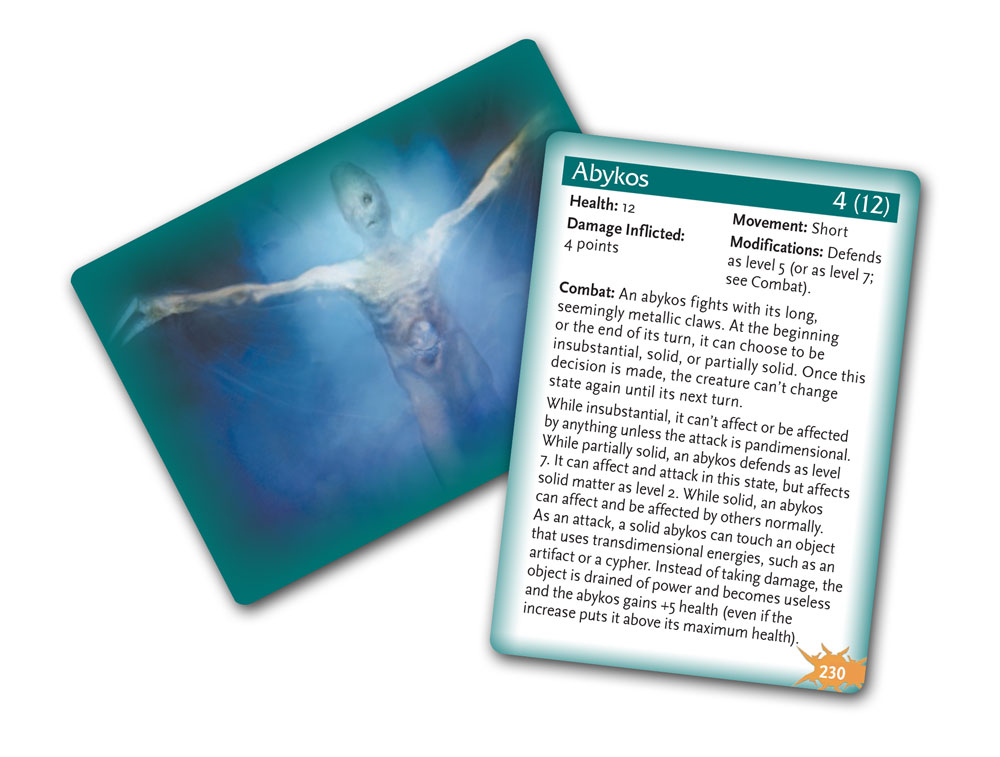 What if you could save hours of time prepping for your games? Or generate complete encounters on the fly, without missing a beat at the gaming table? What if you could fit all the stats you need for an encounter in your pocket, and have a picture to show your players of the wondrous beasts they encounter in your game?
That's the inspiration behind the Numenera Creature Deck. It gives you 100 creatures, each on a card, with stats on one side and an image on the other. Building an encounter can be as easy as grabbing a card and tucking it into your corebook for tonight's game. And if your players take the adventure in an unexpected direction? Simply pick or draw a card from your deck for a quick encounter on the fly.
The best part? With the Numenera Creature Deck 2, the Cypher and Creature Deck Expansion, and even The Strange Creature Deck (and the Cypher System Creature Deck, coming out this month), you have literally hundreds of creatures to choose from. Build amazing encounters with virtually no work, or pick the creatures you want to build a deck that serves as a custom random encounter generator. The Numenera Creature Deck is an incredible time-saver, and a great value for GMs who want to focus their limited time on creating awesome stories instead of looking up stats.