Ta-da! Welcome to 2020, friends. We bring you musings on gamemastery, Ninth World giveaways and discounts, spooky thrills, and all the space-excitement that the internet has to offer.
You can get Cypher Chronicles, and other MCG news, delivered right to your inbox! Enter your email address and click the Subscribe button in the right-hand column, and you'll never miss a post. You can also suggest topics for Cypher Chronicles by emailing us at [email protected].
It's the start of a new year and a new decade, and that has us looking forward to all the good things to come! At MCG, we've been playtesting upcoming content, both announced (We Are All Mad Here, see Tammie's magical writeup) and unannounced . . .
I recently hopped behind the GM's screen, eager for some space gaming after being swept up in the arms of The Mandalorian. I didn't realize how deeply I'd missed GMing! It was good to take a pre-made adventure and just jump back onto the speeder-saddle.
I see that a number of returning GMs are chatting in the New Gamemaster Month Facebook group, looking to refine their skills with the program. We think that's a fantastic idea—welcome, all! Whether you're brand-new or want a refresher, this program is one of my very favorite things on the internet. I love the step-by-step walkthrough of how to prepare for a session, and I adore the community that grows around #NewGmMonth. If you're interested in joining, New Gamemaster Month is free!
New Gamemaster Month Promos
New Gamemaster Month guides you through learning to GM one of four RPGs: Numenera, Trail of Cthulhu, Unknown Armies, and 7th Sea. And it is making a big splash this year. Forbes even wrote an article about it!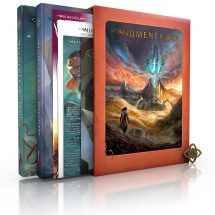 To celebrate all the new gamemasters assembling this month, we're running:
If you're running Numenera for New Gamemaster Month, we'll be using Numenera Discovery, which comes as a great deal in the slipcase set along with Numenera Destiny! If you're running other games, publishers are running discounts and raffles of their own—follow NewGmMonth on Twitter or join the Facebook group for more information.
Stay Alive! Is Stirring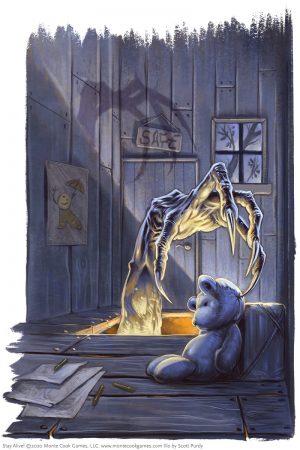 Horror, thrills, chills, and the dripping fangs of vampire teeth await you in Stay Alive!, currently on preorder.
What's inside this tome by Sean K. Reynolds, you ask?
Are you sure you want to know? Do you think you can handle the awful truth?
. . . Yes? You asked for it:
A thorough exploration of the many subgenres of horror, from slasher films to classic vampires, psychological thrillers to monster invasions, zombie apocalypses to demons—and more!
Great advice on building your own horror campaign and setting, whether wholly original or kit-bashed from shows or fiction you love.
An encyclopedia of Cypher System horror mechanics, including rules for last survivors, ghostly help from dead PCs, hallucination and dream resets, possession, secret twists, and backup characters for genres with high body counts.
Dozens of creatures, artifacts, and cyphers.
A complete horror setting: Masters of the Night. There are creatures in our world that frighten any rational human. But there are other things in the shadows that frighten even you.
Three full-length adventures that explore different horror genres, plus several Cypher Shorts.


Space is here, folks, and ready to inspire your The Stars Are Fire games. Here are a few awesome space-related gameable links for you this week:
How will humans live and sustain themselves on other planets? EBIOS (Experimental Bio-regenerative Station) aims to find out. Self-sustaining biomes like those we may use to live on Mars or other planets are being set up on Earth's Mojave desert, and will be used both for research and for the public to explore. Sign me up!
Our star is dying. The outer planets slowly freeze, and its people send desperate refugees inward. A soldier-for-hire is sent on a mission to investigate a missing ship: the Vela. The Vela is a piece of serialized fiction on Serial Box, which allows you to jump between fantastic audio and text in the app. The series reminds me of The Expanse, and has The Long Way to a Small, Angry Planet author Becky Chambers writing some episodes. The first episode is free, check it out!
NPCs from The Stars Are Fire are getting an incredible art treatment from gamemaster Eric Jackson!
Continuing to create pictures for NPCs in @MonteCookGames The Stars are Fire setting for the Cypher System.#dazstudio #3dart #cyphersystem #thestarsarefire #montecookgames pic.twitter.com/SzKIegiDzr

— Eric Jackson (@EricJ10448) January 2, 2020