Iadace and welcome to this week's edition of The Cypher Chronicles. We have so much exciting news this week that I'm worried I'm going to forget something, so I'll get right into it. With further ado, here is all of this week's cypherific news!
Product News
Weird Discoveries is now available for pre-order–and you can download a preview with all of the how-to information AND a complete instant adventure! This book is designed to offer a whole new way of running adventures, with each adventure essentially designed for plug-and-play. Sitting around on a Friday night trying to decide what to do? Then pull one of these out, because they take no more time to set up than a board game (and in the case of some board games–Flash Point, I'm looking at you!–even less). The GM reads the introduction (takes about 5 minutes), the players get their pre-gen characters and a cheat sheet handout. And then you start playing. No huge preparation or planning. Each adventure goes a couple of hours, and then you're done (unless you want to keep going next week; there are tips for that too). We're trying something brand new with this product. Re-envisioning the way that adventures have always been run is both scary and exciting, so we really look forward to hearing how these games go at your table!
We're hard at work on finishing up the Cypher System Rulebook and it's turning out to be the kind of reference that will be amazing for those who want to run a cypher system game with their own setting, as well as a great resource for current players of Numenera and The Strange. It's going to be a huge hardcover book. In fact, you could almost think about it as a third corebook, after Numenera and The Strange. It willhave tons of new rules, rules, types, descriptors, foci, creatures, and cyphers not seen elsewhere. Plus, while we'll be keeping the ever-useful callout columns and the other great graphic elements that you expect from our books, we're doing some cool new things with art and design (scroll down to Behind the Scenes for some of that awesome art).
The fulfillment for In Translation: The Strange Character Options fulfillment begins today! If you're getting this book as part of your Kickstarter rewards, keep an eye out for your notification email.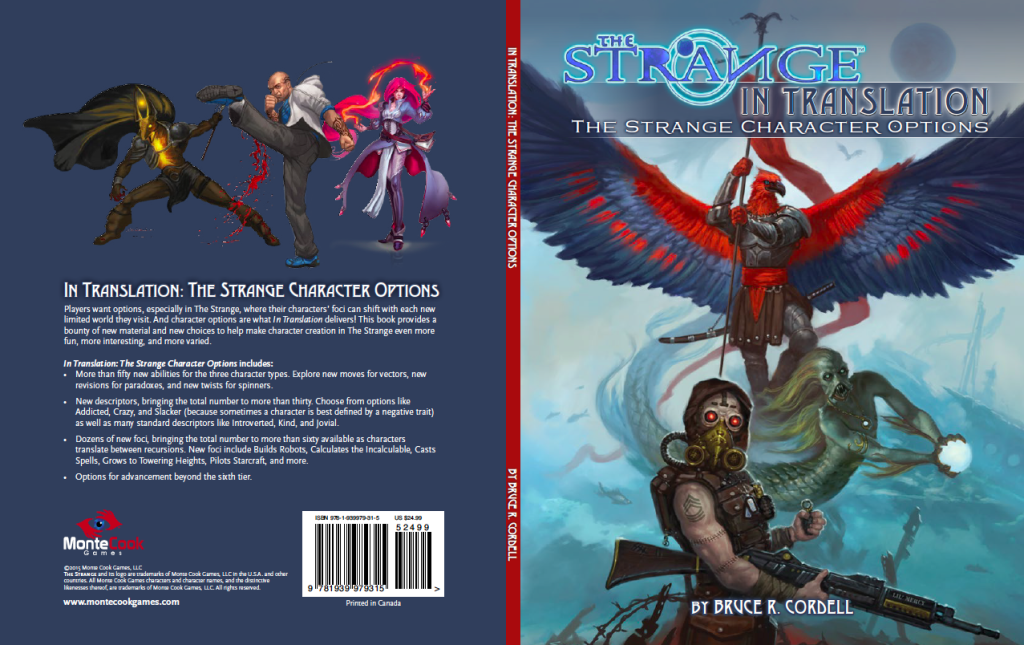 Rumors are that the first of the Deluxe Boxed Set dice are winging their way to us. We haven't seen them yet (ugh, the waiting!) but keep an eye on social media for the first photos! Everything else for the Deluxe Boxed Set is at the printer, being made. During the last proof, Bear added some extra cool things with the box itself. It's just going to be incredible. As we mentioned last week, there might be a slight delay in delivery due to the cargo ship strike that was going on, but we'll definitely keep you posted as we know more.
Other Exciting Things
 The Kickstarter for Numenera: Strand funded with flying colors! This movie is going to be amazing, and we're already planning for the Gen Con premier.
Next week is the GAMA Trade Show. If you're a retailer who's planning to be there, stop by and see us for some cool goodies and to let us know what we can do to make the most of sales in your store.
​​David Wilson Brown has joined our team as MCG's Fan Relations Coordinator​!​  David will be working closely with MCG to increase the reach of the Asset Team and support the needs of the members hip ​and help build a sustainable organized play program. ​We bet you already know quite a bit about David, since he is the founder of the CypherCast Network, but did you know that he first played the Moldvay Basic edition of Dungeons & Dragons at a series of school-supported events in the early eighties and ​that was when he became hooked on gaming for life? And w​hen ​David​ saw Monte's pitch for ​the original ​

Numenera Kickstarter ​campaign​, he fell in love with what would become the​ driving vision for MCG. ​David won't be giving up his day job just yet, but we couldn't be more happy to bring on such an amazingly qualified person to help lead the MCG fan community!​ Please help welcome him to our team.
Get Inspired!
Behind the Scenes
As I mentioned earlier, we're hard at work on the Cypher System Rulebook, and we're doing some cool and unique things with the layout. Here are two pieces from Matthew Stawicki (click them to embiggen) to give you an idea of the variety of the art, the genres, and the plan for layout. The first depicts a super-wide image of a medieval battle. The second, a half-page scene in a space bar. More details and art to come, as we keep moving forward on this giant book!
~
Do you like us? Do you really like us? You can play an important role in helping is thrive and create more great games: Leave a review at DriveThru, Amazon, or with your local game store owner! Share these chronicles with other gamers you know. Invite those you love to sit around a table with you and delve deep into their imagination to create shared memories that will last a lifetime.
P.S. You rock.
Hey, look! Now you can subscribe to get these blog posts right in your inbox. Right down there, at the bottom of this post! Just enter your email and you'll never miss a post (we won't use your email for anything else, we promise). We've also added an easy way to share these posts on social media. You should see the buttons right at the bottom of this page!
Keep up with MCG! Follow Monte Cook Games, the Weird of Numenera, and The Strange RPG on Twitter; like Monte Cook Games, The Strange, or Numenera on Facebook, and subscribe to our MCG channel on YouTube. We also have a Pinterest account, which isn't news, per se, but it has lots of pretty pictures.
Also, don't forget: If you need us for anything or have questions, we're right here.