Glimmers from the datasphere galore, a chance to have an original character immortalized in the Ptolus campaign setting, a thrilling interview between Gen Con TV and Sean K. Reynolds, and more space news than you can shake a Spacecraft at. All in this week's Cypher Chronicles!
You can get Cypher Chronicles, and other MCG news, delivered right to your inbox! Enter your email address and click the Subscribe button in the right-hand column, and you'll never miss a post. You can also suggest topics for Cypher Chronicles by emailing us at [email protected].

Make Your Mark on Ptolus
For a chance to have an original character immortalized in the premium tome that is Ptolus: Monte Cook's City by the Spire, you can participate in this Ptolus Gleam raffle and spread the word about the Ptolus Kickstarter!
The winner gets an original character included in new art featured in Ptolus, in addition to a print of the artwork signed by the artist and a digital print.
The Kickstarter has already funded exciting stretch goals to enhance the book and to fund cool new products: a GM Screen, Character Portfolios, and new adventures. Help spread the word about the Kickstarter and Ptolus becomes even better for all of us!
Visit the Gleam raffle here, and perhaps make your mark on the city of Ptolus.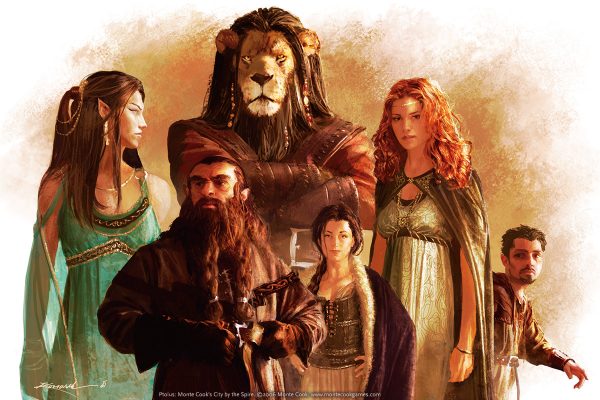 Gleaming and Glimmering: Voices of the Datasphere is Coming
Numenera is getting a whole new dimension as we explore the datasphere: a vast metaspace containing secrets and new abilities that can actually transport you to new locations in the Ninth World (and perhaps beyond). Voices of the Datasphere will be your guide to this scintillating new world. You'll find rules for entering and exploring the datasphere, guides to several example "nodes" or locations in the datasphere, two full adventures, and new cyphers, artifacts, vehicles, and creatures.
I personally cannot get enough of this artwork. Federico Musetti is a master of the form! Check out his DeviantArt page for more inspiring images, and preorder Voices of the Datasphere for the full gamut of mind-blowing datasphere illustrations and gameable material. (As always, when we receive Voices of the Datasphere in our warehouses, we'll fulfill Kickstarter rewards first, followed closely by preorders, and then it will be for sale to all.)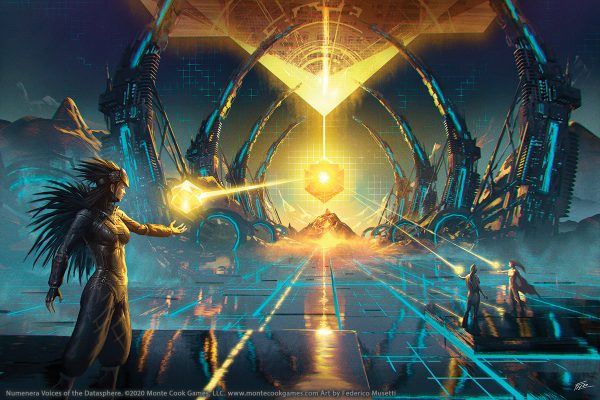 Sean K. Reynolds Interviewed on Gen Con TV
Mark your calendars: on Wednesday, March 11th at 4 p.m., the Gen Con TV Twitch channel is hosting Sean K. Reynolds for their Fireside with Peter Adkison show!
They'll be discussing 3rd edition D&D, the d20 era, and swapping stories from TSR and Ptolus. We can't wait to watch!