Iadace, and welcome to this week's edition of The Cypher Chronicles! We talk about our new summer release for 2015, The Strange Bestiary preview and PREORDER, World RPG Fest, and much more!
PRODUCT NEWS
Coming soon: the Cypher System Rulebook! It's one of the things that fans have been asking for, and so we took a long hard look at whether or not it was something we could do–and we decided that it sounded like a lot of fun to create (and a lot of fun to play with)! So, look for it next summer (and keep your eyes peeled, as you might just see some officially licensed settings adapted to or created for the system from other publishers!)


Even more exciting: If you were a backer of The Strange Kickstarter and have a Bestiary in print coming to you, you can hop into our system and order yours now (you should have already gotten an email about this; if you haven't, please check in with Tammie at kickstarterrewards@montecookgames.com). [The Strange Bestiary PDF will be delivered to backers on November 17th.]
AND, if you missed the Kickstarter and are sad about that, you can now pre-order the Bestiary on our site! To thank you for pre-ordering and supporting directly, we're even offering a $10 coupon for future purchases (such as, I don't know, The Strange Creature Deck, perhaps?) Don't forget that there is free basic shipping if you're in the domestic U.S.
OTHER EXCITING THINGS
Have you signed up for

Aethercon

yet? It's a free, online (web-based) gaming convention 

this Friday

through

Sunday

. Our art director, Bear, will be participating. If you're interested in getting into illustration for RPGs,

he'll be on a panel discussing just that at

1:30pm EST on Friday

. Right after, he'll be moderating a block of speed painting duels. You can find a couple of our artists – Patrick McEvoy and Lee Smith – dueling it out this weekend as well.
Monte is on his flight to The Wyvern's Tale, one of our retailer KS backers, right now! He will sign copies (including advance copies of The Strange Bestiary!), talk about cool stuff, and run a game!
Bruce visited Brazil as a guest of World RPG Fest, Brazil's premiere roleplaying game convention, which was held in the city of Curitiba. He gave a lecture on his career at Wizards, his work on D&D and other games over 20 years, his transition to MCG, and the genesis and launch of The Strange. Bruce was also on hand to witness the launch of New Order's Numenera translation-to-Portueguse crowdfunding campaign, AND the announcement that New Order would also be MCG's Brazilian partner for translating The Strange into Portuguese!
There's a new Signal out! it takes place in a town near the Amorphous Fields… don't miss it.
There is a new reviews index up at EN World. If you like the Numenera corebook, will you take a moment to go and say something nice about it?
 BEHIND THE SCENES
Look at this! EEEEE! The Ninth World Guidebook is starting to look like a book. An amazing, amazing book. 256 pages of pure Ninth World awesome! There's lots more to do, of course. Callouts, details, proofing — but it's getting there! We can't wait to share more of it with you soon!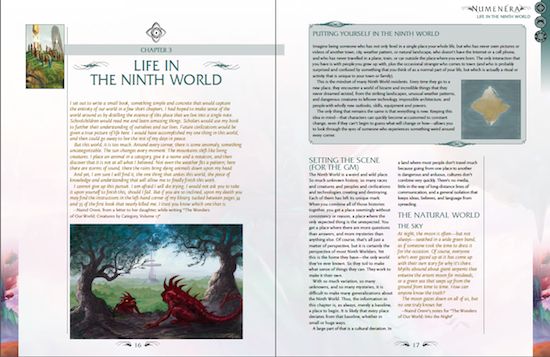 ~
Do you like us? Do you really like us? You can play an important role in helping is thrive and create more great games: Leave a review at Drive Thru, Amazon, or with your local game store owner! Share these chronicles with other gamers you know. Invite those you love to sit around a table with you and delve deep into their imagination to create shared memories that will last a lifetime.
P.S. You rock.
Hey, look! Now you can subscribe to get these blog posts right in your inbox. Right down there, at the bottom of this post! Just enter your email and you'll never miss a post (we won't use your email for anything else, we promise). We've also added an easy way to share these posts on social media. You should see the buttons right at the bottom of this page!
Also, don't forget: If you need us for anything or have questions, we're right here.