First, a moment for Terry Pratchett. We're not the only ones who loved Sir Terry Pratchett's worlds. We're so sorry to see him leave this one. But he left behind so, so much. The Luggage is packed, and he's away.
Thanks for indulging us. Now, on to your regularly scheduled chronicle of Cypher System news, inspiration, and insight.
Product News
Weird Discoveries makes running an RPG like running a board game–in the time it takes the players to choose characters, you can get up to speed on any one of the ten included "instant adventures" and begin the game within 5 minutes, with no previous preparation! Weird Discoveries is not only available for pre-order–you can also download a preview with all of the how-to information AND a complete instant adventure!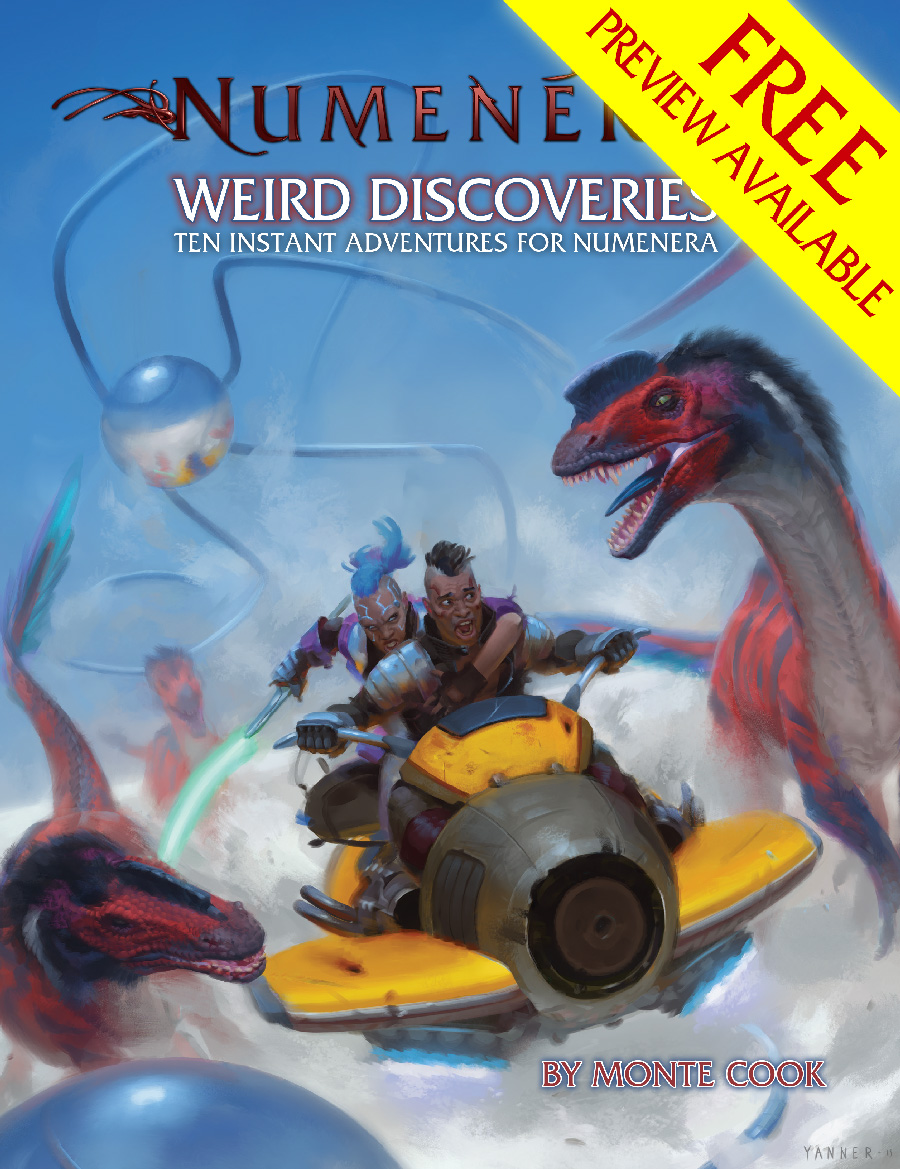 In Translation: The Strange Character Options KS fulfillment started last week, and if the stars are right, will go on sale next week! In Translation brims with new foci (like Builds Robots, Aspires to be Posthuman, Soars through the Air, Is Idolized by Millions, Grows to Towering Heights), new descriptors (like Addicted, Creative, Introverted, Poker-Faced, Spiritual, and Virtuous), and new abilities for paradoxes, vectors, and spinners. As you probably know, these foci are particularly useful for The Strange, where characters often change foci as they take on the contexts of new recursions. But since it's a Cypher System game, the new foci and descriptors are compatible with Numenera. Which means if you want an Intelligent nano who Aspires to be Posthuman, this might be the book for you.
Other Exciting Things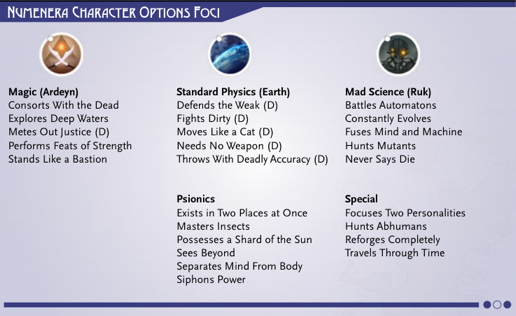 Retailers: MCG is attending the GAMA Trade Show next week. Please stop in and say hello! We'll be in booth 222 sipping champagne and handing out cyphers. Only one thing in the last sentence is definitely true.
The Asset Team is now accepting applications again (domestic USA only)! We're really hoping to get a few Asset Team members in the Seattle area, since the MCG West is based out here. Think of the synergy! Either way, if you're interested, go to our contact page here, and scroll down (then click on) MCG Asset Team.
Our good friend and colleague Robert J. Scwhalb launched his Shadow of the Demon Lord Kickstarter yesterday, and it funded already! Congrats Rob! Now, he's making the offering sweeter and sweeter by unlocking stretch goals. If you want to see something special from the fecund, startling mind of Rob, head over and become a backer!
Get Inspired
NASA's Dawn spacecraft has entered orbit around the dwarf planet Ceres! What the heck are those two glowing spots? And why are the craters so amazingly level? It's a mystery, but it's one that we have the tools to solve thanks to Dawn's arrival!
Habitable space bubble? Yes please!
Behind the Scenes
You may have heard us mention our work on a little book we like to call Worlds Numberless and Strange. Art assets are coming in, and as usual, the artists continue to stun us!

Do you like us? Do you really like us? You can play an important role in helping is thrive and create more great games: Leave a review at DriveThru, Amazon, or with your local game store owner! Share these chronicles with other gamers you know. Invite those you love to sit around a table with you and delve deep into their imagination to create shared memories that will last a lifetime.
P.S. You rock.
Hey, look! Now you can subscribe to get these blog posts right in your inbox. Right down there, at the bottom of this post! Just enter your email and you'll never miss a post (we won't use your email for anything else, we promise). We've also added an easy way to share these posts on social media. You should see the buttons right at the bottom of this page!
Keep up with MCG! Follow Monte Cook Games, the Weird of Numenera, and The Strange RPG on Twitter; like Monte Cook Games, The Strange, or Numenera on Facebook, and subscribe to our MCG channel on YouTube. We also have a Pinterest account, which isn't news, per se, but it has lots of pretty pictures.
Also, don't forget: If you need us for anything or have questions, we're right here.