Iadace and welcome to Cypher Chronicles!
MCG News
Ready to add more weirdness to your campaign? You'll want to pick up Expanded Worlds, which is full of weirdness. Expanded Worlds contains new rules (and advice) for running Cypher System games in post-apocalyptic, mythological, fairy tale, childhood adventure, historical, crime and espionage, and hard science fiction settings, and much more. Expanded Worlds is on pre-order now from the MCG Shop.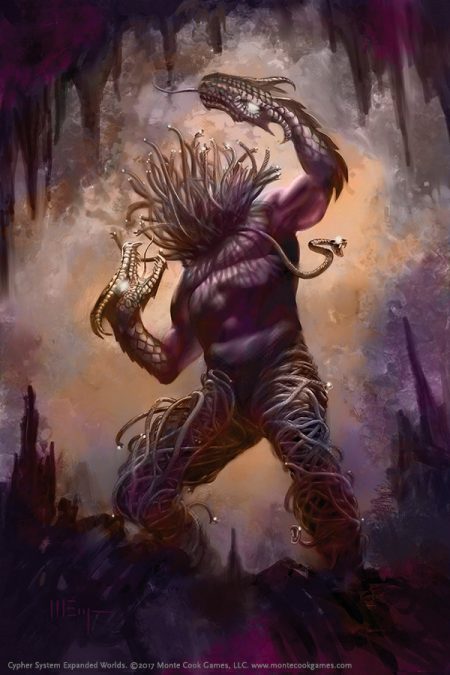 In a universe as vast as ours, with tens of billions of planets potentially supporting life, Enrico Fermi's famous question—"Where is everyone?"—has never been more relevant. That's what Katherine Manners learned when she discovered, in a secure server room, the melted form of an unknown man clutching a message of doom from another world. A world, it turns out, in orbit of our own. Hidden in the dark recesses of a nether dimension called The Strange. A dimension that hosts countless other micro-worlds, many copies—or recursions—of Earth itself. Myth of the Maker, the novel that sparked The Strange, will be in bookstores soon, but this is your chance to own the deluxe, limited hardcover edition, now on pre-order from the MCG Shop.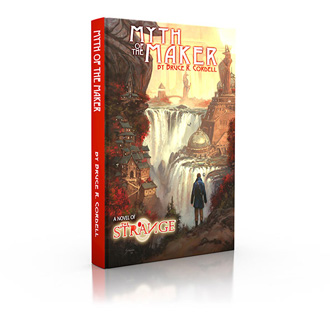 If Expanded Worlds or Myth of the Maker is one of your Kickstarter rewards or add-ons, you will receive redemption information from us in a couple of weeks, and–as always–we will fulfill redemptions for Kickstarter rewards and add-ons before fulfilling the pre-orders.
Due to a USPS shipping mishap, we are currently out of stock of Into the Deep autographed bookplates. More bookplates have been created, and the Creative Team is signing them now. Once they are signed and shipped to our warehouse, we will be able to fulfill the back orders for them.
Don't miss Shanna's article about using bullet journaling as GMs and players.
Steven T. Wright, of Glixel, interviewed Monte about his career in the RPG industry, and how he came to license Numenera to inXile to become the world of Torment: Tides of Numenera.
Get Inspired
 A Fictive Flight Above Real Mars is a labor of love by Jan Fröjdman, who created the amazing video of Mars from thousands of images taken by NASA's High Resolution Imaging Science Experiment.
Recommendations
YOU ARE HERE: Your Personal Map Jewelry, by By Talia Sari: Take a memory and wear it. Your hometown. Where you first fell in love. Turn the map of your favorite place on earth into jewelry.
Dice Towers – Dinosaurs Exclusive Edition, by eRaptor: Looking for solution to roll your dice with style? You found it!
Pip System Corebook, Family-Style RPGs from Third Eye Games, by Eloy Lasanta: Creating a cohesive, easy-to-learn RPG system to tell almost any kind of story! Great for family-style and traditional games.
Inspire Us
If you have something you'd like to see published in Cypher Chronicles next week, share it with us! Send your recommendations to [email protected] (submitting a recommendation does not guarantee publication).
Share
You can play an important role in helping us thrive and create more great games: Leave a review at DriveThruRPG, Amazon, or with your local game store. Share these chronicles with other gamers you know (the social media buttons are at the bottom of this post).
Subscribe
You can subscribe to get these blog posts right in your inbox. Right down there, at the bottom of this post! Just enter your email, and you'll never miss a post (we won't use your email for anything else, we promise).
Keep up with MCG! Follow Monte Cook Games, the Weird of Numenera, and The Strange RPG on Twitter, like Monte Cook Games on Facebook, and subscribe to our MCG channel on YouTube. We also have a Pinterest account, which isn't news, per se, but it has lots of pretty pictures.