We hope you are well and staying healthy. If you're stuck at home, we've made it easier than ever to buy No Thank You, Evil! and the Numenera Starter Set so you can have fun while passing the time. The Numenera Playmat and Numenera XP Deck have hit the streets and the reception is wonderful. Arcana of the Ancients is fulfilling to backers now. And if you like what you see in the Arcana of the Ancients PDF, but you haven't checked out our current Ptolus Kickstarter, perhaps give it another look? It's the Cypher Chronicles!
You can get Cypher Chronicles, and other MCG news, delivered right to your inbox! Enter your email address and click the Subscribe button in the right-hand column, and you'll never miss a post. You can also suggest topics for Cypher Chronicles by emailing us at cychron@montecookgames.com.

These are trying times. The COVID-19 pandemic is unprecedented in the modern history of gaming—in our entire lives, actually, for most of us. Events are moving at a pace that's hard to keep up with, and they keep accelerating.
We here at MCG are keeping safe, and we hope the same is true for you. On the one hand, we're in a very fortunate position: we all work from our homes, so we don't have to worry about gathering in an office. (Our small Kansas warehouse staff still reports to a physical location, but it's for limited hours per week, and most of them are high school students who spend the bulk of the day together anyway.) On the other hand, about half of MCG is located in the Seattle area, many within mere miles of the biggest COVID-19 epicenter in the US.
The upshot is that for now, our operations aren't substantially threatened by the pandemic: in addition to working from home, we currently have no projects currently in production in China, and projects on press in Canada are not affected (at least, so far). We have not yet experienced any disruption to warehouse or shipping operations (although who knows when that might change?).
Our Hearts Go Out to Our Friends in Italy
While most of MCG hasn't struggled with the brunt of COVID-19 yet, some of our compatriots have. Our friends in Italy are foremost in our thoughts. In addition to the great people at Wyrd Edizione, who publish Numenera, The Strange, and No Thank You, Evil in Italian, artists Roberto Pitturru, Katerina Ladon, Mirco Paganessi, Michele Giorgi, Biagio D'Alessandro, Riccardo Rullo, Federico Musetti, and Angelo Peluso, who do so much to bring Numenera, Invisible Sun, and Cypher System to life, are living under the national lockdown in Italy. So far all of them report that they are well personally. We really hope that remains the case for them, and that the situation turns around quickly.
Support Your FLGS (and Local Businesses Generally)
It goes without saying that COVID-19 has affected the economy, and it's particularly hard on small businesses that rely on people spending hours in their shops. The plight of local restaurants has been getting some attention, but don't forget about your local game shop. The exact thing that makes game shops a great focal point for gaming communities—events—makes them especially vulnerable to this pandemic. Uncle's Games in the Seattle area, and TableTop Game and Hobby, the FLGS for MCG staffers in Kansas, have both announced a suspension of in-store events for the weeks to come, and that's probably indicative of game stores all over the place.
Small businesses often have low cash reserves, and they employ hourly staff who will see their hours cut if the store isn't busy enough to need the personnel. Most game store staff are gamers themselves. Help support our community—give your local game shop some business. Games are a great activity if you find yourself spending more time at home! Speaking of which. . .
Can't Get Together with Your Gaming Group?
This is a great time to explore online gaming. New to playing online, and looking for a few tips on how to make it work? Great news: we're releasing the Playing Games Online chapter from Your Best Game Ever, in its entirety, for free. We've rolled it into the free preview, so if you download that, you'll get the entire chapter on online gaming.
Got Kids at Home?
Here in Overland Park, Kansas, we haven't yet had a school closure. But our kids just began their spring break (today, in fact!), and who knows what the situation will be when that's over? Elsewhere in the US and around the world schools are already closing—some for up to the next six weeks!
Games are a great activity for kids stuck at home, and it so happens we make great some great games for kids! To make it easier (particularly for families whose finances may be at risk from COVID-19) we've put the entire No Thank You, Evil! line on sale. Every No Thank You, Evil! product is 50% off.
For families with older kids and teenagers (and adults, too!), the sale also includes the Numenera Starter Set.
We'll keep this sale open for as long as conditions warrant (subject, of course, to product availability).


Numenera Playmat and Numenera XP Deck

The Numenera Playmat and Numenera XP Deck are shipping to backers and preorder customers, and their reception of these two beautiful items has been wonderful. If you didn't back for these items, you can now purchase them from the MCG Shop.
Arcana of the Ancients

The fulfillment message for Arcana of the Ancients (in print, PDF, deluxe, and signed deluxe editions) went to backers very late last night (or would that be early this morning?), and from the Kickstarter comments it would seem that backers are very pleased with the PDF and chomping at the bit to get the hardcovers. Those began shipping today, so watch for your tracking number in your inbox. After fulfilling to Kickstarter backers, we'll fulfill to preorder customers, and then it will be available for general purchase.
Ptolus: Monte Cook's City by the Spire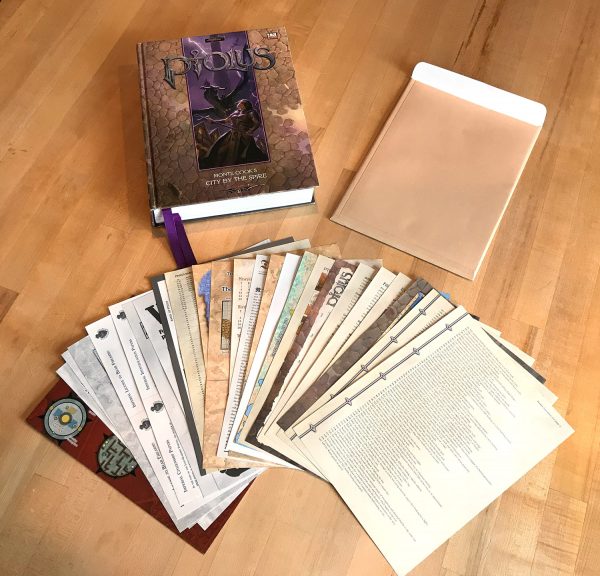 If you like Arcana of the Ancients but haven't yet backed our Ptolus Kickstarter, maybe give it another look? The photo above is of the original Ptolus: Monte Cook's City by the Spire, which was released in 2006. We're reissuing the whole, premium product in two versions, Cypher System and 5e. This beautiful 672-page book (which comes with hundreds of additional pages of handouts and extras) brings the city, dungeons, and Spire to life, and it is thoughtfully designed and laid out to make everything easy to digest, manage, and access.
There's only one week left in the Kickstarter campaign, and we have some great ideas for stretch goals that we hope to reach, so please help spread the word and let's make this a campaign to remember!


From Sean: MELODYSHEEP is John D. Boswell, a Washington State based musician and filmmaker. He combines cool musical beats with auto-tuned audio of scientists to create really informative and fun videos, including this tribute to Carrie Fisher, and this one for Leonard Nimoy, and this one for the Voyager golden record.
From Shanna: I really love the podcast Ologies. The podcast host, Allie Ward, has a new show coming out on Netflix called 100 Humans. The premise is to take 100 humans from diverse backgrounds and run them through various experiments to explore age, sex, happiness and the myriad other aspects of being human. It dropped today, and I'm looking forward to watching it.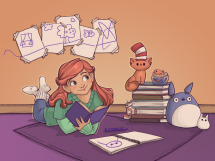 From Tammie: Karen Hallion has written and illustrated a new children's book called Never, Never Quit about working hard to make your your own magic happen. It's on Kickstarter now to fund printing. Please show this campaign some love.