Free coloring page for families and Storia fans, Ptolus news and Kickstarter tunes, a Cypher Podcast Directory, raising funds for those in need, revealing crushes, and much more in this week's Cypher Chronicles!
You can get Cypher Chronicles, and other MCG news, delivered right to your inbox! Enter your email address and click the Subscribe button in the right-hand column, and you'll never miss a post. You can also suggest topics for Cypher Chronicles by emailing us at [email protected].


Across every district in Ptolus, bells ring out in anticipation—the Ptolus Kickstarter ends tonight at 8 p.m. EDT (5 p.m. PDT)!
Ptolus: Monte Cook's City by the Spire is coming to 5e and Cypher System, with new art and other enhancements—we're thrilled! Joining it are tons of goodies, including new adventures!
Monte, Bruce, and Sean tell stories from the original Ptolus campaign in last week's discussion with guest designer Chris Perkins from the D&D design team:
watch the video
!
The Doctrine of Ghul: A hefty adventure by Bruce R. Cordell. Talk of a newly-uncovered ancient manuscript scribed by the Half God himself swirls around Delver's Square. Is there any truth to these rumors, and if so, what does this mean for the city of Ptolus—and the entire Empire?
Grip of the Ebon Hand: An adventure by Monte that pits the PCs against a chaos cult, introducing the players to one of the many major conflicts that make Ptolus such a dynamic, hook-laden setting. Originally run as a Gen Con adventure when Ptolus launched, this adventure presents some of the original campaign PCs as playable characters.
The Runeblood Blessing: A sorcerer has created a ritual to invest people with magic, manifested as a blood-red rune on their faces, and nobles, city elites, and adventurers line up to gain this new power. Meanwhile, a wave of crimes hits the city, and the major crime organizations don't know who's responsible. This one will be written by Sean K. Reynolds, and it's the stretch goal we're closing in on now.
Plus, we'll collect all three adventures in a print volume: City of Adventure.
If you'd like to count down (and sing) to the end of the Kickstarter with us, we've just started using JQBX to listen to music together while we work! If you have a Spotify premium account, you can join our musical hangout. Our JQBX room is MCG Jams, and simply enter the password CityByTheSpire when prompted.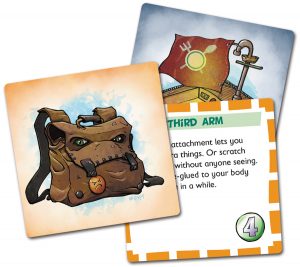 Coloring in Storia
Have a free coloring book page from No Thank You, Evil! Little kids and big kids alike can enjoy using color to bring equipment to life, such as the Bag of Scolding, Dangerous Dress, Catarang, and more.
To make gaming with kids easier (particularly for families whose finances may be at risk from COVID-19), we've put the entire No Thank You, Evil! line on sale. Every No Thank You, Evil! product is 50% off. For families with older kids and teenagers (and adults, too!), the sale also includes the Numenera Starter Set.
Stay safe, happy, healthy, and entertained!


Megan Tolentino at The Redacted Files Network is rounding up a Cypher Podcast Directory—check out some cool new shows, and recommend any that you don't see listed there.
The One Shot Podcast Network is running a work relief fund to raise money for members of the team who are out of work due to the COVID-19 crisis. Donate and they'll release downloads for cool fully-playable RPGs. For every $1,000 raised, James D'Amato (who you might recognize from A Woman With Hollow Eyes, the Invisible Sun actual play GM'd by yours truly) must publicly confess a crush that he has!