A brief video tour of a very dark house. Beautiful dice, beautiful dice trays, bizarre shark-rays, and a strange humming noise. All that and more in this week's Cypher Chronicles.
You can get Cypher Chronicles, and other MCG news, delivered right to your inbox! Enter your email address and click the Subscribe button in the right-hand column, and you'll never miss a post. You can also suggest topics for Cypher Chronicles by emailing us at [email protected].

Take a Quick Look inside The Darkest House.
It Isn't Like Any Product You've Seen Before. No, Really!
Remember how, for three decades, RPG products came in one form only: print? Either as books or boxed sets. Then, about 20 years ago, PDFs came along. Searchable, hyperlinked, and super-portable; they didn't replace books, but they changed the way many of us use and access RPGs.
It's been a few decades, but now there's another completely new format—one designed from the ground up to facilitate playing your games online. (It's also pretty darned useful for in-person games, too.) The Darkest House puts all the GM's key information for each encounter on a single screen; makes it easy to share maps, images, text, and sound; and is astonishingly easy to navigate. It's not a book. It's not a PDF. It's an entirely new, innovative format built from the ground up for the way games are run and played today.
Don't take our word for it: download the preview now from the Kickstarter and give it a try!
Oh, and it's creepy. It's made to be included in the campaign you're already running. It comes out in May. And it's on Kickstarter now!
A Ptolus-Sized Map for Your Ptolus-Sized Adventures!
Look at that beauty! It's a ginormous six feet (185 cm) wide, and it really shows off the grandeur, scale, and detail of Ptolus. (If that's too much grandeur and scale, it's also available in a merely huge 48″ (122 cm) version.)
Ptolus: Monte Cook's City by the Spire is coming, but the vinyl maps are already here. You can get them, while our limited supplies last, from the MCG Shop. Which brings us to…
Beautiful Ptolus Dice!
Roll in style with these gorgeous Ptolus dice, also available now on the MCG Shop. The photo doesn't capture the deep beauty of the pearlescent purple—these are so gorgeous, they might become your new favorite dice! Available for the Cypher System (d20, d6, and d%) or as a full polyhedral set for 5e Ptolus players!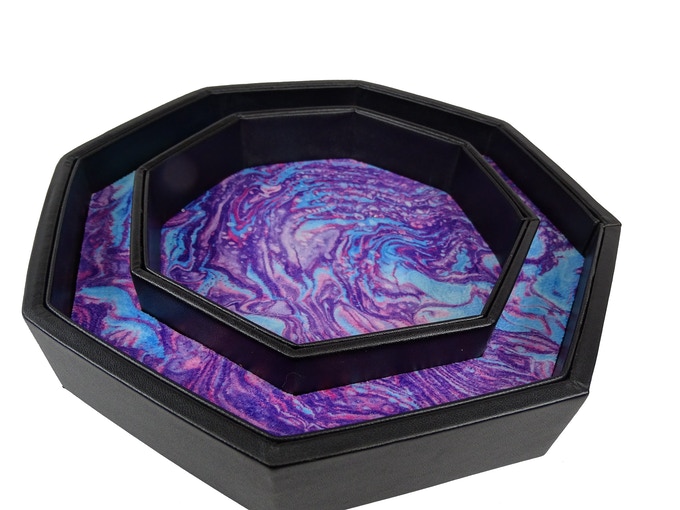 LaTia has backed these beautiful color-shifting dice trays. Hey, we'll all get back to playing in person sometime soon, right? (And some of us, like me, prefer to roll physical dice even when gaming online!)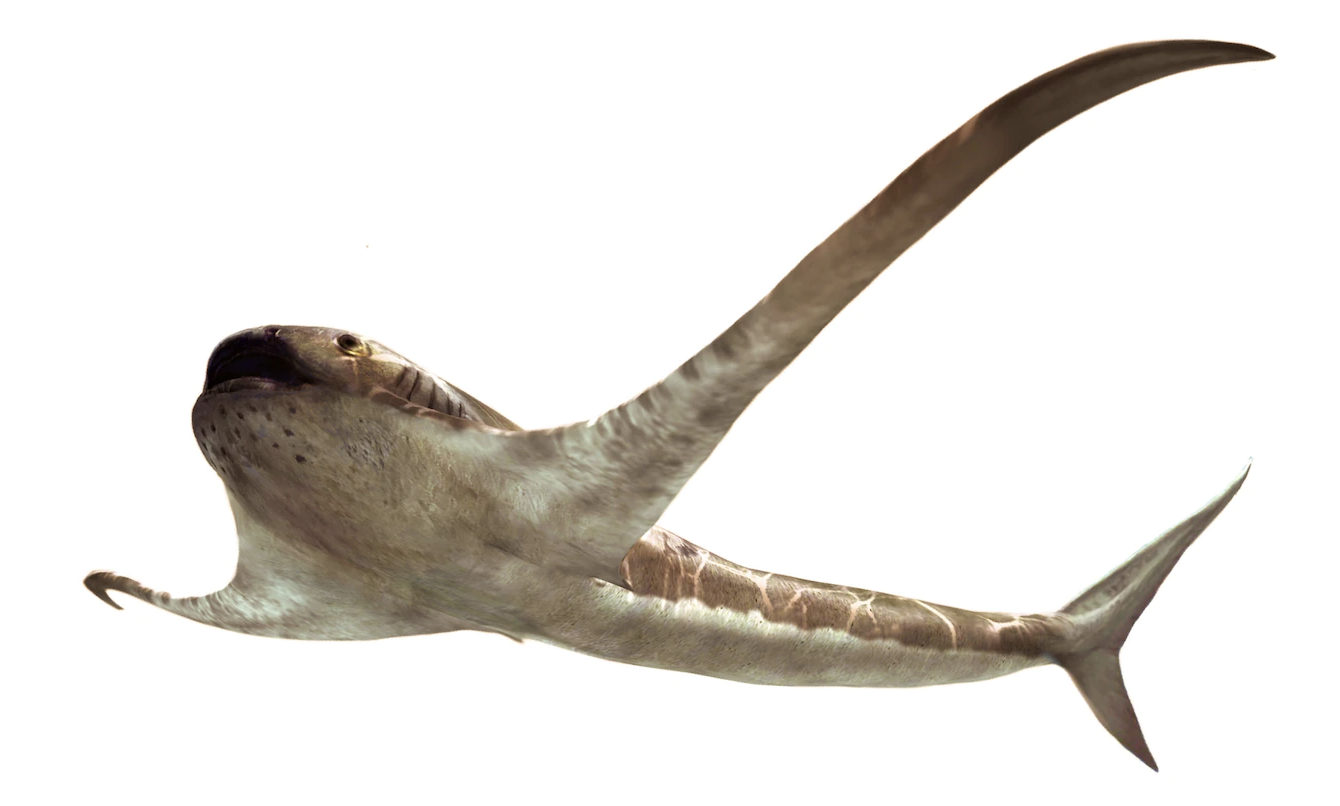 Sean finds the concept of an abugida fascinating—it's a writing system where each symbol is a consonant and a vowel. This video about the Inuktitut language gives some examples of writing words with an abugida, and contrasts it with the weird way that English spells words using the Latin alphabet.
Bruce is responsible for so much of the fanciful flora and fauna in Numenera titles like Into the Night and Liminal Shore, detailing strange life in weird places. These cute "glacier mice" (actually balls of moss that roll around in synchronous, slow-moving herds on the ice) would fit right in!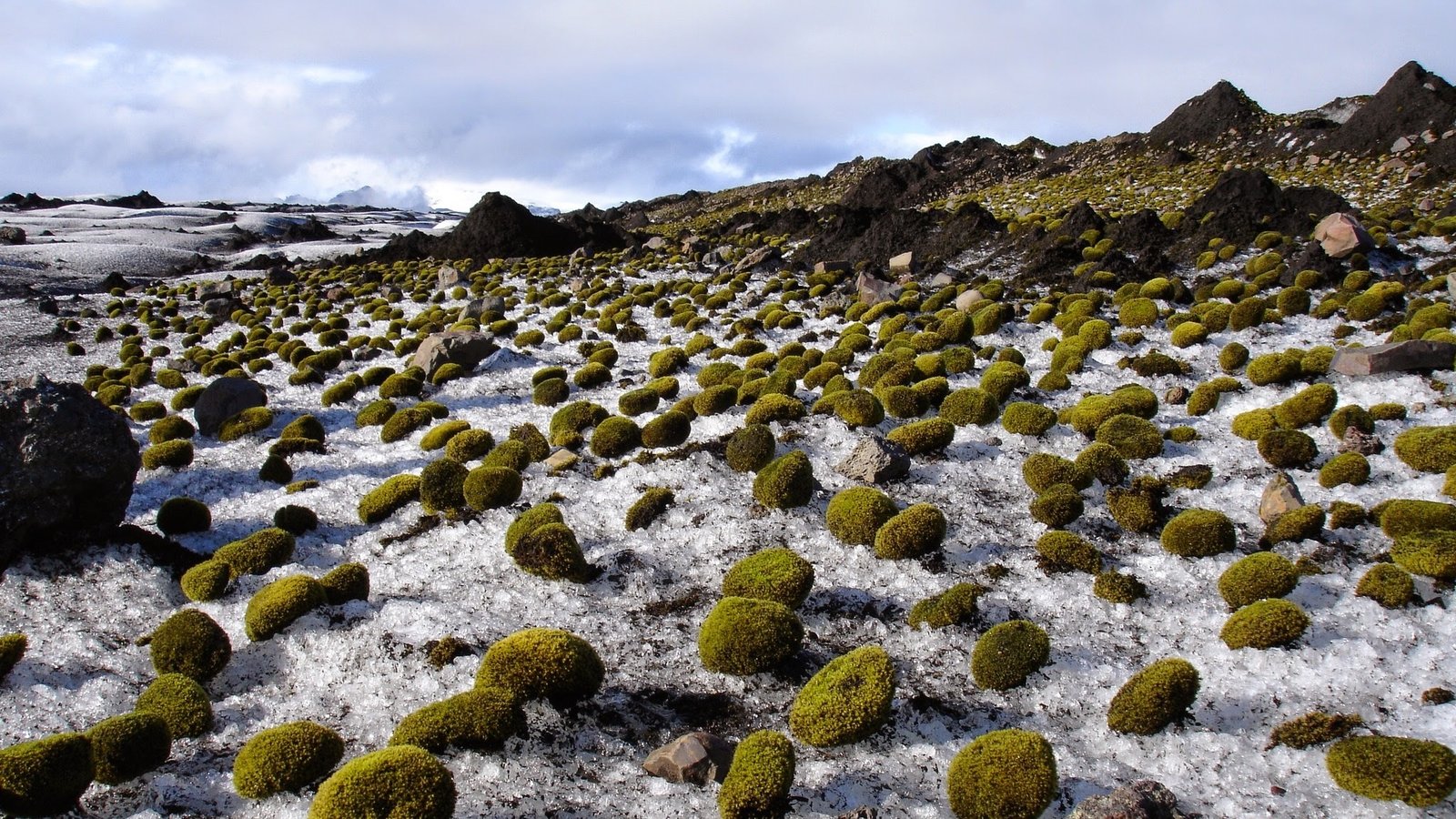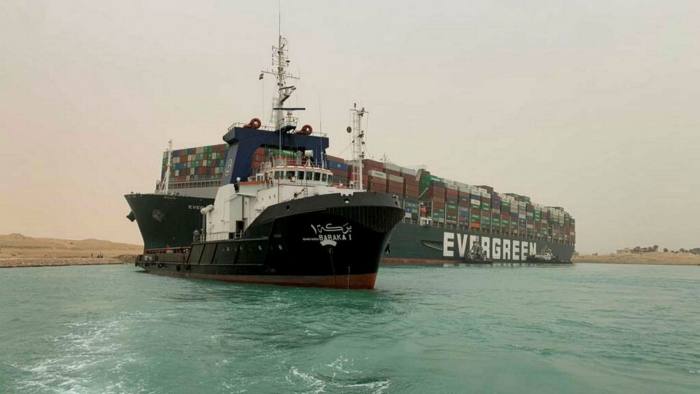 There's so much that's fascinating about this crisis that's developed in the Suez Canal this week. (A massive container ship ran aground, blocking the waterway through which 30% of the world's cargo travels.) First, it's a reminder, for any business that imports from overseas (or any gamer eagerly awaiting Kickstarter rewards), how unpredictable international freight can be, for reasons that us landlubbers never even consider. Then there's the fact that this ship is literally three times as big as the largest container vessels of just 15 years ago. And then there's this article, talking about how, with a ship of that size in a canal of that size, the vessel might have been sucked into the side of the canal by the same fluid dynamic forces that cause a plane to fly. It's like it flew aground!
Fortunately, we don't have any cargo in transit right now, so we aren't affected by this ship's grounding (or the scores of other vessels backed up on either end of the Suez Canal). But it's a reminder that sending cargo by international freight just isn't the same as shooting out a package via USPS!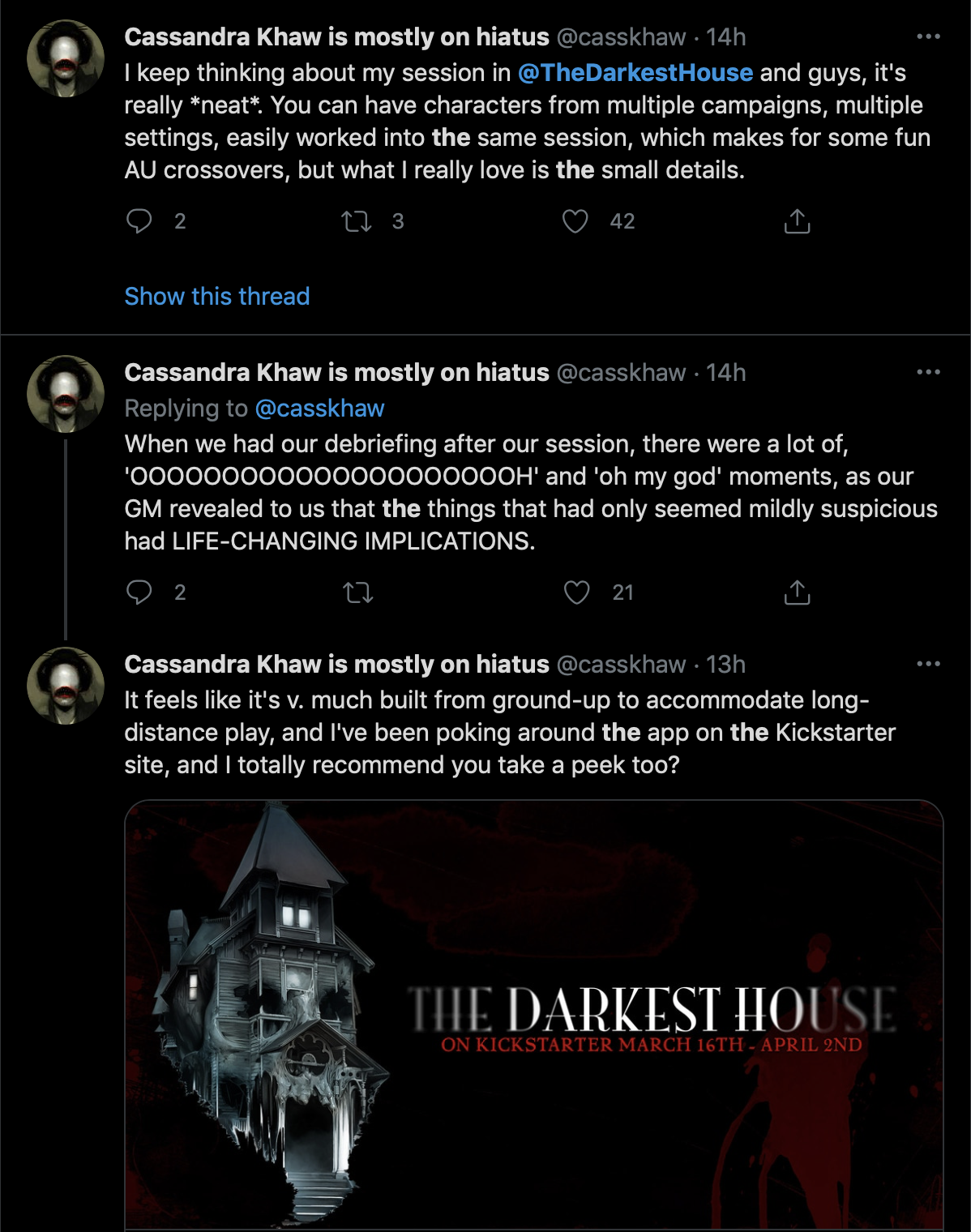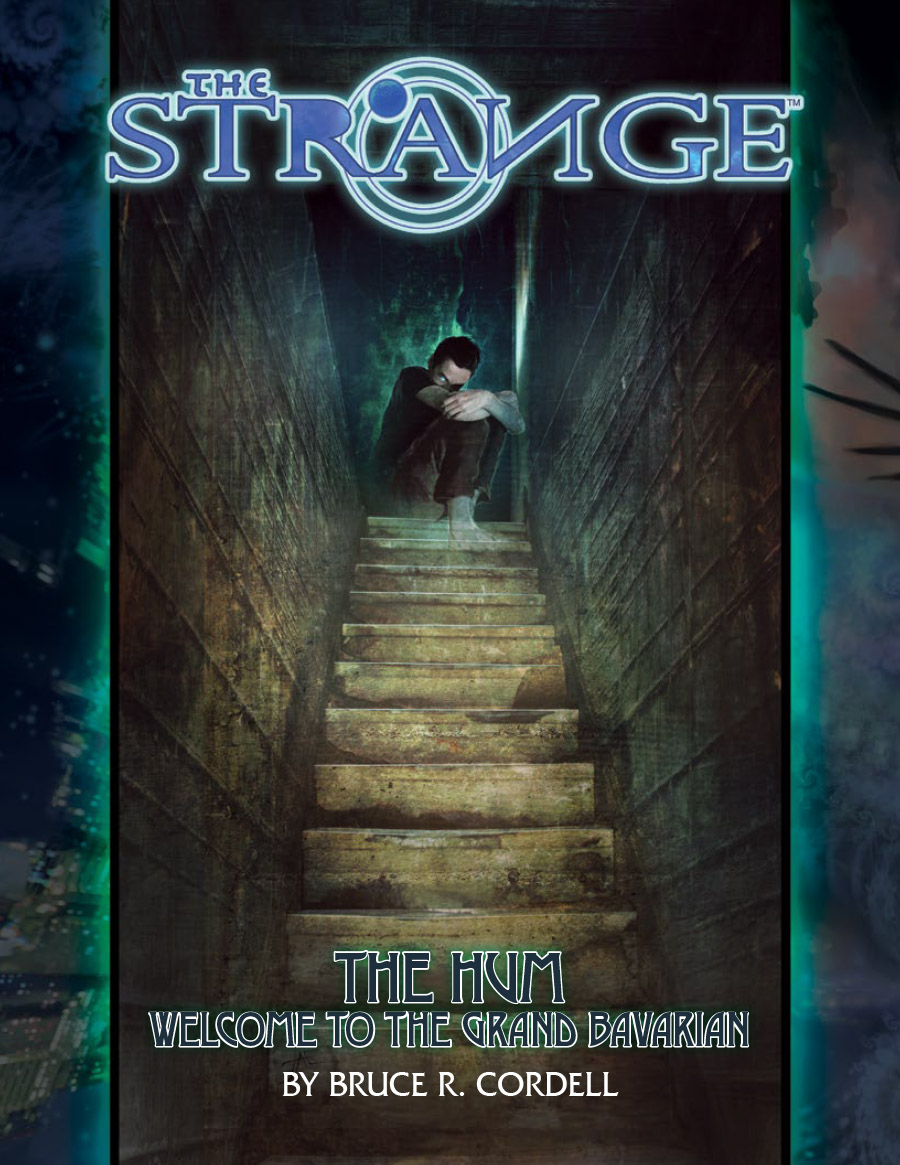 The Darkest House is out in just two months—but maybe you'd like to wet your whistle with something spooky right now?
The Grand Bavarian Hotel was once frequented by Gilded Age luminaries like Theodore Roosevelt, Harry Houdini, and even Nikola Tesla. Now, after decades of neglect, it's enjoying a renaissance as popular tourist attraction: The most haunted hotel in America. Stay for a night or a weekend, or enjoy a 1920s-themed masquerade ball. Take the tour of the most haunted floors, or see the "Amazing Tesla Science Engine."
Except that the Tesla engine has been stolen. And stories of the hauntings now seem to be more frequent—and credible. The Estate wants to know if all this is related to the low-frequency hum some people claim to have heard as far away as Denver itself—a hum that has allegedly led to a string of gruesome suicides.