Iadace and welcome to this week's edition of The Cypher Chronicles. This week, we offer a look at the prototypes of the Numenera Boxed Set, share a video from ConTessa, inspire you with parallel worlds, and much more!
(Also, can we take a moment to do a celebratory dance that the X-Files is coming back? *dance dance dance*)
Okay, back to your regularly scheduled Cypher Chronicles!
Product News
The Numenera Boxed Set is deep in production, and we've seen the early prototypes! This whole thing is looking beautiful. We've had a few setbacks in the process–including the recent cargo strike, a dice machine failure, and some issues with things getting stuck in customs–which have moved the expected delivery date back a little, but everything is now moving along nicely!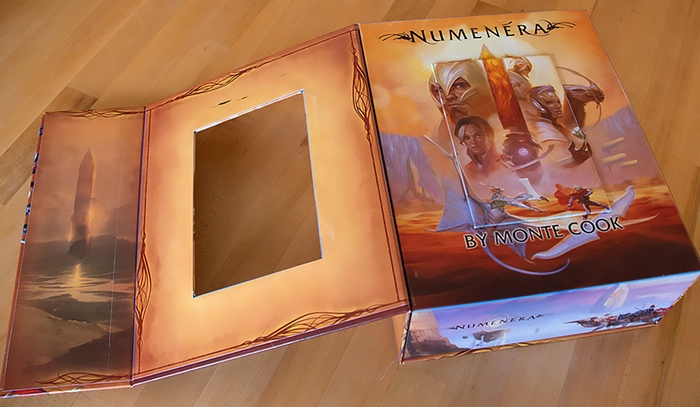 In Translation: Strange Character Options is available now. You get descriptors like Addicted, Crazy, Introverted and Slacker; foci like Builds Robots, Calculates the Incalculable, Casts Spells, and Grows to Towering Heights; and even options for advancing your character beyond the sixth tier.
Weird Discoveries is off the printer and on its way to stores. Don't forget that you can download the preview now and get an entire adventure for free!
Other Exciting Things
Shanna was invited to participate in Contessa's amazing Spring Loaded event last weekend. Check out this great Intro to DMing panel, where a group of fantastic gamers offer tips for DMing and share their experiences.
If you're following the news about Gen Con, you already know that the governor of Indianapolis recently signed a controversial religious freedom legislation that could allow business owners to refuse services to same-sex couples (and to others). This legislation has the potential to impact many attendees of Gen Con, and we've been talking about what we can do to offset that. Of course, our booth, panels, and games are and always will be safe spaces for everyone, but we're brainstorming other ways to make a difference and help all attendees feel safe and welcome. Your suggestions are always welcome.
MCG participated in the GAMA Trade Show (GTS) held last week in Las Vegas, Nevada. For those who may not know, GTS brings together game manufacturers and retail stores to gather for a week in Vegas to debut new products, talk shop, and learn from each other. At GTS, MCG connected with many enthusiastic people keen on spreading the love for Numenera and The Strange. As part of our outreach program to connect with retailers who may not have heard about Numenera and The Strange, we held a viral contest. We drew the winner of that contest yesterday and are very pleased to announce that The Wizard's Chest of Denver, Colorado, will be receiving a ton of cool loot, including most of our published material. To celebrate the win in style, we'll host a pizza party at The Wizard's Chest, complete with demos of Numenera and The Strange, and the Wizard's Chest will receive 2 front-row tickets to watch the premier of Numenera Strand at Gen Con 2015! Congratulations to The Wizard's Chest!
Get Inspired
Behind the Scenes
How about a little snippet from the text of Worlds Numberless and Strange? Welcome to the recursion known as Microcosmica:
Distant, regular beats throb through the soft corridors and twisted flesh mazes of Microcosmica, impossible to ever shut out completely. The beat vibrates through a visitor's bones. The sound is like a normal world's sun; its influence gives life and purpose to everything. It is literally the heart of existence. If it stopped, everything would wither and rot. The substance of the recursion is itself alive and seems to stretch in every direction, creating a vast wilderness of fluid-filled cavities, blood vessels, bile ducts, bone, mucus, and fiber.
Visiting Microcosmica is like being immersed in the center of a sloshing, salty sea of viscous particles, all of which are alive. Some are indeed ravenous bacteria with a keen interest in the appearance of intruders whose chemical makeup marks them as different and, potentially, as food. That goes double for the especially aggressive leukocytes that congregate like police to any scene of violence, regardless of whether intruders were fighting off aggressive bacteria, cutting through a cavity wall to access a larger arterial, attempting to repair vessels or other cell structures of Microcosmica, or merely looking for somewhere to escape.
~
Do you like us? Do you really like us? You can play an important role in helping is thrive and create more great games: Leave a review at DriveThru, Amazon, or with your local game store owner! Share these chronicles with other gamers you know. Invite those you love to sit around a table with you and delve deep into their imagination to create shared memories that will last a lifetime.
P.S. You rock.
Hey, look! Now you can subscribe to get these blog posts right in your inbox. Right down there, at the bottom of this post! Just enter your email and you'll never miss a post (we won't use your email for anything else, we promise). We've also added an easy way to share these posts on social media. You should see the buttons right at the bottom of this page!
Keep up with MCG! Follow Monte Cook Games, the Weird of Numenera, and The Strange RPG on Twitter; like Monte Cook Games, The Strange, or Numenera on Facebook, and subscribe to our MCG channel on YouTube. We also have a Pinterest account, which isn't news, per se, but it has lots of pretty pictures.
Also, don't forget: If you need us for anything or have questions, we're right here.