Iadace and welcome to Cypher Chronicles!
Big meteorite
Dino-killer and final
GM Intrusion
Exciting News and Interviews
EDIT: The Worlds of the Cypher System Kickstarter campaign has ended, and we feel there are many people who would have loved to take part in this campaign, but didn't hear about it in time. And there are many overseas backers daunted by the high cost of shipping who might not have heard about our new shipping arrangement for the UK and Europe, because it was announced only a day before the end of the campaign. So, for a very limited time—probably until we open BackerKit in mid-April—we are accepting late pledges. Which is great news for all backers. Why? During the campaign, we came close to reaching the stretch goal that would make Expanded Worlds a 160-page hardcover, but we didn't make it. This is one stretch goal we here at MCG really wanted to make happen, and if the Kickstarter comments during and after the campaign were any indication, you were pretty excited about it too. So, if we get enough late-pledge backers to bring our total to $310,000, we'll honor the stretch goal and take Expanded Worlds to 160 pages.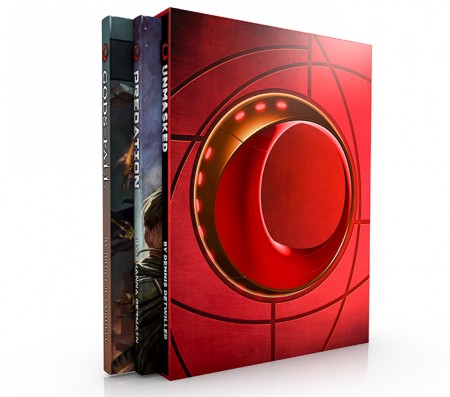 How can you spread the word about Worlds of the Cypher System late pledges? Share one of these cool actual play videos, interviews, or blogs on social media:
Living 4 Crits and friends played early material from Gods of the Fall:
And they get a bit crazy with Learning the Cypher System—An Outlandish Actual Play: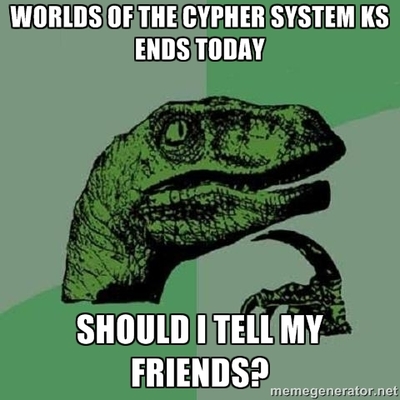 Thanks to your love of Cypher System games, we are upping the number of games we are running at Gen Con…huzzah! That means, of course, we'll need more GMs, so please sign up here to GM MCG games at Gen Con 2016!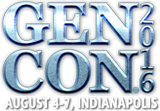 Dinos in my tent
Making infernal ruckus
Oh my, how they snore
Crowdfunding Campaigns and Other Things We Love
Is there a future
For a god of melted cheese
After the sky falls?
Get Inspired
I am Truth and Light.
This fragile world tears apart
From behind my mask.
Inspire Us
Got something you'd like to see published in Cypher Chronicles next week? A cool blog post you've written about our games, scientific news that inspires your The Strange campaign, an Atlas Obscura photo that makes you dream of the Ninth World, a Kickstarter campaign that kindles your imagination, a charity event near and dear to your heart…share whatever you think would inspire Team MCG and would also be a good fit for Cypher Chronicles. Send your recommendations to [email protected] (submitting a recommendation does not guarantee publication).
All the Printed Books.
Oh my, what a trove of dreams.
Happy Backer Me!
Share
Do you like us? Do you really like us? You can play an important role in helping us thrive and create more great games: Leave a review at DriveThruRPG, Amazon, or with your local game store owner. Share these chronicles with other gamers you know. Invite those you love to sit around a table with you and delve deep into their imagination to create shared memories that will last a lifetime.
~
P.S. You rock.
Hey, look! Now you can subscribe to get these blog posts right in your inbox. Right down there, at the bottom of this post! Just enter your email and you'll never miss a post (we won't use your email for anything else, we promise). We've also added an easy way to share these posts on social media. You should see the buttons right at the bottom of this page!
Keep up with MCG! Follow Monte Cook Games, the Weird of Numenera, and The Strange RPG on Twitter; like Monte Cook Games, The Strange, or Numenera on Facebook, and subscribe to our MCG channel on YouTube. We also have a Pinterest account, which isn't news, per se, but it has lots of pretty pictures.
Also, don't forget: If you need us for anything or have questions, we're right here.