Iadace, and welcome to Cypher Chronicles!
MCG News
Check out this beautiful sneak preview from the Character Type chapter of Predation! (This is an early, unproofed page.) Art by Raph Lomotan.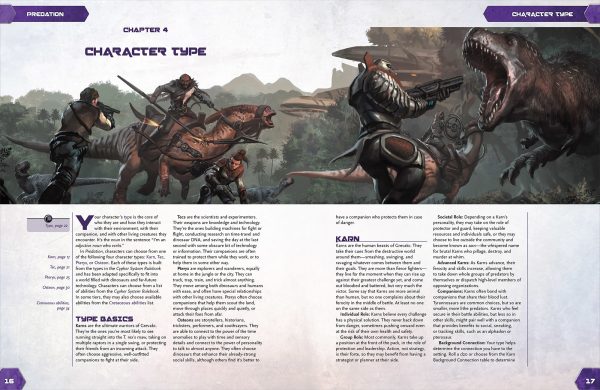 Preorders are still open for Ninth World Bestiary 2 now on the MCG Shop—over 160 new creatures, an extensive index of all creatures from products across the Numenera game line, random encounter tables, and more!
Get Inspired
People are getting really inventive with their 3D printers, like the one who created this suit of internally lit futuro-medieval armor (with video).
Archaeologists have discovered a 3,700-year-old pyramid, dating back to Egypt's 13th Dynasty.
Riser Art makes adhesive vinyl panels that attach to the front panels of stairs, turning the stairway into a work of art.
Recommendations
Ray Machuga of Higher Grounds is Kickstarting a new RPG called Dhovaine, a science fantasy game set in a modern world with hints of futurism and steampunk.
Character Crate is a Kickstarter campaign for a clever box that holds your dice and miniatures and is also a dice-rolling tray, handcrafted from black cherrywood.
Inspire Us
If you have something you'd like to see published in Cypher Chronicles next week, share it with us! Send your recommendations to cychron@montecookgames.com (submitting a recommendation does not guarantee publication).
Share
You can play an important role in helping us thrive and create more great games: Leave a review at DriveThruRPG, Amazon, or with your local game store. Share these chronicles with other gamers you know (the social media buttons are at the bottom of this post).
Subscribe
You can subscribe to get these blog posts right in your inbox. Right down there, at the bottom of this post! Just enter your email, and you'll never miss a post (we won't use your email for anything else, we promise).
Keep up with MCG! Follow Monte Cook Games, the Weird of Numenera, and The Strange RPG on Twitter, like Monte Cook Games on Facebook, and subscribe to our MCG channel on YouTube. We also have a Pinterest account, which isn't news, per se, but it has lots of pretty pictures.