You can get Cypher Chronicles, and other MCG news, delivered right to your inbox! Enter your email address and click the Subscribe button in the right-hand column, and you'll never miss a post. You can also suggest topics for Cypher Chronicles by emailing us at [email protected].
Menter's Square, Demonic Mysteries, and More!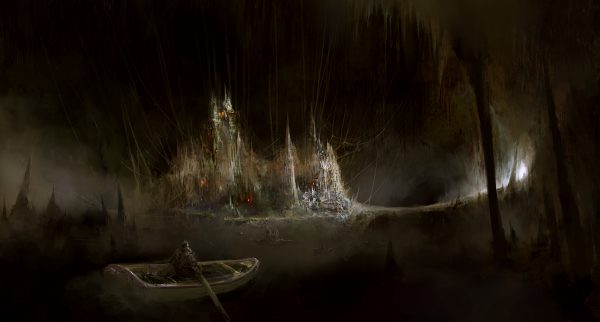 Don't miss the next The Raven Wants What You Have session when a ghostly girlfriend returns, knowledge is sought—and eaten–a demon is summoned and fed, and the vislae plan a journey through the Undersling (pictured above). The Raven Wants What You Have, our Invisible Sun campaign, airs Fridays at 9:00 p.m. CDT.
Watching The Raven Wants What You Have is a great way to prepare for your upcoming Invisible Sun campaign. If you aren't an Invisible Sun Kickstarter backer and you've not yet preordered it, there's still a small amount of time to preorder it through the MCG Shop, thus securing a copy for yourself (quantities are going to be limited!)!
Bodrov Nights
Are you watching Echoes Linger, our livestreamed Numenera campaign? Darcy is the GM and the players are Monte, Shanna, Bruce, Sean, and you! That's right, we need you to tune in on Tuesdays at 5 p.m. PDT and make suggestions during the show.
In episode 2, the castouts reach the city of Bodrov, searching for a nano cartographer who can help them, but instead they find an old friend, a challenge, and a mystery. This episode features a fan-created spot called Gazrava! Plus more gems like the Numenera Tide Pod Challenge above.
Starter Kit
Guess what? I'm in Season 2 of #StarterKit! Ep.1 airs 4/19 on @JoinTeamAlpha (https://t.co/pNWwiMVjz9). Watch as we learn #Numenera from #RPG legend @MonteCookGames! Thanks to @davidnett and all my friends at @GeekandSundry for having me on. #RPGNo3 https://t.co/POSHaQ01pc
— Jeremy Walker (@JWalkerScene) April 5, 2018
Starter Kit: Numenera Edition premieres April 19th on Alpha. What is Starter Kit? It's Geek & Sundry's program to teach the intricacies and strategy of roleplaying games. Starter Kit: Numenera Edition features Monte as the GM with a fun cast of characters. Use code "Numenera" for a 60-day free trial on Alpha to watch Starter Kit: Numenera Edition, and more!
Dump Stout
Bruce was recently on Penny Arcade's Acquisitions Intoxicated (the fun starts at the 14-minute mark), talking about beer, games, and a bit of everything, really.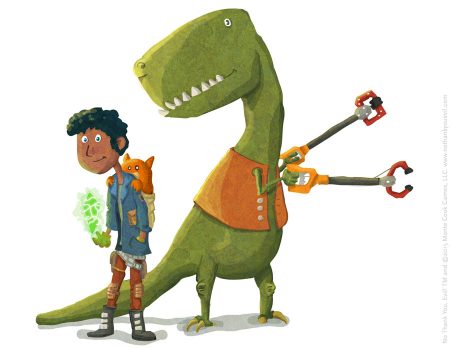 You don't have to journey into Storia to find a tiny T. Rex–they've just dug up one in Montana. (It's not actually that tiny. But still.)
These photos of an amazing dynamic sculpture by Johnson Tsang include work-in-progress shots, which are perfect inspiration for players whose characters are artisans.
I can imagine encountering a guardian descendant of the BionicWheelBot (video below) in a prior world ruin while searching for numenera, can't you? Just speed up and smooth out the movement a bit, increase the overall size, and add a cool weapon.


Kicking vacation up a notch. #nothankyouevil @MonteCookGames pic.twitter.com/WIHrbO0Chn
— Chuck Meyer (@chuckm) March 30, 2018
Using tokens from #NoThankYouEvil in my @TheStrangeRPG game so I can get ready for #InvisibleSunRPG . @MonteCookGames pic.twitter.com/48jQd2rvFO
— Ken Davidson (@genki_sudo_925) March 31, 2018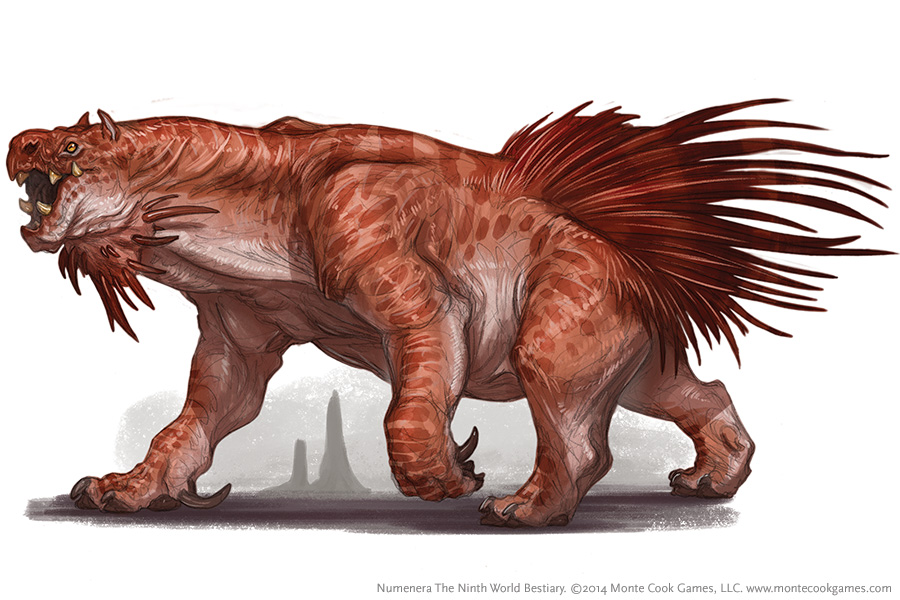 The Ninth World Bestiary is lavishly illustrated and wildly imaginative, featuring more than 130 creatures and characters. If it isn't part of your Ninth World collection, you are missing out on loads of beastly beasts, carnal creatures, and cunning characters. There also GM advice on using pre-made creatures or creating your own. And–my favorite–a beautiful centerfold spread of size comparisons for all the creatures!