Voracious giant bugs, free creatures for Numenera and 5E, a showdown between Great Old Ones, and a very, very busy warehouse. All in this week's Cypher Chronicles!
You can get Cypher Chronicles, and other MCG news, delivered right to your inbox! Enter your email address and click the Subscribe button in the right-hand column, and you'll never miss a post. You can also suggest topics for Cypher Chronicles by emailing us at [email protected].


Look at this Busy Warehouse!
We've been shipping up a storm, with fulfillment of Teratology, Book M, Priests of the Aeons, and the deluxe Numenera Corebook Slipcase Set all happening over the past two weeks. Here's a peek inside our Kansas warehouse, which handles shipping to destinations in the Americas. (We ship from the UK to most overseas backers.)
The weather has been nice, allowing us to spread out onto the tarmac a bit—which has been great, particularly when we got started and the warehouse was really crowded with all the new product.
We've packed and shipped over 1,500 packages from our Kansas location in the past two weeks. There are still a few hundred in the pipeline, but we're nearing the end of this incredibly busy fulfillment.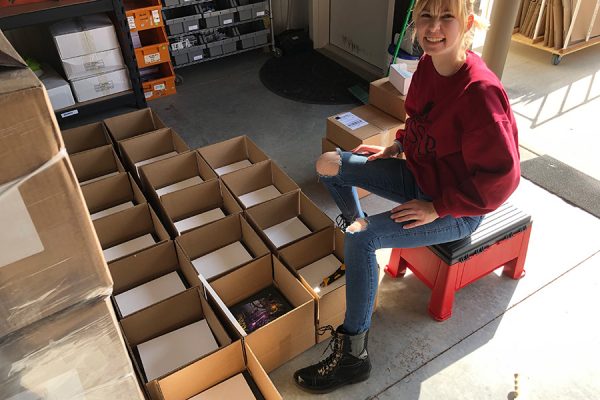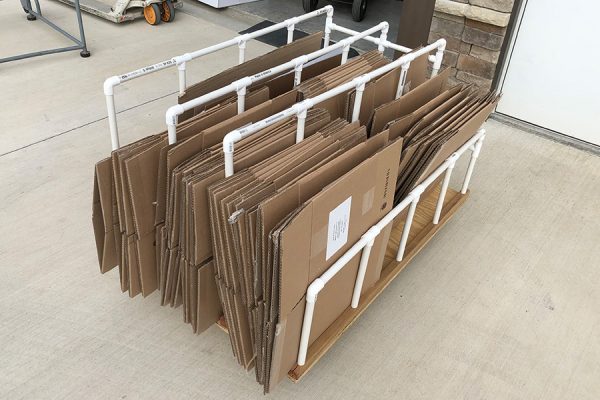 Creatures and Cyphers from Numenera—Now for 5E (and FREE!)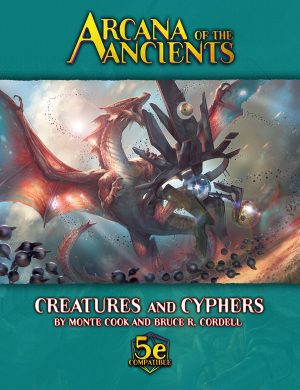 This week we released Arcana of the Ancients: Creatures and Cyphers, a free PDF available exclusively on DriveThruRPG. This nine-page PDF includes a bunch of creatures and cyphers from the Ninth World, converted for use with 5E. It's a small taste of what we're planning for Arcana of the Ancients—and it's free!
150 New Creatures to Populate Your Ninth World. 7 Are Free Right Now!
Speaking of free Ninth World creatures, look what went on preorder this week!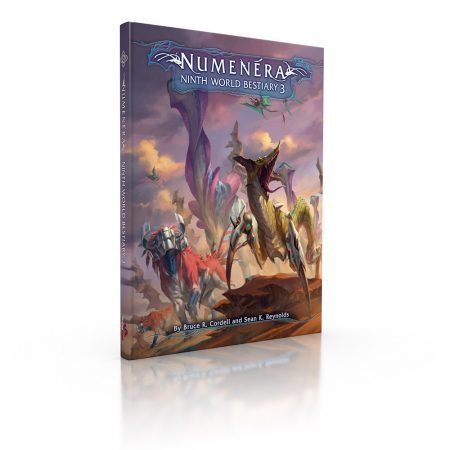 The Ninth World Bestiary 3 is loaded with imaginative, dangerous, weird, and wondrous creatures—and it'll be out next month. You can download a free preview with seven complete creatures, ready to use right this minute, along with a bunch of other content from the book. If the sound-eating mego doesn't freak your players (or you) right out, try throwing a numenera-collecting fain scavenger at them. Or rearrange a little space-time around them with an oshsalian. They're all in the free preview, just waiting to be released into your game!


This water bug that preys on ducklings, snakes, and turtles is perhaps the most vile and flagrant violation of my deeply held belief that it is unnatural—nay, immoral!—for invertebrates to prey upon vertebrates. Horrific!
Bruce is fascinated by this seemingly sci-fi fire extinguisher, available today (in South Korea, anyhow); best suited for those with good aim.


A card game of Great Old Ones battling it out for eternal domination of the Earth? What could go wrong? I'm rooting for Cthulhu, but Hastur has a few tricks up his great old sleeve. The game is Wrestlenomicon, and we're in!
Matt Stawicki has done awesome work for us and so many other game and fantasy publishers. He's now publishing a retrospective sketchbook that collects sketches, doodles, and preliminary drawings for scores of his works—complete with notes and commentary. This is a really cool release from an artist who has contributed incredible vision to Invisible Sun, Numenera, and especially The Strange.