Check out Arcana of the Ancients and, if you dare, The Nightside. Plus some great diversions in this time of anxiety, and an update on things here at MCG!
You can get Cypher Chronicles, and other MCG news, delivered right to your inbox! Enter your email address and click the Subscribe button in the right-hand column, and you'll never miss a post. You can also suggest topics for Cypher Chronicles by emailing us at [email protected].


How Are Things with You?
We hope you and yours are well, safe, secure, and healthy. These are anxious times for all of us, but we'll get through them. Please look out for your mental and emotional health as well as your physical well-being—and that means connecting with people. If you feel so inclined, come say Hi at the Cypher Unlimited discord, the Cypher System Gaming group on Facebook, or the official Monte Cook Games Facebook page.
How Are Things at MCG?
Here's the TL;DR:
We're all currently safe and healthy.
The MCG Shop is open for business, and our warehouse is shipping orders and Kickstarter reward fulfillment (albeit with a greatly reduced staff, which is causing longer processing times; we really appreciate your continued business).
Internal operations are relatively unaffected by the pandemic, but there are external slowdowns outside our control.
So, expect some delays in product releases later in the year.
And we're going to take advantage of slower operations to take a little time off.
Here's the most important thing: As of this writing, all of MCG's staff members and their families are safe and healthy. And MCG as a company is healthy, too, so although there are many unknowns ahead of us, we are fairly well positioned to face them.
Our North American warehouse, here in Overland Park, Kansas, is being staffed solely by the Ryan family: Tammie and Charles, and their children, Olivia, and Rowan. Our other part-time workers are staying home for their safety, ours, and yours. Because the Ryans share the same household, we're able to keep the warehouse open without exposing ourselves to the public (and without exposing your orders to anyone else). But that does leave us short-staffed, so warehouse operations have been slower than normal—particularly as we worked through the fulfillment of Arcana of the Ancients, one of our largest fulfillments ever (especially when you add in The Nightside, which fulfilled at almost exactly the same time). Please be forgiving if it takes a little longer than usual for us to get your order out to you. But we are open for business, and we expect shipping delays to diminish as we get caught up.
With the exception of the warehouse, all MCG staff work from their homes, so we haven't experienced a direct impact on productivity from COVID-19. Of course, anxiety, stress, and uncertainty affect all of us. And we're seeing delays both upstream and downstream of our product releases: our manufacturing vendors have slowed or stopped operations, and the hobby game distribution system has all but shut down as well. For these reasons, we expect to push some of our mid-year release dates back by at least a few weeks—and quite possibly more, if, as seems likely, factories and distributors don't reopen within the next month or so.
And so, we're going to take advantage of this unplanned slowdown to take a little time off! MCG has given our entire staff a couple of weeks of extra paid vacation in April. Aside from the warehouse, which will continue to ship Kickstarter rewards and store orders, the entire company is taking a break starting the week of April 13th. For two weeks there won't be any Cypher Chronicles and we won't be responding to email or other communications. We're all going to focus on relaxing, keeping ourselves and our families safe and healthy, and generally unwinding in this very uncertain and anxious time. And then we'll be back, at the end of the month, hitting the ground running!
Arcana of the Ancients Is Out!
There are powers even greater than magic . . .
In the misty recesses of time, before the kingdoms and lands you know—before the elder elves, the dwarven ancestral lords, and even the dragons—civilizations undreamt of rose and fell. They built citadels of metal, glass, and light. They crafted wonders and harnessed energies we can only guess at. The remnants of their incredible creations now lay hidden away in the deepest recesses of the world. Those few learned folk who even know about them have a name for these places, objects, and even creatures. They call them the . . .

Arcana of the Ancients brings the wonder and mystique of science fantasy—and who knows science fantasy better than MCG—to 5e. Hundreds of cyphers, artifacts, creatures, and other items are supported by loads of GM advice and a complete, hefty adventure that rolls these elements into your existing 5e campaign—or is a great basis for launching a new one!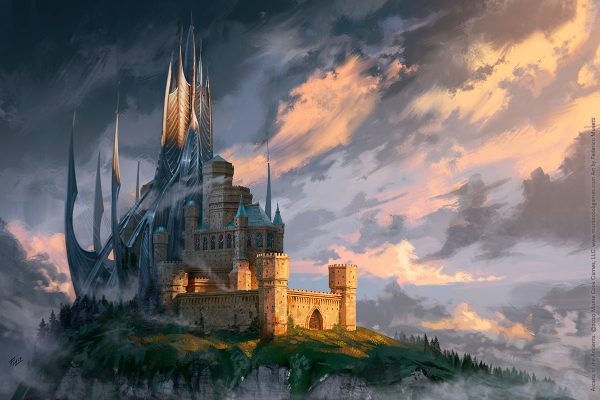 Do You Dare Walk the Nightside Path?
Arcana of the Ancients wasn't our only release this week. The Nightside is also now available!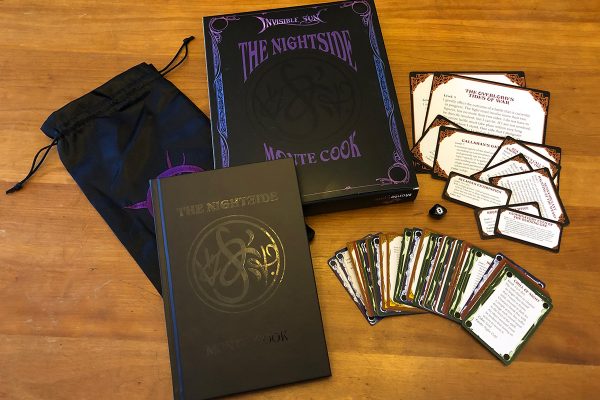 The powers and abilities offered by the Nightside are alluring. Seductive. But risky. Wise vislae resist the temptations they offer.
But are your players equally wise? The Nightside is everything the Nightside is: Tempting. Powerful. Filled with wonder, mystery, and even a dark beauty. If your PCs have been successful in avoiding the allure of the Nightside, perhaps it's best that you avoid exposing them to this book. . . .
Stuck at Home?
We have a few special offers for the homebound gamer:
New to Numenera and the Cypher System? The Numenera Starter Set has everything you need to play—even dice! It's 50% off at the MCG Shop for the duration of the COVID-19 crisis.
Got kids? The entire No Thank You, Evil! line is also 50% off.
Can't get together with your gaming group, but don't know how to make the most of online gaming? Download the free preview of Your Best Game Ever. We've added the entire Playing Games Online chapter to the preview—so you get it for free!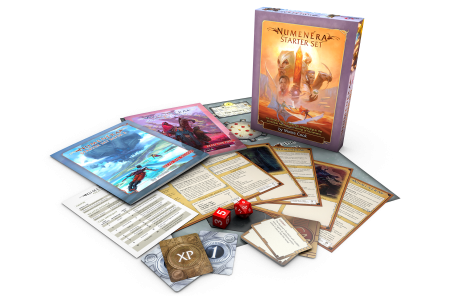 Finding plenty of free time while you're cooped up?