Join us as we delve (see what I did there?) into the process of Ptolus being printed and assembled, with photos. See photos of the completed A Player's Guide to Ptolus, which will start fulfilling as soon as the international warehouses receive their stock. Glimpse into our newly reorganized warehouse, which is now ready to receive pallets and pallets and pallets of Ptolus. All this plus muons, gem tokens, the ghost orchid, and more, in today's Cypher Chronicles.
You can get Cypher Chronicles, and other MCG news, delivered right to your inbox! Enter your email address and click the Subscribe button in the right-hand column, and you'll never miss a post.

Ptolus Is under Construction
Ptolus: Monte Cook's City by the Spire is in production and nearing completion. Here are some photos from the printer, showing elements of the book in the bindery process—the final step before the books are delivered to our warehouses!
Here we see a selection of "signatures," or 32-page chunks of the book, hot off the presses. Each is a single large sheet, big enough for 16 pages arranged four-by-four with space between them. It's double-sided (for a total of 32 pages). Each signature is then folded down to a single-page size. When the book is assembled and trimmed, the folds are cut off.
The complete Ptolus contains far more than you see here—a total of 21 signatures!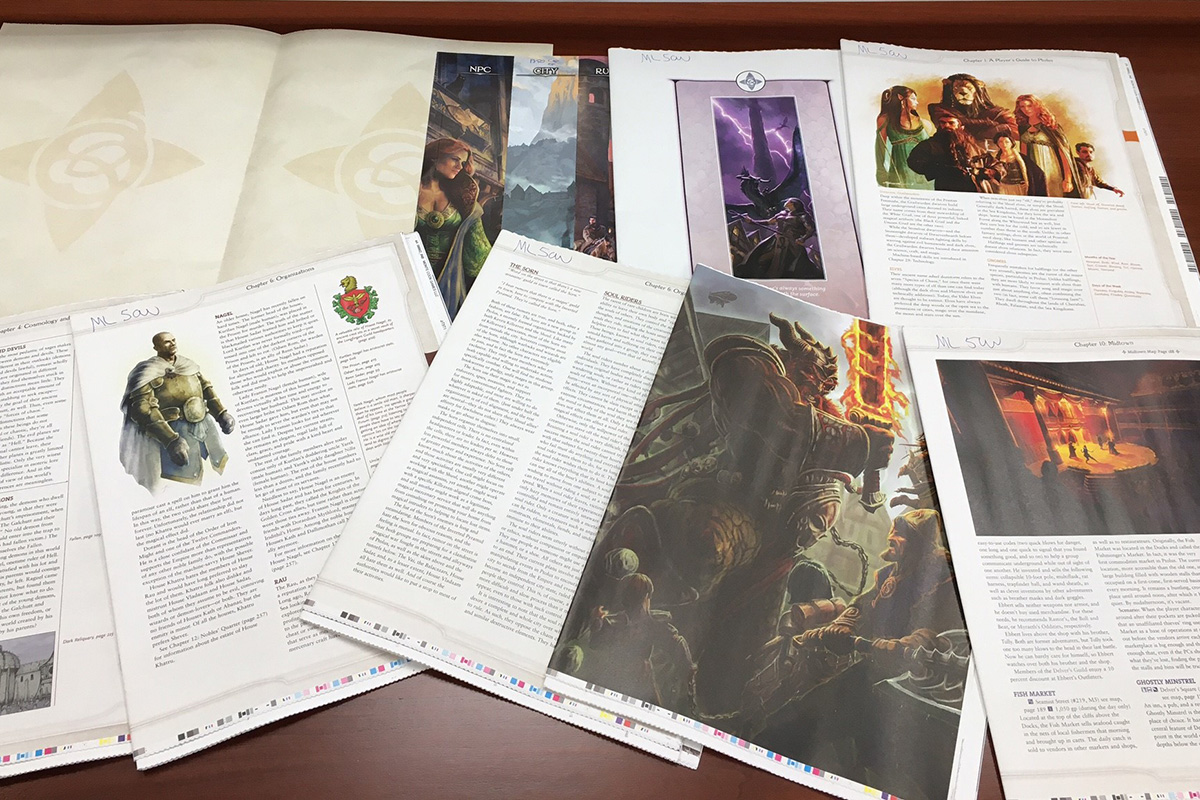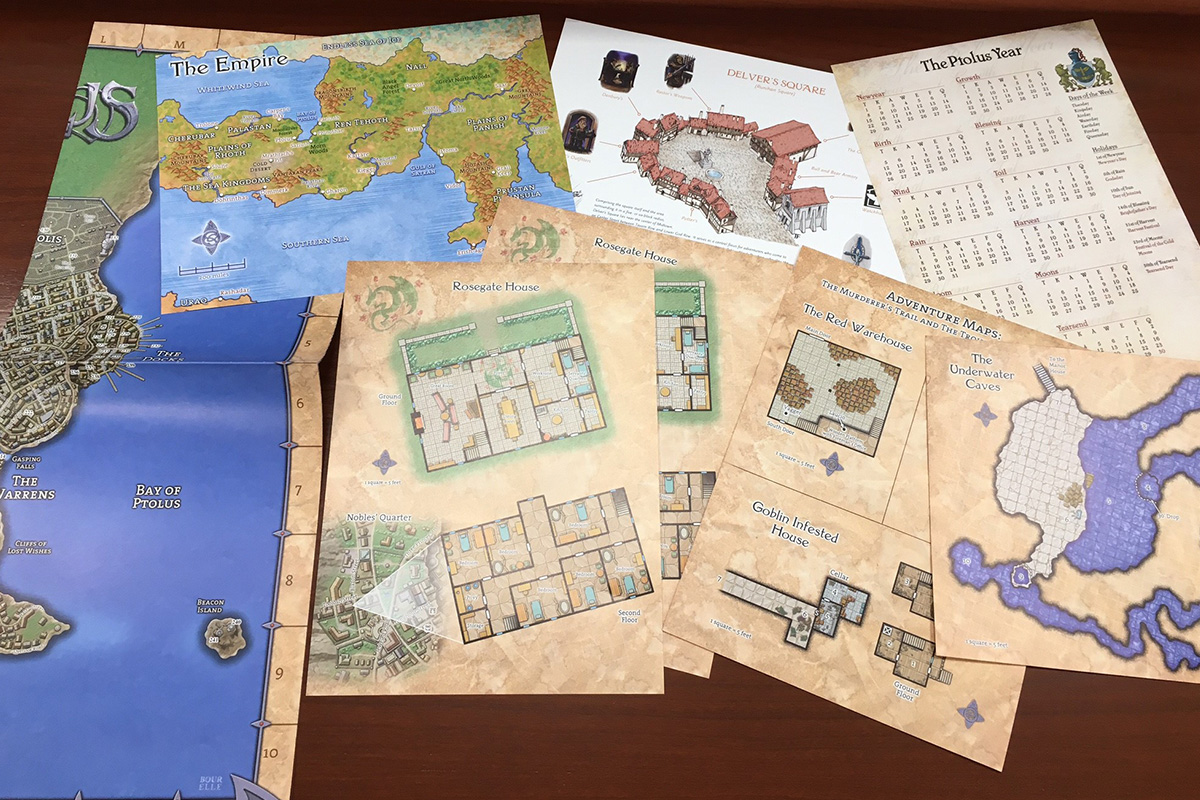 Here's a selection of just some of the items in the handouts packet. These go into envelopes, which are being "booger glued" (yes, that is actually what it's called!) into the back of the books as they come out of bindery.
Again, the full contents of the handouts packet is quite a bit more than what you see here!
These are bookmarks, printed and perforated but untrimmed. They'll be stacked with the signatures, and then they'll all be trimmed together before they're bound into the spine of the book, along with three satin bookmarks. (That's right: you get a total of seven bookmarks in Ptolus.)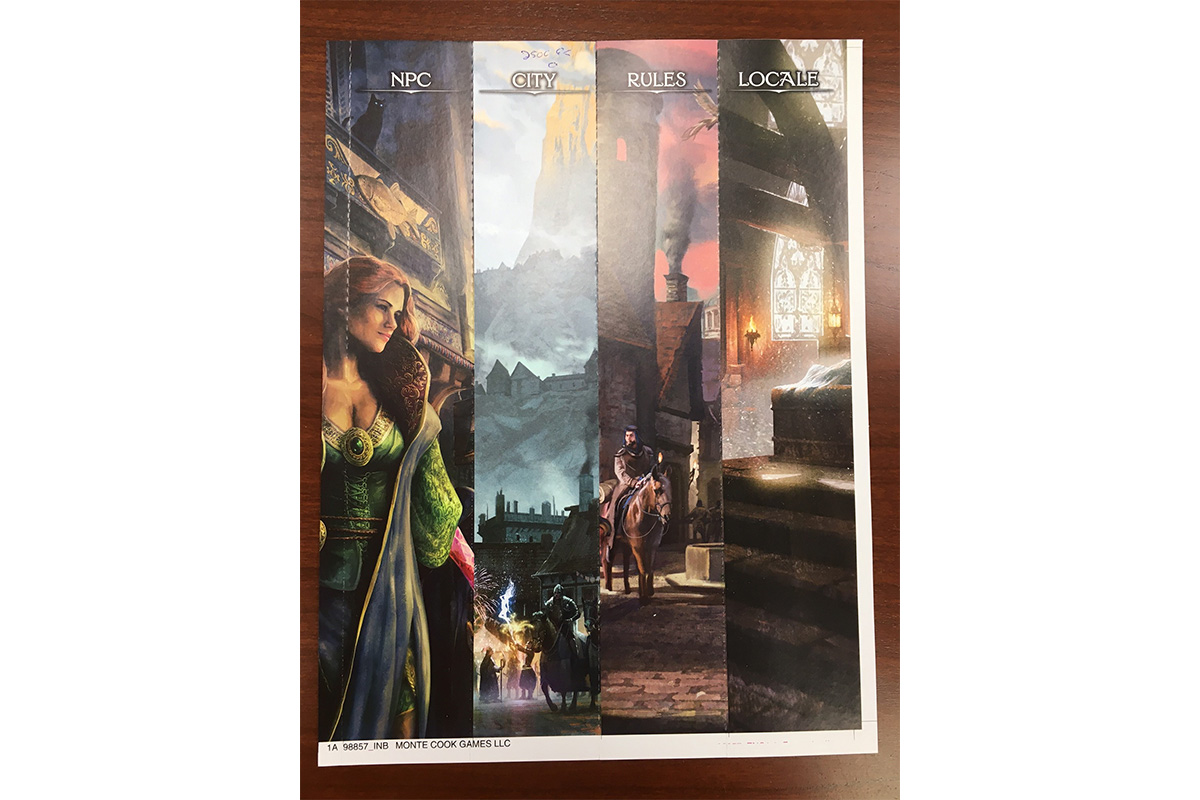 Meanwhile, A Player's Guide to Ptolus Is Done
A Player's Guide to Ptolus is complete and has reached our US warehouses. It's in transit to our overseas warehouses right now!
And We're Getting Ready for a Huge Fufillment!
Ptolus is a gimormous book—fewer than 350 will fit on a pallet. When it ships, we'll have thousands of books headed our way. We're expecting something close to 20 pallets for our Kansas warehouse alone. That's going to require more room than we had!
Last week we installed new pallet racking at our Kansas warehouse. Here's the first upright going into place.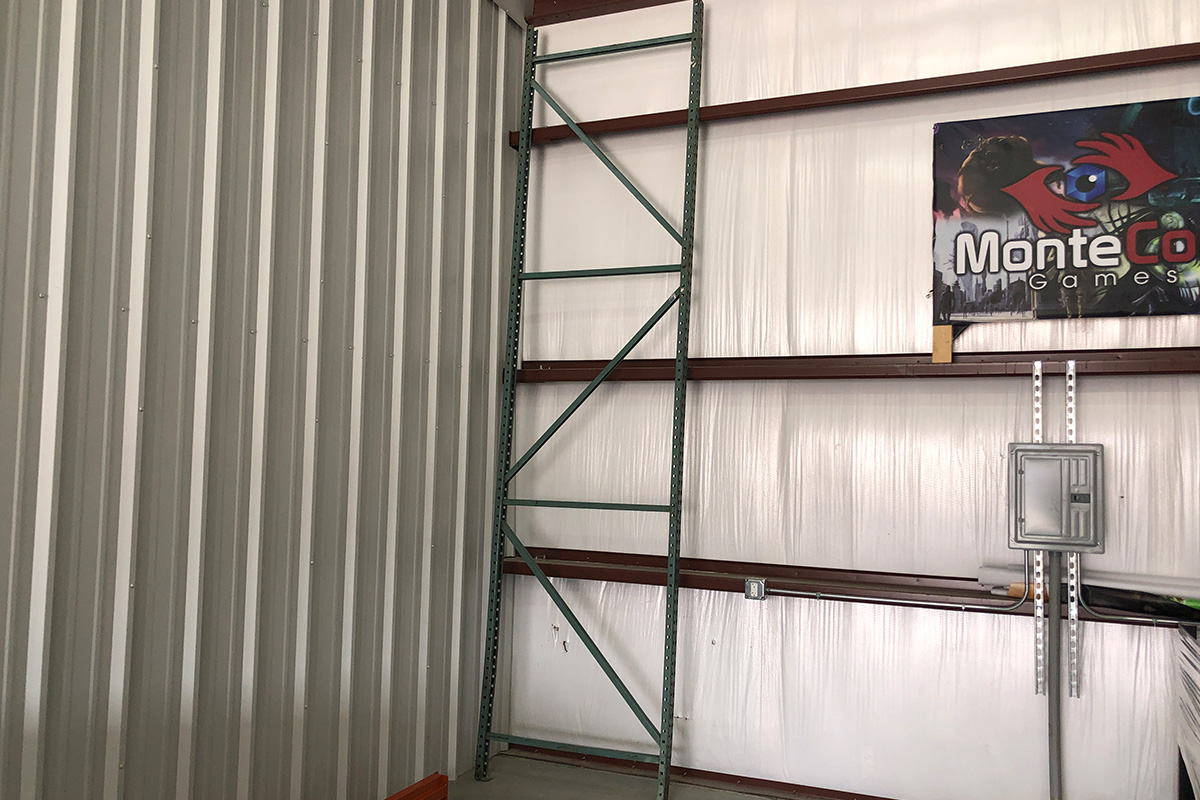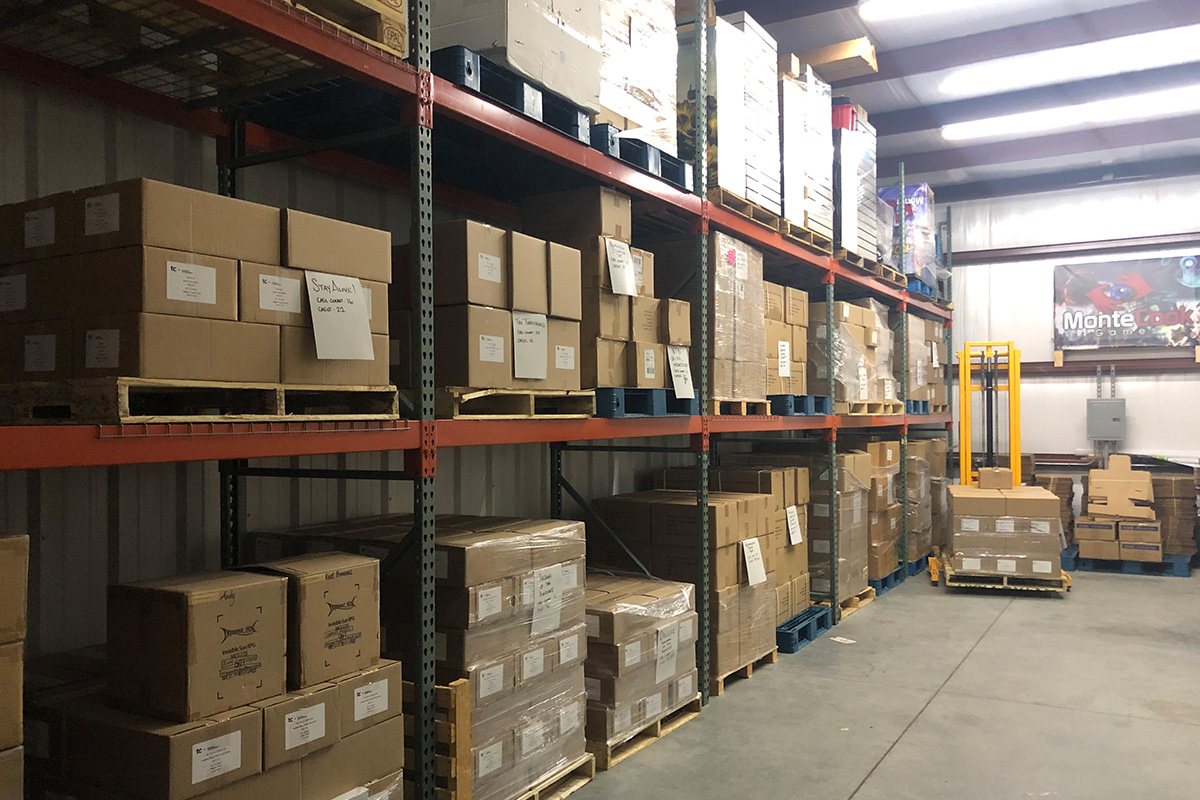 And here's the result, after a very long day. The new pallet racking created room to move existing product out of the way. We have additional floor space to receive Ptolus, and to manage the very large fulfillment process—which begins in just a couple of weeks!
Are you as excited by what we've shared here as we are? Be among the first to get your hands on Ptolus. Preorders for Ptolus: Monte Cook's City by the Spire will ship immediately after Kickstarter fulfillment. Preorder now to get your copy of this masterwork of fantasy gaming!
Cypher System Heroes in Action!
Massive Damage Adventures is putting on Heroes of the Reef on Twitch on Friday nights at 8 p.m. MT for the next three weeks. Don't miss this teen supers Cypher System mini-campaign!
Hanging out in chat gives you a chance to win a $25 MCG Shop gift card!

Shanna really loves flora and fauna that is beautiful, unusual, and mysterious. The ghost orchid is all three. This amazing documentary captures the life of a ghost orchid (and of those who are passionate about it) in wondrous detail and finally answers the age-old question of: what pollinates the ghost orchid?
Sean is backing these very cool gemstone talismans. They're really neat—use them as d2s, or as game tokens! (XP, anyone?)
And as icing on the cake, the creator, Gametee, is an all-woman-owned business. Diverse perspectives in our industry lead to diverse and amazing new product ideas.
File under Awesome Science News: The muon (that's mew-on), an unstable particle kinda like a heavy electron, has been proven to behave in a way that defies the Standard Model of physics. What does this mean? ¯\_(ツ)_/¯ But, as every Numenera player knows, any sufficiently advanced technology is indistinguishable from magic. What magical technologies of the future might be unlocked by this discovery? Again: ¯\_(ツ)_/¯!
And in the Less Awesome Science News category, it looks like the EmDrive might not be a thing after all. Over recent years a number of reproducible experiments seemed to show that this radical new propulsion system offered amazing potential for spacecraft, despite apparent violations of physical laws. A new study has determined, sadly, that these are largely false positives. Maybe we can get some muons involved?

Oh, wrong answers, how can you be so right? (Check out the thread for some comedy gold . . . pieces!)