Beasts invade our reality—from two separate realms. Magic hits the streets. And we're honored with not one but two nominations for one of the biggest awards in gaming. It's all in this week's Cypher Chronicles!
You can get Cypher Chronicles, and other MCG news, delivered right to your inbox! Enter your email address and click the Subscribe button in the right-hand column, and you'll never miss a post. You can also suggest topics for Cypher Chronicles by emailing us at [email protected].


Origins Awards Nominations for Numenera and Invisible Sun!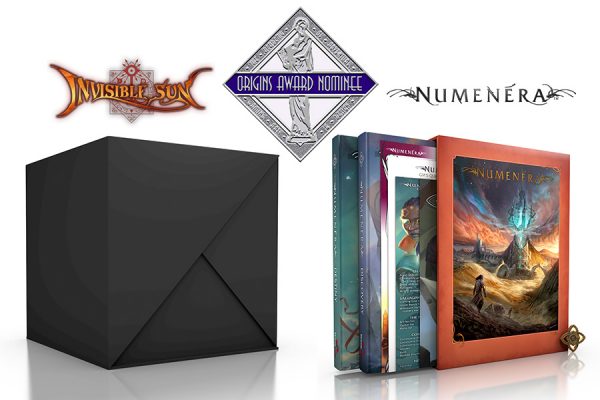 The 2019 Origins Award nominees were announced this week, and we're honored and excited that two of our games—Invisible Sun and the Numenera Discovery and Destiny Corebook Slipcase Set—were nominated in the Best RPG category. We are really proud of these games, and if you were one of our Kickstarter backers who helped not just bring them into being, but improve them into their final form through the stretch goals we hit, you should be too! It's a real honor to be included alongside all the fantastic nominations this year.
The winners are selected by members of the Adventure Gaming Hall of Fame, and announced at the Origins Game Fair in June. There's also a Fan Favorite award in each category, selected by Origins attendees. If you're heading to Origins next month, be sure to participate in the voting!
Two Journeys into the Actuality
This was an exciting week for Invisible Sun—we released not one but two new titles. Teratology is the ultimate guide to creatures of the Actuality. The long-awaited Book M  delves deeper into the magic at the heart of Invisible Sun, and also includes not just 200 new cards, but also a very smart slipcase that holds Book M, Teratology, Secrets of Silent Streets, and the forthcoming The Threshold.
If you haven't experienced Invisible Sun, you can download a free preview for any of those titles (click through the links above), including a massive 55-page free preview of Black Cube.
Ninth World Creatures Invading Our World
This week we began fulfillment of the Ninth World Bestiary 3 in print to our Kickstarter backers. That means that scores of new Ninth World creatures are finding their way into Numenera games Right Now. And as Kickstarter fulfillment winds down, we're starting to ship preorders. Don't want to wait another couple of weeks for this Ninth World creatury goodness? Place your preorder now and it'll ship sooner rather than later—but hurry, because preorders close soon!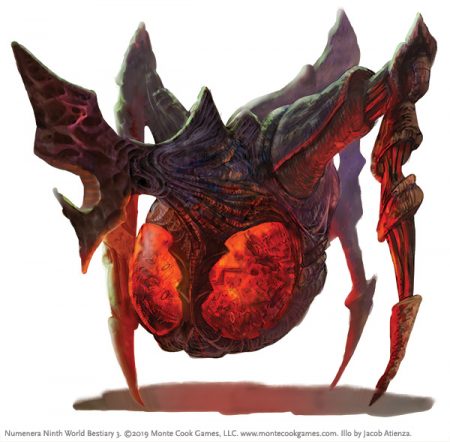 May the force be with you! Tomorrow (Saturday) is May 4th/Star Wars Day, and James Walls of Living 4 Crits has loads of fun planned. Start the day at 8 AM ET by yub nubbin' with the gang as they play ewoks in a Cypher System adventure James says will be The Ewok Adventures meets The Road…yikes! Tune in to suggest GM intrusions and witness the carnage, uh, I mean comedy. Probably both.
We're really proud of the beautiful artwork that helps define the worlds of Numenera, Invisible Sun, No Thank You, Evil!, and all of our games and products, but those achievements didn't happen in a vacuum. We built upon a legacy created by some really great pioneers in the gaming art field. Check out Eye Of The Beholder: The Art of Dungeons and Dragons for a look at the history and influence of D&D's art. It launches on multiple streaming platforms starting May 14th.
Book 3 in the Scurry Trilogy is funding on Kickstarter now. The artwork in this post-apocalyptic mouse tale is phenomenal, the story about animals surviving a human apocalypse is gripping, and the characters are engaging. Highly recommend.