A magic-filled missive from Monte Cook Games! An excerpt and art preview from We Are All Mad Here, details from the datasphere, spell resources for the savviest vislae, upcoming stream announcements, and recommendations for games and inspiration from us geeks at home.
You can get Cypher Chronicles, and other MCG news, delivered right to your inbox! Enter your email address and click the Subscribe button in the right-hand column, and you'll never miss a post. You can also suggest topics for Cypher Chronicles by emailing us at [email protected].


Magic comes in many forms. It suffuses the world of Invisible Sun, taking myriad shapes as spells, cantrips, long-form magic, and much more. While spell cards can be collated from supplements like The Nightside and Book M to join your Black Cube spells, we found in play that it's handy to have a reference for all of the secrets, minor magical practices, and long-form magical practices that come in these books. And so, we just released The Van Hauten Collection: Magical Praxis as a comprehensive reference for vislae looking for these non-spell-card magical workings and utterances.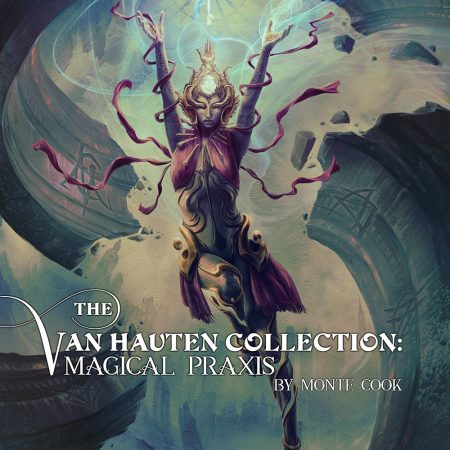 A different sort of magic plays in the realms of fairy tales and folklore, but do not mistake it for something less dangerous. An excerpt from We Are All Mad Here on the city of Catchfools:
Deep inside the belly of the Terrible Dogfish—a great and monstrous sea creature—is the city of Catchfools. Run by an emperor known only by his nickname, the Piper, Catchfools is a city where every vice is for sale, every sin is kept secret, and every living thing is one criminal act away from being turned into a donkey.
Throughout the city, undertaker rabbits walk the streets in pairs, wearing black hoods, humming minor-chord mantras, and carrying small white coffins with people's names on them. Anyone who sees their name on one of the coffins must commit a sin or indulge in a vice as soon as possible to keep the undertaker rabbits and their death coffins at bay.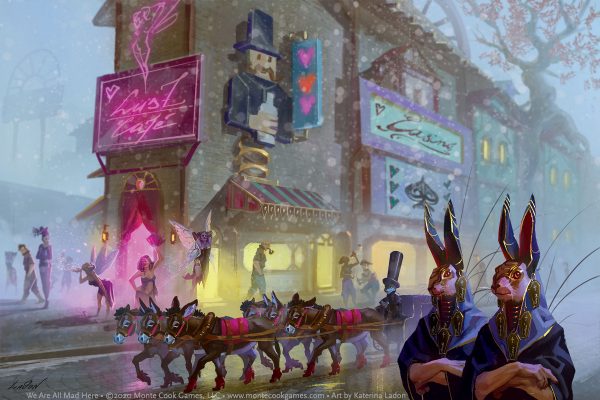 Naturally, some technology is so advanced as to seem like magic. For a taste of that, Sean has been tweeting about Voices of the Datasphere, which should be reaching our warehouse any day now and will be ready shortly thereafter to go out to Kickstarter backers and preorderers!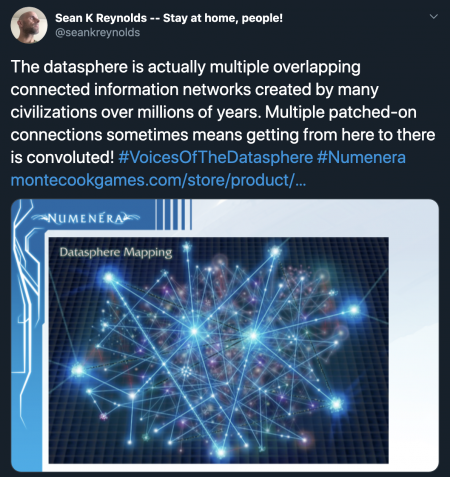 Meet in the Magic of the Internet
We have two upcoming streams you'll want to catch on our Twitch channel:
Ptolus Live, Tuesday 5/12 at 6:30pm PDT: Players of the original Ptolus D&D campaign tell behind the scenes stories on next week's stream! Special guests Andy Collins & Jesse Decker will join Monte Cook, Bruce Cordell, & Sean Reynolds. Our first Ptolus Live with Chris Perkins is now on YouTube.
#SplitTheParty, Thursday 5/21 at 5pm PDT: Monte and Darcy return for a casual hangout in shelter-in-place with any of you pals who want to drop by! We'll take your questions, tell stories, share our inspirations, and be friends on the internet. You can watch our first #SplitTheParty here on YouTube.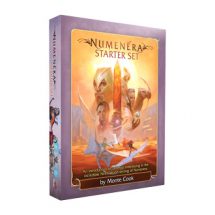 As I long for reconnection with my far-flung geek friends, and the party of two found in my own apartment, I've been thinking about RPGs that work with small groups! Luckily, I've found that the Cypher System scales well even with small groups—I gamemastered a 1-player game of Numenera for the Party of One Podcast (listen to the episode here). Sean Reynolds recommends adding at least one NPC to the party to give your player someone to talk to and bounce ideas off of. No Thank You, Evil! comes ready-made for having an NPC buddy: every player has a companion to accompany them along their journeys.
Both games are featured in our ongoing deals:
New to Numenera and the Cypher System? The Numenera Starter Set has everything you need to play—even dice! It's 50% off at the MCG Shop for the duration of the COVID-19 crisis.
Got kids? The entire No Thank You, Evil! line is also 50% off.
Can't get together with your gaming group, but don't know how to make the most of online gaming? Download the free preview of Your Best Game Ever. We've added the entire Playing Games Online chapter to the preview—so you get it for free!


Shanna recommends this article taking a cool look at artists' depictions of Alice in Wonderland over the last 155 years. Perfect for We Are All Mad Here inspiration.
Yar! Sea of Legends is a really interesting board game that leans heavily into narrative and storytelling, and it's fundraising on Kickstarter right now. "Raid ports, bury treasure, fall in love, and defeat your nemesis as you compete to become the most legendary pirate on the open sea." It has a huge cast of fantastic writers for the adventures, and I can't wait to see what they create. See the video below for an example of the narratives you'll pursue using the app!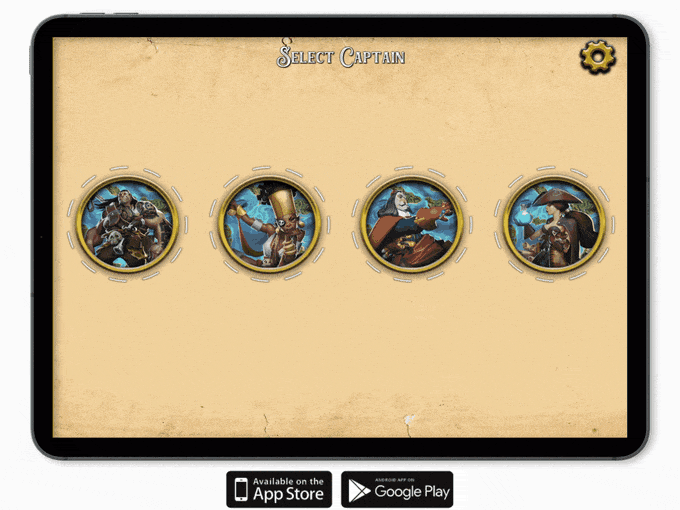 Pirates don't suit your fancy? How about building the greatest boy band the wold has ever seen? Battle of the Boybands is a gorgeous card game on Kickstarter now, perfect for quick light-hearted play.
I'm fascinated by this Google Arts & Culture resource—it has plenty of wonderful artworks there for your perusal, as well as videos of full orchestra performances and more. I'm going to get fancy and get some culture from the convenience of my living room!