You can get Cypher Chronicles, and other MCG news, delivered right to your inbox! Enter your email address and click the Subscribe button in the right-hand column, and you'll never miss a post. You can also suggest topics for Cypher Chronicles by emailing us at cychron@montecookgames.com.


Origins of Numenera Destiny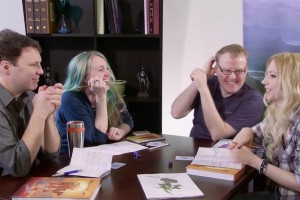 "Back in 1982 or thereabouts, I remember turning to my fellow D&D players, having just cleared out a dungeon, and saying, 'Hey guys, we should make this our base!'"—Monte
From that D&D game to now, Monte's passion for building worlds has given us countless hours of entertainment. And Numenera Destiny brings Monte's vision for world exploration and community creation full circle for Numenera. Building and designing your own numenera devices, aiding a local community with what you build—and salvaging what you need to do so—are all explained in Numenera Destiny, the sister book to Numenera Discovery.
Numenera Discovery and Numenera Destiny are available to pre-order now.
Explorers New to the Ninth World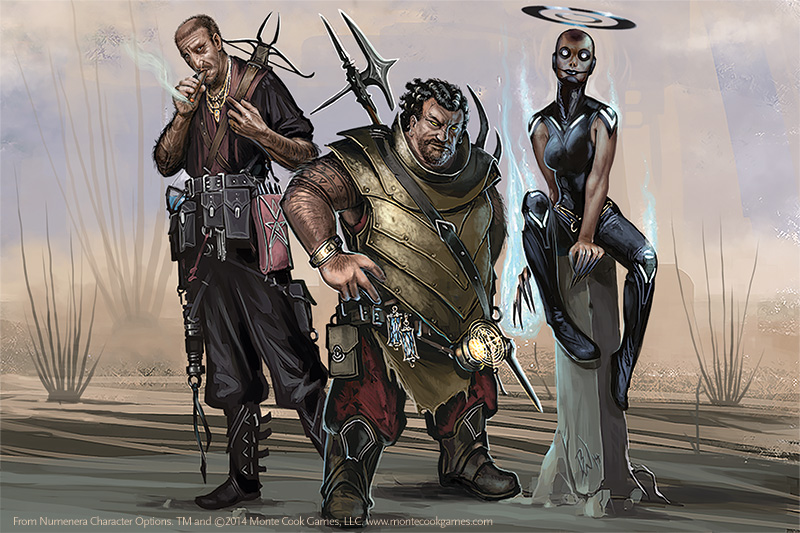 If you are a new explorer in the Ninth World, perhaps you are wondering where to begin your journey. Here are a few suggestions to get you started:
How to Play Numenera, a short video (less than 35 minutes!) created by the designers of the game specifically made to show new players how to jump in and start playing.
Watch the designers play Numenera in Echoes Linger, an ongoing series that airs Tuesdays at 7 p.m. on our Twitch Channel. In this game—which is GM'd by Darcy—Monte, Shanna, Bruce, and Sean play four Shallamas citizens who were cast out after a temporal "echo" framed them for murder. Will they earn back, or take back, the right to return to their home? Follow along as the characters attempt to reclaim their home, and—at the same time—immerse yourself in the setting and learn how to play the game!
The Spire of the Hunting Sound is a free adventure with five pregenerated characters, quickstart rules (no experience needed!), and a mini-bestiary. Download it today and begin your journey in the Ninth World.
Read The Poison Eater, a full-length fiction novel written by Shanna, and fall in love with Talia, the newest poison eater in the city of Enthait.
Join one of the fan communities online, such as Cypher System Gaming, where you can meet and interact with other folks who love Numenera—many of whom are very knowledgable about the rules and setting.
Behind the Scenes of Starter Kit: Numenera

What is it like on a Geek & Sundry set, and what are the folks like who work there? Monte shares his experience of filming Starter Kit: Numenera with us.
Starter Kit: Numenera is showing on Geek & Sundry's Project Alpha channel. You can get a free two-month trial if you sign up and use the code NUMENERA when you do. And then join us for watch-alongs on Thursdays at 5:30 p.m. PDT.
The Directed Campaign

Curious how the Invisible Sun Directed Campaign will work? Wonder no longer, vislae. In this recent article, Monte reveals how this feature-rich add-on will work. If you're not familiar with the Directed Campaign, or if you've been on the fence about getting it, check out the article, and then just think how cool it will be to have access to what Monte calls "the secret heart of Invisible Sun".

The reception of No Thank You, Evil! around the world has been tremendous, and we are blown away by the creativity it has fostered in kids and adults alike. Keep it up!
WIP for my daughter's 'No Thank You, Evil' character. She has two companions, a unicorn and a flying, rainbow cat. #kidlitart pic.twitter.com/MRbeEW5hfk
— Cory Shaw (@corysshaw) April 19, 2018


Help Marc Schubert continue to bring D&D to the kids of Edmonton by supporting this fund raising campaign for a D&D Club.
Bruce says Reality Isn't, a podcast episode by Don Hoffman, is a perfect tool for those vislae among you who wish to escape Shadow and catch a glimpse of the Invisible Sun. It's also look at what lies behind the user interface of space time.
When Darcy shared via our internal team communications that Cyan was Kickstarting The Myst 25th Anniversary Collection, I was shook(!), as my teenage daughter often says. Myst was the first computer game I played, and so it holds a very fond place in my memory. The Kickstarter edition will be in a unique collector's box and come with some special, Atrus-approved artifacts.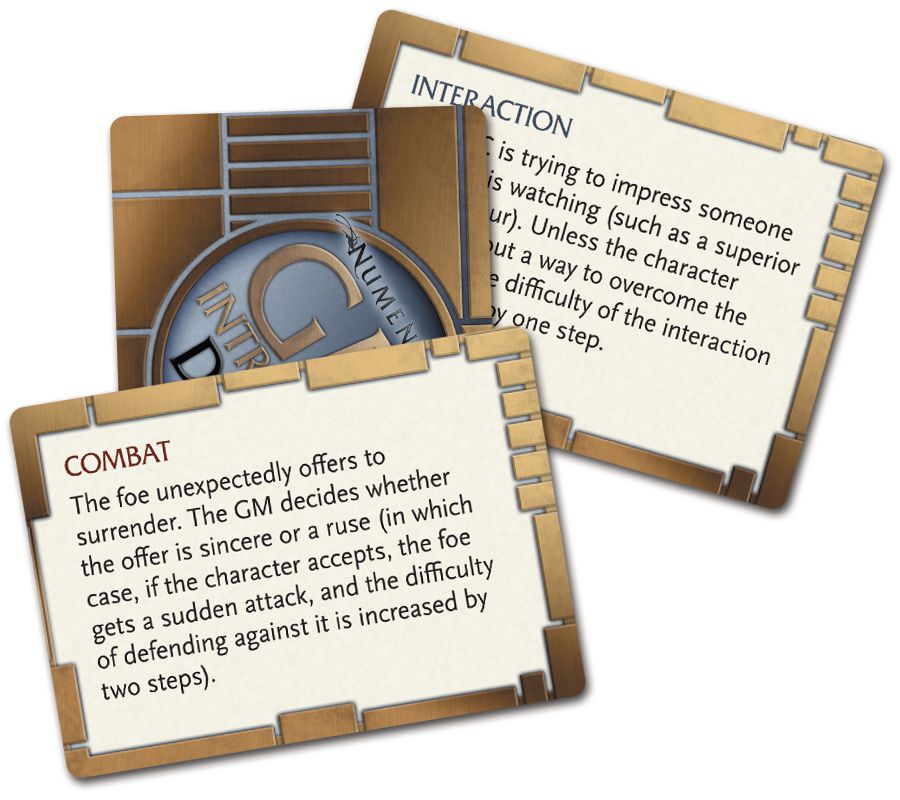 Why Numenera's GM Intrusions are the Best and Worst Thing for Your RPG Character, a recent article on Geek & Sundry by Rob Wieland, talks about the necessary story tension between GMs and players, and how GM intrusions give characters the spotlight, while letting the GM actively participate in the creation of the story. And so, there's no better product to talk about this week for Did You Miss It than the GM Intrusion Deck.
Scores of potential GM intrusions are presented in this 100-card deck that will quickly allow you to throw a challenge into a player's carefully crafted plans with just the draw of a card. Available in print and PDF on the MCG Shop.