We peek behind the scenes to find out what each person on the team is working on, we celebrate the beginning of the Kickstarter fulfillment of Voices of the Datasphere, we lament the cancellation of Gen Con 2020, but take solace in the creation of Gen Con Online, and we leave you with some really fantastic recommendations—all in this issue of Cypher Chronicles!
You can get Cypher Chronicles, and other MCG news, delivered right to your inbox! Enter your email address and click the Subscribe button in the right-hand column, and you'll never miss a post. You can also suggest topics for Cypher Chronicles by emailing us at [email protected].


We hope our newsletter finds you healthy and safe.
As Charles reported last week, our supply chain is cranking back up to speed (though not everything in our supply chain is back to normal), and the wheels of production are turning. Monte, Bruce, and Sean are working on Godforsaken, Liminal Shore, Ptolus, and other products, while Shanna is working on a really exciting secret project that has yet to be announced. Bear, who yet again raised the bar with the layout of Voices of the Datasphere—we can't wait for you to get your hands on this book!—is busy laying out We Are All Mad Here and attending to Art Director duties. Darcy and Jennifer are working their social media and customer service magic, making sure that you are informed and your queries are answered. And, in addition to manning the warehouse with help from our kids, Charles and I are attending to the regular day-to-day functions of the business.
Speaking of things we've been working on, here's a sneak peek at a two-page spread of Beneath the Monolith, which is at the printer now (look closely and you can see the crop marks in this photo).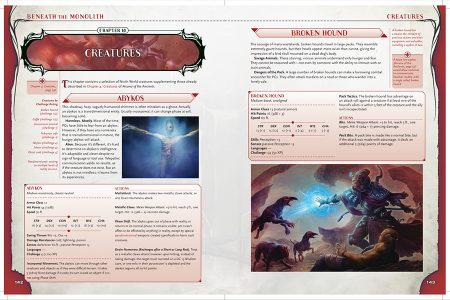 Beneath the Monolith translates the Ninth World to 5e, and we're looking forward to delivering it to you very soon!
Voices of the Datasphere Kickstarter and Preorder Fulfillment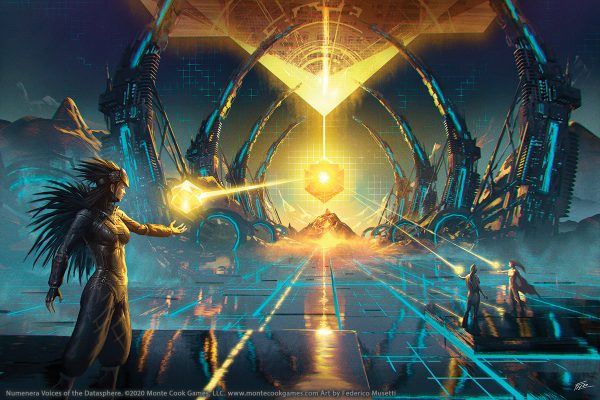 The fulfillment message for Voices of the Datasphere is going out over the weekend to Kickstarter backers … huzzah! If your message gets lost in the aether, no worries—just check your MCG Shop account for your redemption coupon (or coupons, if your rewards include both the print and PDF, or if you backed for more than one copy).
The PDF will be available for download immediately upon fulfillment for all backers who get it as a reward. The print fulfillment begins next week, but you can place your redemption order today.
We've decided not to bring in additional staff to the US warehouse at this time (and risk members of the team getting sick, which would impact much more than just the warehouse), so Charles, our two teenaged kids, and I will be manning the warehouse to pack and ship redemption orders for North and South Americas. We are, however, further hindered in our fulfillment efforts by the lack of a particularly sized box, which has been impossible to order until this week due to the temporary closure of the factory that makes it (they had workers who fell ill to COVID-19). We've been informed that our pallet of boxes should arrive on Wednesday of next week. As soon as the pallet of boxes arrives, the Ryans will be on deck packing orders faster than you can say iadace!
For our customers outside of North and South America, pallets of Voices of the Datasphere are on their way to our fulfillment houses in England and Australia, so your redemption orders will be filled as soon as the fulfillment houses receive and process those shipments. International fulfillment shouldn't be far behind the North and South American fulfillment, but the pandemic has had big effects on air freight (as there are far fewer overseas flights), so delays are possible. The book won't be available in retail stores until mid-June—and perhaps much later overseas—so you'll still receive your copies well before the street date.
If you're not familiar with this book, Voices of the Datasphere takes you into the virtual metaspace of the Ninth World datasphere itself. Become an avatar of yourself and explore this bizarre and timeless realm. Or perhaps use the datasphere to travel vast distances across the Ninth World. Preorder it now and get it before its street date!
#SplitTheParty—Casual Chats with Monte Cook and Darcy Ross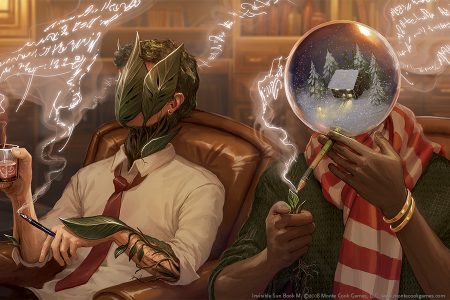 Join Monte and Darcy on Twitch on Thursday evenings for #SplitTheParty, a chill, casual, streaming hangout. On their last chat they talked for over an hour about narrative control in RPGs. You can watch it now on Twitch, or catch it when we post it to our MCG YouTube channel.
Gen Con 2020 and Gen Con Online
Gen Con 2020 has sadly (but wisely) been cancelled. Gen Con organizer's have revealed plans to hold Gen Con Online, a free online convention during the same time Gen Con 2020 was to take place (July 30th–August 2nd). It will feature livestreaming content, remote gaming, and other online programming. We're going to see if this is a good fit for us. If it is, you'll hear more from us about it in the weeks to come.
MCG Closed on Memorial Day
We'll be closed on Monday, May 25th, in observance of Memorial Day. Platitudes are inadequate, but please know our hearts go out to you if you lost a loved one while they were serving in the military.


Celebrate the 8th anniversary of Shadows of Esteren by nabbing one of the last copies of it in print, and discovering the first edition yet-to-be-printed artbook, Dark Romanticism. Monte says, "This is a beautiful game, and the creators are really nice people."
From Shanna: If you haven't read Locke and Key, this Humble Bundle is a chance to get some great comics and support a great charity!
From Charles: The fabulous Numenera and No Thank You, Evil! illustrator, Brynn Metheny, takes Disney princesses and reimagines them as cats that are reimagined as sharks that are definitely not Disney princesses.