Sharks that ate flying dinosaurs. Shiny, shiny shins. Cool new ways to explore prior-world ruins. And a very busy, very exciting 2019 for Numenera, Invisible Sun, and our other game lines. It's this week's Cypher Chronicles!
You can get Cypher Chronicles, and other MCG news, delivered right to your inbox! Enter your email address and click the Subscribe button in the right-hand column, and you'll never miss a post. You can also suggest topics for Cypher Chronicles by emailing us at [email protected].

A Pipeline Full of Great New Games
The crew here at MCG have been working hard in recent months, and we have a lot of exciting things headed your way in the not-too-distant future. We just released the Ruin Deck for Numenera this week (more on that below). Next week we'll open preorders for Secrets of Silent Streets. It'll be out in early February, followed by, in rapid succession, Slaves of the Machine God, Book M, Priests of the Aeons, and Teratology. That's five books for Numenera and Invisible Sun over the space of just eight weeks, starting early next month. Five!
(And that's just the projects that are in their final stages. We have more titles for Numenera and Invisible Sun, along with No Thank You, Evil!, the revised Cypher System Rulebook, and Your Best Game Ever, in the months that follow. It's going to be a very exciting 2019!)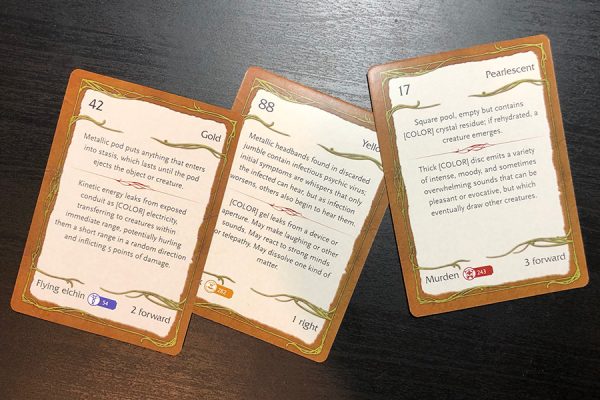 Speaking of the Ruin Deck, have you checked it out yet? Hats off to Sean and Bruce for creating a really neat tool for inspiring or randomly generating prior world ruins for your Numenera game. Each card contains two prompts for room contents, with all the weirdness you expect in the Ninth World, along with randomizers for colors, numbers, encounters, exits (number and direction), and even a percentile result (so you can draw a card, rather than rolling percentile dice, when referencing tables). It's super handy, and a great tool for building fascinating and atmospheric prior world ruins.
With so many titles nearing the end of this very full pipeline, here's a peek at one more: A first-off-the-presses copy of Secrets of Silent Streets. This tour of Satyrine is an incredible read, and a really beautiful book. We'll have a free preview PDF of it for you next week!
New Gamemaster Month
Have you felt the tug of GMing, but never quite taken the plunge? Or maybe you know someone who'd really enjoy GMing, but is hesitant to run their first game? January is New Gamemaster Month, and the program kicked off this week.
New Gamemaster Month is an easy, straightforward, actionable program that leads prospective GMs through a set of specific steps that culminates in running their first game. It takes you through bringing your group together, learning the rules of the game, prepping your adventure, breathing life into your encounters and your world, and setting up your first game session. And at the end, you run your first game. It's easier than you think, it doesn't take too much of your time, it's fun, and it works!
You can catch up with the program at the New Gamemaster Month website, and chat with experienced GMs and others GMs-to-be at the Facebook group.
(And if you're an experienced GM, you probably know that new GMs are how our hobby grows. So why not help spread the word a bit? Share New Gamemaster Month on social media to bring more players into the fun and rewarding role of GMing!)
Shiny Shiny Shins!
The Ruin Deck wasn't the only new item at the MCG Shop this week: We were also proud to offer the Shin Set, a new release by our friends at Campaign Coins. These fifty shins, in a variety of designs and finishes, are beautiful and have a lovely heft. Use them as XP counters, to keep track of character wealth, or just as a cool accessory to bring the Ninth World more tangibly to your game table. They're so pretty. Looooook at themmmmm.
Other Secret Projects
As if 2019 wasn't busy enough, it's possible we're working on some other really neat ideas. But we're not quite ready to tell you about them yet. . . .


Shanna is a Lyme disease survivor, so she has a hard time celebrating anything tick-related—but she found it hard not to marvel a little at these 99-million-year-old preserved specimens, aptly named "Dracula's terrible tick," literally caught in the act (and in amber) of parasitizing dinosaurs. In other news, it turns out there's a tick species with a scientific name that translates as "Dracula's terrible tick."
On the topic of Cretaceous-era creatures with awesome names, here's a story about a pteranodon being attacked by a Ginsu shark. Yes, there was a Ginsu shark. And apparently it ate dinosaurs. 20-foot wingspan flying dinosaurs.


After all that talk about dinosaurs (and Dracula ticks, and Ginsu sharks), who's in the mood to play a little Predation?