Iadace, and welcome to Cypher Chronicles!
MCG News
Shelve in style! We've just released a new slipcase that neatly and beautifully holds your Numenera hardcovers. It was specifically designed for Into the Night, Into the Deep, and Into the Outside (making a very handsome ensemble), but it can also fit a variety of other configurations perfectly. Creation of this slipcase was funded by the Into the Ninth World Kickstarter campaign, but we made a limited number of extras—if you want one, hurry: They're going to go fast! (We have a couple of really wicked bundles to help fill that slipcase, but they're only offered for a few more days.)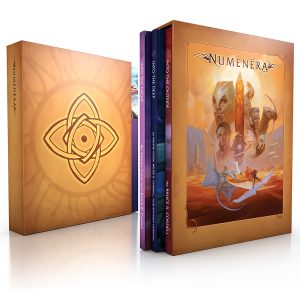 Have you pre-ordered Predation, or are you afraid of dinosaurs? A little sci-fi, a little post-apocalypse, and a whole lot of dinosaurs, Predation is a complete campaign setting for the Cypher System. It'll be out in mid-June, and pre-orders ship a week or so ahead of street date (and, as always, backer rewards ship before pre-orders). If this book isn't one of your Kickstarter rewards, reserve your copy now!
By the way, this Cypher Chronicles's featured image, which hasn't been shown before, is a Predation pygmysaurs piece by Joe Slucher.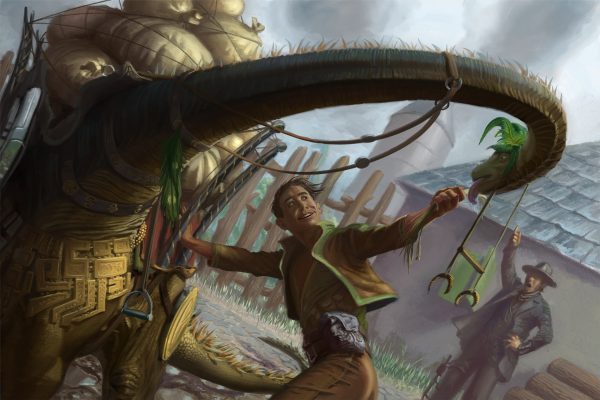 PaizoCon is happening this weekend! The Asset Team will be there running games, and Sean is holding a seminar about all things MCG, so please stop by and visit with him.

Over the past week we've received loads of MCG Shop orders/fulfillment requests. These orders/fulfillment requests have been abnormally large (some orders have been for more than 15 products!), which makes them more complex to fill. We hope to be over the fulfillment hump by the end of next week. Thank you for your patience as we pick-and-pack our way to the end of the orders and fulfillment list. What are we fulfilling?

From Numenera: Into the Ninth World Kickstarter: Into the Ninth World collector's slipcase, Beyond the Ninth World Supplements in print, Maps Beyond the Ninth World in print and PDF, Numenera Cypher and Creature Deck Expansion in print and PDF.
From A Strange Box Kickstarter: The Strange corebook, The Strange Player's Guide, Encyclopedia of Impossible Things, In Translation: The Strange Character Options, Strange Revelations: Ten Instant Adventures for The Strange, The Dark Spiral, The Strange Bestiary, and Worlds Numberless and Strange.
From Worlds Numberless and Strange Kickstarter: Myth of the Maker limited-edition hardcover.

"It's my favorite game." When a D&D-focused YouTube show with 44,000 subscribers and four million views decides for the first time to dedicate an episode to exploring a new game, where do they turn? To Numenera and the Cypher System—and they have some great things to say about it. Check it out!
"For once there is an expansion to a game that knew not to mess with perfection, nor to attempt to do anything less than fulfill the quality and imagination standards that they themselves have set." –from a review of Story, Please! by MKTabletop. Thank you, very, very much! <3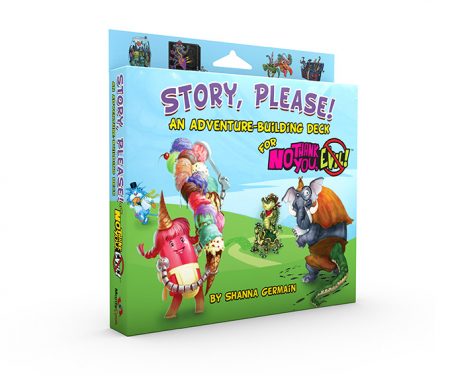 Recommendations
Inspire Us
If you have something you'd like to see published in Cypher Chronicles next week, share it with us! Send your recommendations to cychron@montecookgames.com (submitting a recommendation does not guarantee publication). And if you have an ongoing streaming game of Numenera, The Strange, or the Cypher System, let us know!
Share
You can play an important role in helping us thrive and create more great games: Leave a review at DriveThruRPG, Amazon, or with your local game store. Share these chronicles with other gamers you know (the social media buttons are at the bottom of this post).
Subscribe
You can subscribe to get these blog posts right in your inbox. Right down there, at the bottom of this post! Just enter your email, and you'll never miss a post (we won't use your email for anything else, we promise).
Keep up with MCG! Follow Monte Cook Games, the Weird of Numenera, and The Strange RPG on Twitter, like Monte Cook Games on Facebook, and subscribe to our MCG channel on YouTube. We also have a Pinterest account, which isn't news, per se, but it has lots of pretty pictures.