Guests of Honor, making cool stuff, our awesome GMs, and the return of Alan Parsons. All in this week's Cypher Chronicles!
You can get Cypher Chronicles, and other MCG news, delivered right to your inbox! Enter your email address and click the Subscribe button in the right-hand column, and you'll never miss a post. You can also suggest topics for Cypher Chronicles by emailing us at [email protected].


Gen Con Guests of Honor!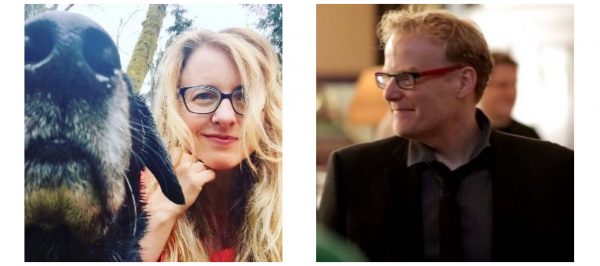 This week Gen Con announced their 2019 Industry Guests of Honor, and they are (drum roll, please) . . . MCG's own Monte Cook and Shanna Germain!
We are gearing up for a really exciting Gen Con, with great events for Numenera, Cypher System, and all our games, plus the release of Your Best Game Ever, Explorer's Keys, It's Raining Cats and Dinosaurs, the GM Notebook and Player Notebook, the reprint of Invisible Sun, the Vislae Kit, and The Key, and a first look at the new Cypher System Rulebook. This exciting news is icing on the cake. We hope you make it to Gen Con, and get a chance to catch Monte and Shanna, along with Bruce, Sean, and the rest of the MCG team, at Guest of Honor events, the MCG booth, or An Evening with MCG!
Calling All GMs
Speaking of Gen Con: As usual, we are running scores of events for Numenera, the Cypher System, The Strange, and Invisible Sun. Our GMs are a fantastic bunch, bringing fun and a sense of camaraderie to the game table for players new to MCG games, and veterans, alike. And we support them with some great stuff, including an exclusive print book (a real book!) with all the adventures, along with (depending on how many games the GM runs) a free Gen Con GM badge and some great game swag.
Join this incredible cadre of wonderful GMs—we still have a few slots to fill. And if you're already signed up to run a game or three? I hear that Darcy has some great incentives for picking up a fourth or fifth game. Drop her a line!
Origins Awards Voting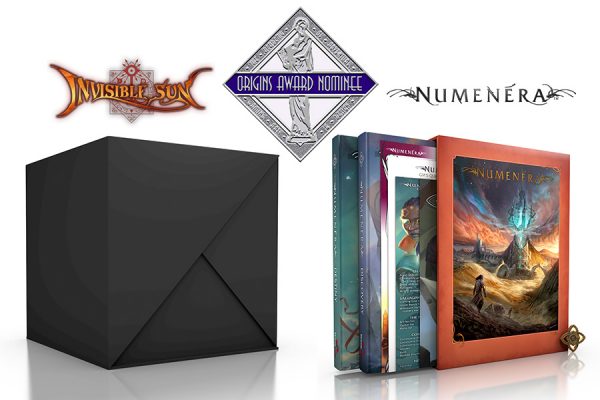 Heading to Origins? Don't forget to vote for your favorite games. Origins Awards voting is held at booth 1166 in the Exhibit Hall. There are many, many great games nominated, and among those in the Best RPG category are both Numenera: Discovery and Destiny slipcase set and Invisible Sun.
(And while you're there, don't forget to sign up for a session of Trailblazer Trials for Numenera, which gives you a sneak peek at the forthcoming Explorer's Keys, and Castaway, for the Cypher System.)
Make Cool Stuff with the Invisible Sun Prop-Crafting Kit
Here at MCG, we don't just love RPG systems and worlds, we also love the handouts, props, accessories, and other tangible items that make games easy and efficient to run and bring gameplay to life. Check out the Numenera Shin Set, the Wicked Keys for Invisible Sun, our XP cards or other decks, or the Cypher System Playmat for just a few examples. And of course there are the many really cool props included in the Invisible Sun Black Cube—tickets, menus, playbills, brochures, business cards, and so on.
If you love props and handouts as much as we do, perhaps you like making your own? The Invisible Sun Prop-Crafting Kit includes scores of files that help you put together custom props and handouts using official graphic elements from the game. You can even use it to items like make stamps, wax seals, and embossers to give your props a wonder tactile quality—the files, instructions, and permissions are all included.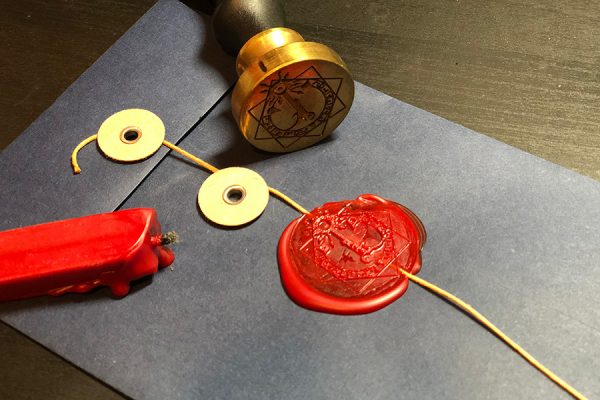 Several of us here at MCG have been fans of Alan Parsons for many a year. (If you aren't familiar with Tales of Mystery and Imagination, well, fix that. Seriously.) He has a new album out, after being inactive for 15 years. It's called The Secret, and it's all about magic—stage magic, real magic, even technology as magic. If you're looking for something to put you in an Invisible Sun mood, check it out!
A new Terminator movie? Um, OK. Wait, James Cameron is producing? And it's a direct sequel to T2, basically bypassing the later sequels as if they didn't exist? And Sarah Connor is back? YES, PLEASE!