Good heavens—what's that strange creature? A bevy of strange critters, alien plants on our own earth, exciting fulfillment news for backers, and plenty of delightful recommendations await you in this issue of Cypher Chronicles.
You can get Cypher Chronicles, and other MCG news, delivered right to your inbox! Enter your email address and click the Subscribe button in the right-hand column, and you'll never miss a post. You can also suggest topics for Cypher Chronicles by emailing us at [email protected].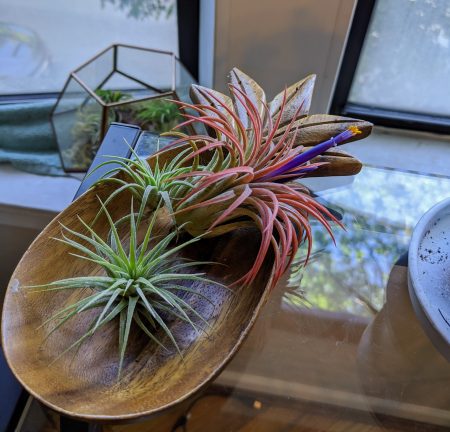 My mind is blown. This air plant that I've had for a year has suddenly turned from green to red and sprouted a gorgeous purple and orange inflorescence in the past few days, completely unannounced and unexpected. Who rolled on the Arcana of the Ancients mutation table and didn't tell me?
Shanna realized this week that even her out-of-this-world creature design has been shown up by nature:


New creatures will abound in upcoming books! The datasphere holds strange creatures evolved in its digital domains and transported there from elsewhere, as shown in Voices of the Datasphere. Beneath the Monolith brings creatures familiar to Ninth World lovers, like the ithsyn below, to the 5e ruleset. For residents of the Actuality, The Threshold introduces "hidden whales."
I just got my fingers on Beneath the Monolith myself, and it was actually quite moving to see a new incarnation of some of my very favorite Numenera creatures that first captured my heart and sold me on the Ninth World. I'd love to hear what some of your favorite MCG creatures are! Let us know on social media with the hashtag #MCGcreatures.
Voices of the Datasphere and Beneath the Monolith are still in preorder phases (get yours before street date!), and backers of course get the early-early fulfillment! Fulfillment emails for Voices of the Datasphere have already gone out, and backers receiving Beneath the Monolith and The Threshold should expect to see a fulfillment email in the not too distant future (no sooner than by the end of next week, though).
Fulfilling a bunch of rewards? In response to an awesome backer idea, we've now added a button to let you use all your product-related coupons at once, rather than adding them one by one. We hope this helps folks who tend to batch their rewards! Check out the new feature on your account's coupons page.
While you're at the shop, don't forget about our ongoing sales: all No Thank You, Evil! products and the Numenera Starter Set are 50% off for our COVID-19 sale. This week we've also been running a Dino Day sale! Use the code "dinoday" to get $10 off print copies of both Predation and the Cypher System Rulebook. Rawr!
Finally, last week's casual hangout stream with Monte and me is up on YouTube! In this #SplitTheParty chat, we discussed narrative control in RPGs, recounted a Cypher Short playtest for Godforsaken, and more! Hear about our lives, the media we're enjoying, and get behind-the-scenes tales of MCG. Post in the comments to let us know what you think and what you'd like to see in the future.