We reveal Where the Machines Wait, look at some interesting uses for Ptolus, stand outside of the doors to The Darkest House, bask in glowing reviews for Arcana of the Ancients and Your Best Game Ever, plus more! All in this issue of Cypher Chronicles.
You can get Cypher Chronicles, and other MCG news, delivered right to your inbox! Enter your email address and click the Subscribe button in the right-hand column, and you'll never miss a post. You can also suggest topics for Cypher Chronicles by emailing us at [email protected].

Where Do the Machines Wait?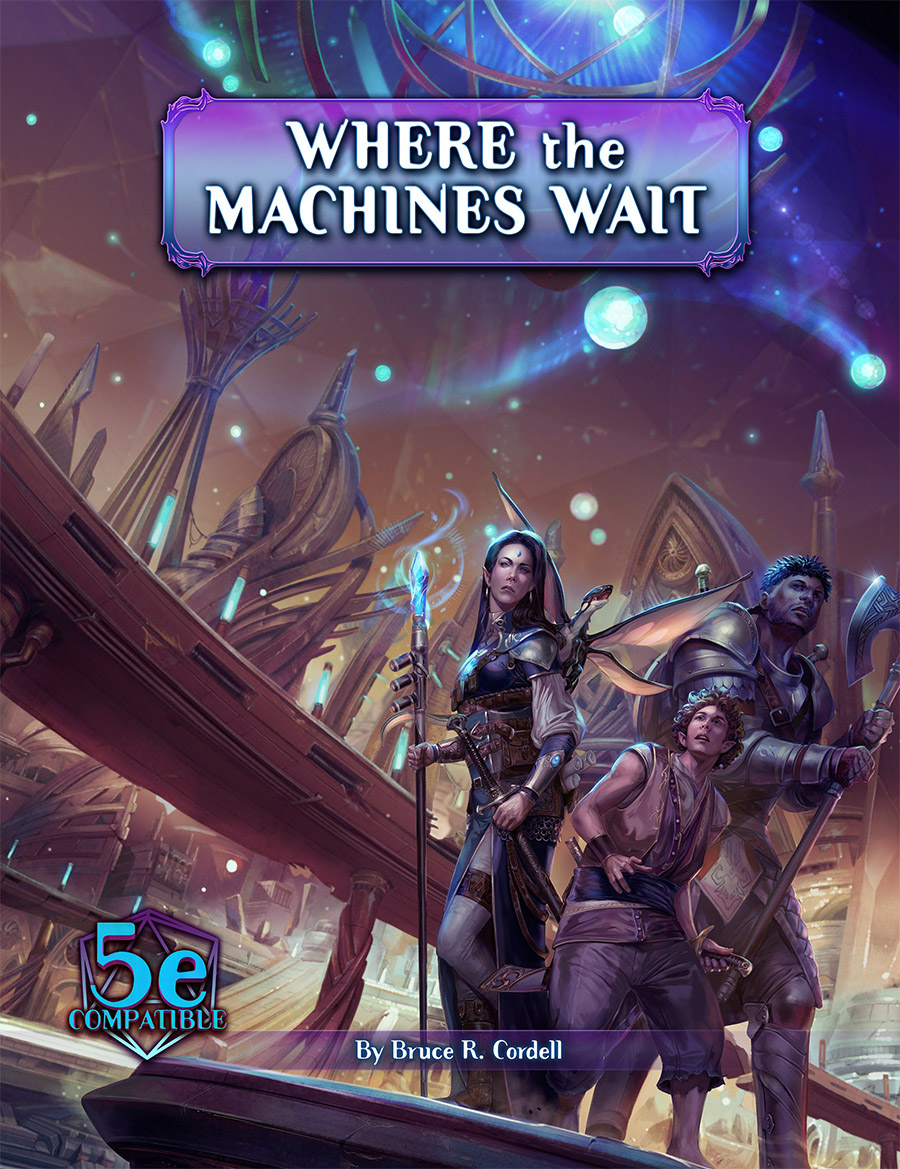 Our latest 5e offering—and the last reward of the Arcana of the Ancients Kickstarter—is now available from the MCG Shop and on DriveThruRPG!
Where the Machines Wait takes players to what is known as the Grave of the Machines, an underground mausoleum filled with the wondrous devices and strange magics of the Ancients. Will adventurers be lured in by promises of untold riches, vast amounts of wealth, or the chance to unearth artifacts the world has yet to see? Or will they be waylaid by things that have lain dormant for ages, waiting for their chance to escape into the world above?
A sizeable adventure at 96 pages, Where the Machines Wait is a great dungeon delve for your 5th level party, and includes conversion rules to make it a great addition to your Numenera campaign as well!
Ptolus is Out, and the Reviews Are In!
Delvers across the globe gleefully share photos of Ptolus as they arrive on their doorsteps.
With some coming up with very . . . unique ways to use it when they're not rolling dice.
We are thrilled to see the community enjoying over a year's worth of hard work from all of us here at Monte Cook Games.
Our friends over at Angel's Citadel have done a pretty thorough review of Ptolus that may influence your decision to grab it once it hits retail shelves. Give it a read and see what you think!
Kickstarter and pre-order fulfillment of Ptolus continues—for those who are still waiting for your rewards/preorders to ship, your wait nears its end. This was a big fulfillment for us and we appreciate your patience. We promise the wait is worth it!
The House That Hungers Prepares to Open Its Doors. . . .
The Kickstarter reward release date for The Darkest House draws near. There is a buzz of excitement in the air as the team busily puts on the final touches. Will you be there when the doors open?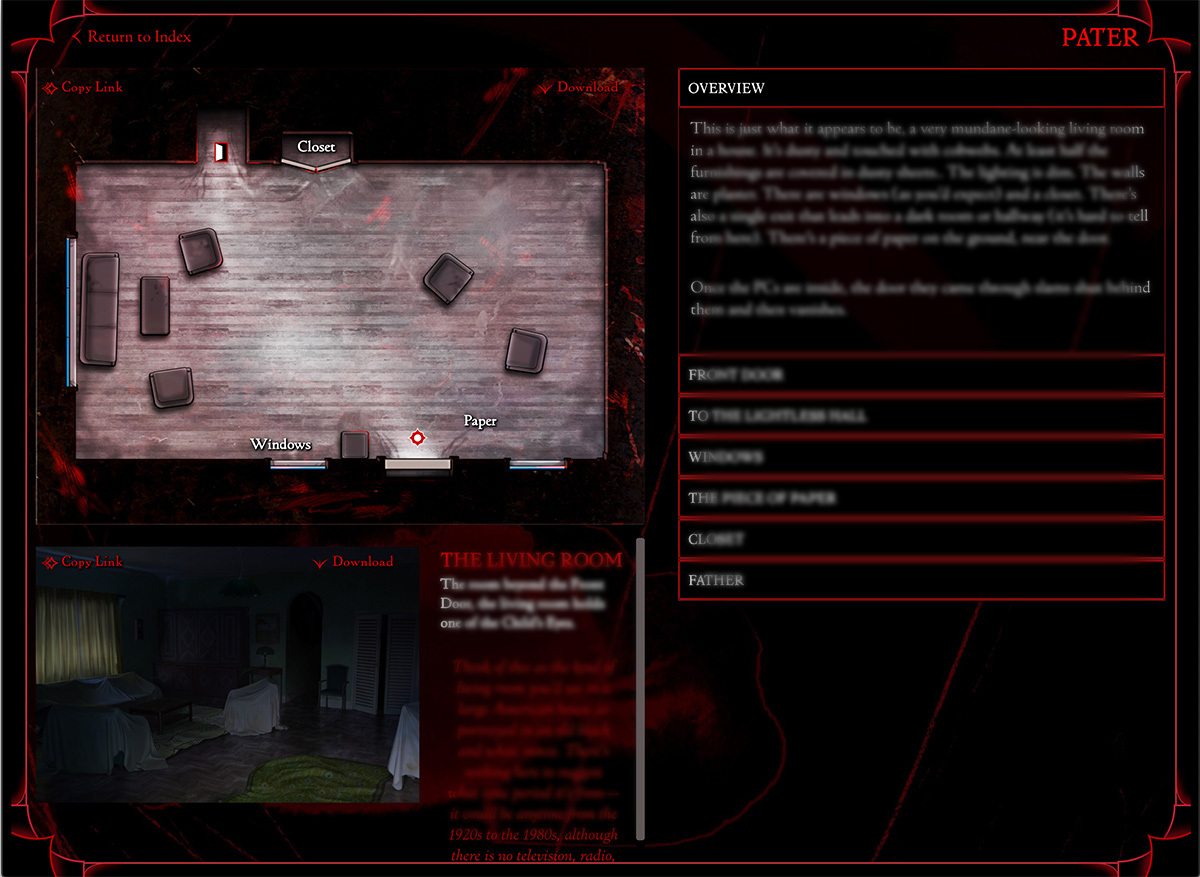 If you missed the Kickstarter, you can still enter The Darkest House via BackerKit, but only for a few more days (if you want it, grab it this weekend!). When BackerKit closes, The Devoured Halls—the Kickstarter-exclusive extension—will never again be available!

AJ Picket reviews Arcana of the Ancients and recommends Your Best Game Ever in this recent D&D5E video, and we're over-the-moon pleased with how much he likes them both.
"We have tinkered with different takes on magical powers, effects, and items over the many years of the game [D&D] in all its different editions, but I think that Numenera and its theme of lost high technology as being in the same sort of niche as magic is something of a whole new tool set for us. And I am happy to say that the core game mechanic of this new stuff is actually very simple and very easy to remember. It's intuitive, created by people who know exactly what a DM needs and how they the information presented. So, settle back, grab yourself a tasty beverage, we are about to get deeply nerdy." AJ Pickett on Numenera and Arcana of the Ancients
"This book also has over 100 pages packed with the most weird monsters you are likely to find all in one location. I want to make videos about all of them—perhaps one day I will." AJ Pickett on Arcana of the Ancients
"It's an unbelievable wealth of information on how to run the game like a demigod, dipped in the magical cauldron of dragon's blood as a baby, eating bowls of polyhedral dice with milk every morning, blood composed of Mountain Dew." AJ Pickett on Your Best Game Ever

Our friends at Draco Studios have launched a crowdfunding campaign for 3D printable models of iconic and fan-favorite Numenera creatures! With 20 days left, they've already soared past their initial funding goal, and there are more rewards and stretch goals still to be unlocked. What's even better, once you back, the .STL files are yours to download immediately! No waiting for the end of the campaign. I think that's pretty darn neat.
You can check out the campaign and back for your own files here!
Into the Mother Lands imagines a world in which the African emperor Mansa Musa sends an expedition to "The New World," but these explorers find themselves instead transported to a strange and alien world that they must now learn to make their home.
What started as a streamed game backed by Twitch has grown into a massively successful Kickstarter for a full setting book that is smashing every stretch goal. We cannot wait to see what's next!
LEGO announced earlier this week that they are launching an LGBTQ+ set in honor of Pride Month, and I have to say, it looks really amazing.
No word on when the set will go on sale, but I know I'm not the only one who will be racing to get their hands on one before they're sold out!