In this week's Cypher Chronicles, The Weird draws to a close and Team MCG gears up for Gamehole Con! Plus, the opportunity to help unique stories be told at the gaming table, Fat Bear Week, and a sneak peek and what's coming next for Monte Cook Games . . .
You can get Cypher Chronicles, and other MCG news, delivered right to your inbox! Enter your email address and click the Subscribe button in the right-hand column, and you'll never miss a post. You can also suggest topics for Cypher Chronicles by emailing us at [email protected].

The Weird is Winding Down!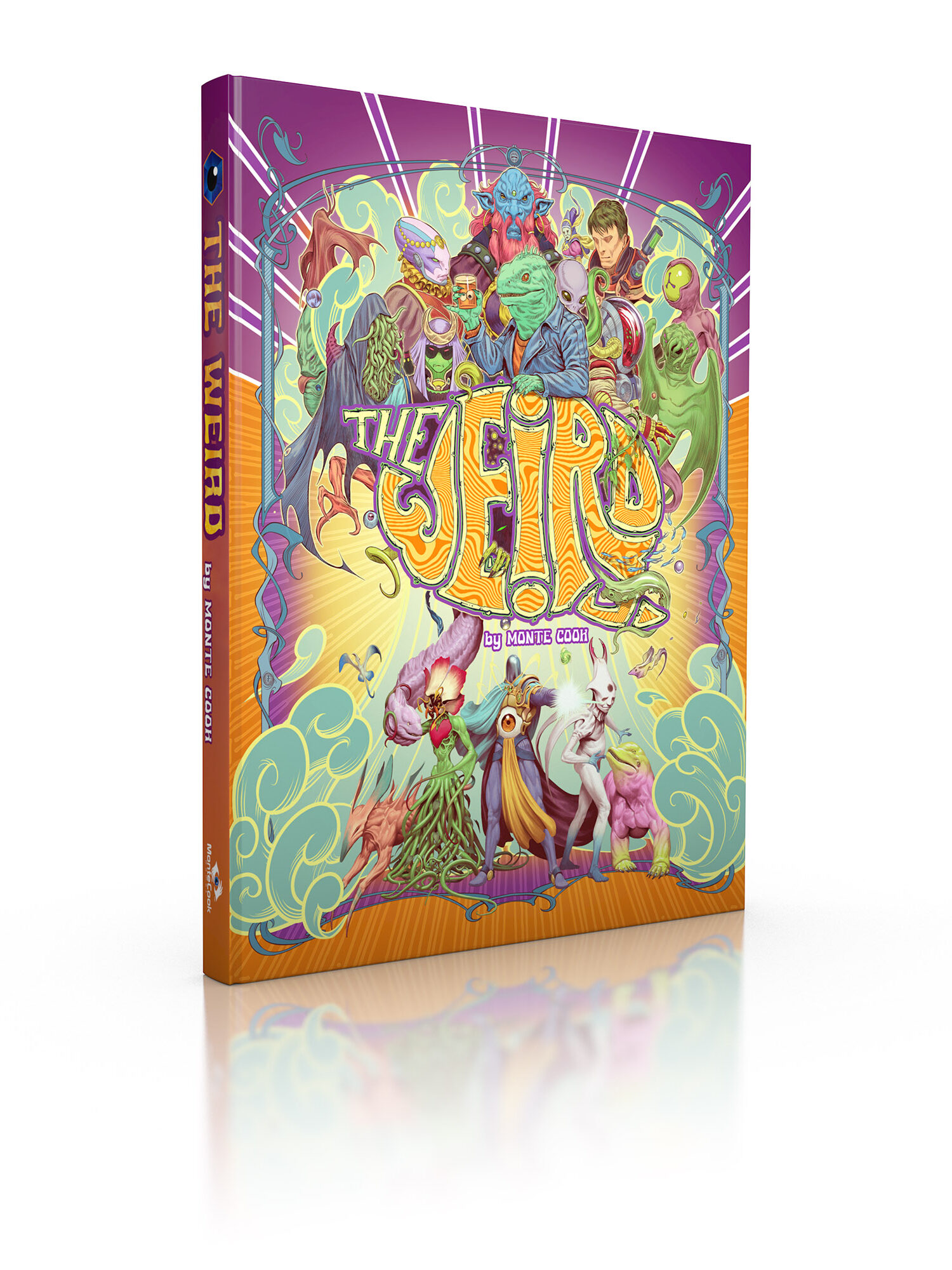 By the time you read this, The Weird will be in its final hours of crowdfunding. Single digits! If you haven't supported the campaign, there's still a bit of time left. And if you are already a backer, we'd really appreciate it if you would spread the word in these final hours.
The Weird is full of interesting to surprising to over-the-top gonzo—and even whimsical— suggestions and details that fill your games with color and life. They engage the players, make encounters vivid and fun, and create moments your group will never forget. Every chapter gives you advice on how to make a particular topic more interesting, then gives you literally hundreds of actionable ideas to run with. NPCs, creatures, places, magic items, gear, spells, abilities, names, appearances, backgrounds, plots, structures, vehicles—and yes, even player characters—each get a chapter. There are literally thousands and thousands of specific suggestions you can pull straight from the book and inject into your adventures, encounters, and campaigns.
Roll randomly or pick one you like. The ideas are sorted by level of weirdness (interesting, surprising, gonzo, and whimsical), so you can find just the right suggestion, and they're organized by setting or genre type. Use these lists to make something normal into something weird, or build it weird from the very start. And, of course, the book provides guidelines and suggestions on how to insert the ideas into a campaign, a PC's backstory, an adventure, or just a scene. Build a freewheeling campaign that's totally over the top. Or add loads of interesting details to your down-to-earth adventures. Whatever your style of play, The Weird will help you make your game better.
And The Glimmering Valley, a forthcoming hardcover for Numenera that was also funded by this campaign, gives you a fascinating and beautifully fleshed-out region from which to launch your Numenera campaign. It details an area of the Ninth World made specifically to be the origin point of a group of eager explorers. It brings Numenera back to its roots and gives players a place to call home. A place to defend if and when it becomes threatened—and a springboard into the many splendors and dimensions of the broader Ninth World setting.
A valley filled with mysteries amid remnants of the prior worlds, The Glimmering Valley presents many opportunities to tie the player characters to the Ninth World's weirdness as a part of their backstories, their families, their mentors, and particularly the origin of any weird abilities or technologies they wield. You can place the Glimmering Valley almost anywhere you like within the Ninth World, and let your campaign sprout from there!
We want to thank each and every one of you who supported our jump from Kickstarter to BackerKit—a weird maneuver indeed, but we didn't doubt the strength of our community for a moment. Here's to The Weird!
Seminars Galore and More at Gamehole Con!
We've mentioned the games we're running and our birthday party in previous Cypher Chronicles, but did you know that in addition to the seminars we've put on the schedule, many of Team MCG will be either moderating or speaking at other seminars as well? Here is the full list of every seminar where you can hear the team talk about their various passions in the world of TTRPGs. Links are provided for easy access an
Get Published: A Marketing Panel
Thursday, October 20th, 11am CT – Waubesa 245
The line between success and failure in tabletop gaming all too often comes down to marketing. Everyone has a great idea for a game design, but unless gamers hear about your amazing product they'll never think to buy it. In this talk, LaTia joins Monica Valentinelli and Rick Meints to cover basic strategies for tabletop games and hear first-hand experiences from professionals to help you understand the best strategies for marketing your game.
Help for the Harried Game Master
Thursday, October 20th, 3pm CT – Waubesa 245
Running out of ideas for your campaign? Stuck on how to challenge players who have optimized their characters into ridiculous death machines? Trying absolutely everything you can think of to get your players to roleplay? This is the seminar for you! Veteran GMs and game designers Shanna Germain, Rob Wieland, and Elisa Teague have seen it all and are ready to share their experience and insight with you. Come with questions!
All About the Cypher System Open License!
Thursday, October 20th, 4pm CT – Waubesa 245
Join LaTia and Charles for a Q&A session all about the Cypher System Open License! They will be joined by two early adopters of the CSOL: Christopher Robin Negelein of Ganza Gaming, and AlphaDean and Alberto Meijas of Cypher Unlimited, who will be talking about their experiences with the CSOL and the games they will be creating with it!
Geeks Like Us; Infusing your passion into your career!
Thursday, October 20th, 7pm CT – Waubesa 245
By far, the greatest power of geeks and gamers is their passion! However, such unapologetic enthusiasm is often misunderstood, shamed, or rejected, especially in youth. Join Geeks Like Us co-founder Dr. Megan Connell and special guests Elisa Teague and LaTia Jacquise as they discuss how to overcome such adversity, avoid common pitfalls, and develop and career in geek and gaming.
Making Your Game Weird
Friday, October 21st, 8pm CT – Waubesa 245
Following the success of our most recent crowdfunding campaign, The Weird, Monte, Charles, and LaTia will be talking about what it means to get weird at the gaming table, and answering your questions!
Novel Writing: Going Pro
Saturday, October 22nd, 6pm CT – Waubesa 245
Every successful author started out at a reader and fan. If they could do it, why not you? Join internationally bestselling fantasy novelist Peter V. Brett and panelists Matt Forbeck, Monica Valentinelli, Shanna Germain, and Ed Greenwood as they discuss their unique paths to publishing their work, what it takes to elevate a manuscript to a professional level, tips for finding an agent and publisher, and some of the ins and outs of the book publishing industry.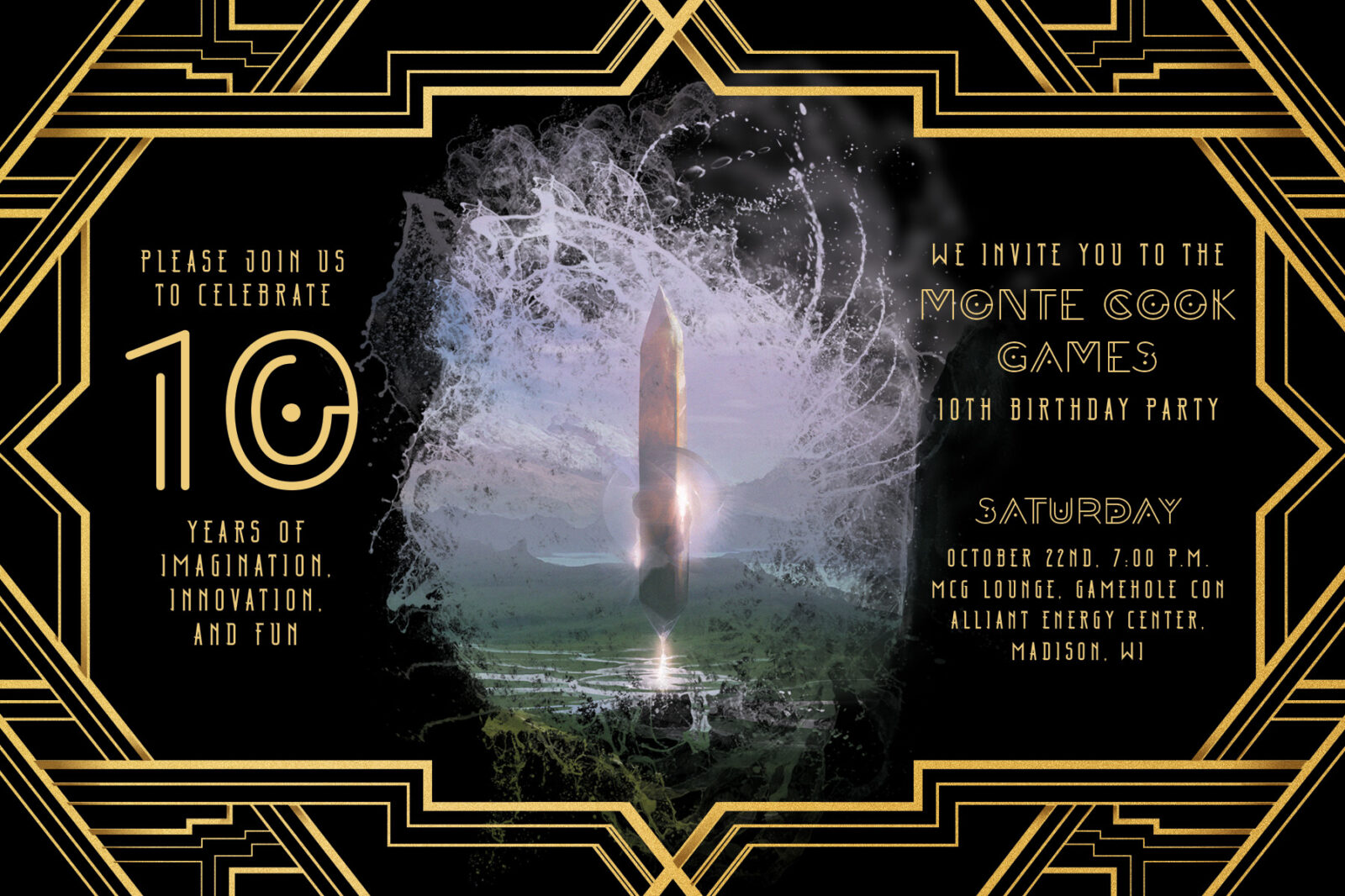 And don't forget: join us on the evening of Saturday, October 22nd in the MCG Lounge to celebrate our 10th Anniversary at a FREE birthday party! There'll be treats, drinks, and presents, and a fun look back at the last 10 years—and forward to some of what lies ahead. And best of all, MCG staff will be there to share the evening with you!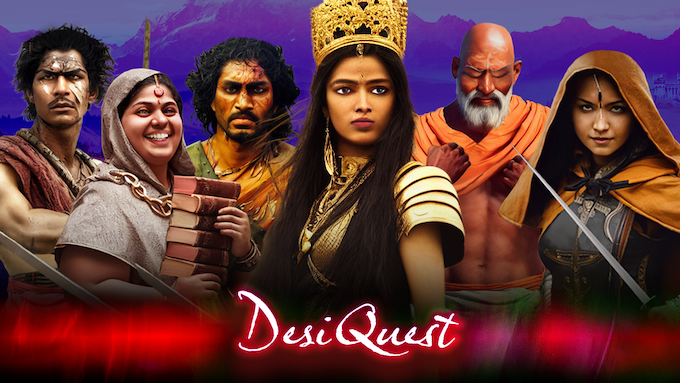 DesiQuest (/ˈdāsē kwest/) noun, as defined by the Kickstarter: an epic, culturally authentic Dungeons & Dragons actual-play show with an all Desi cast, game mastered by Jasmine Bhullar, that'll Fire Bolt your brain and Thunderclap your heart.
TTRPGs are about bringing amazing stories to life, and a table of South Asian actors getting to tell their stories is something that is just so incredible. The campaign is already funded and has a week left to go, but what they're going to do is only going to get better the more fund they raise. You can check out the goals they've hit and how far they want to go on Kickstarter.


Did you know it's also the tenth anniversary of the best bear cams in North America? Katmai National Park in Southwest Alaska first turned their lenses to the amazing creatures that live in Brooks Falls to let us watch them prepare for the winter.
They also provided us with one of the best competitions of the year: Fat Bear Week, which is happening right now! Until October 11th, you can cast your vote for which bear has plumped up the most to prepare for winter hibernation. Personally, I'm hoping for Otis to scoop a fifth victory.
You can watch the bears be their bear-y best and vote for your favorite fat bear at explore.org.
Every week, our official unofficial fan community Cypher Unlimited goes live on Twitch and talks about the latest in Monte Cook Games news. Last night, AlphaDean, Anthony, and Al spoke to Sean and Javier about The Weird and all things MCG, and I hear Bear provided a little taste of what's to come after our current crowdfunding campaign ends…