Welcome to Cypher Chronicles 17! We have lots of shiny things to show you today. We kick off with a gander at our gorgeous Planebreaker dice (by Metallic Dice Games), in standard and deluxe editions, and end with a Kickstarter (not ours) for dice that look good enough to eat. In between, we talk about Stealing Stories for the Devil, ask you to hang out with us at conventions, and recommend an audio drama involving one our very own, Bear Weiter. Let's dive in!
You can get Cypher Chronicles, and other MCG news, delivered right to your inbox! Enter your email address and click the Subscribe button in the right-hand column, and you'll never miss a post. You can also suggest topics for Cypher Chronicles by emailing us at [email protected].

Planebreaker Dice
Look at these beautiful dice. Loooooook aaaattttt thhheemmmmm.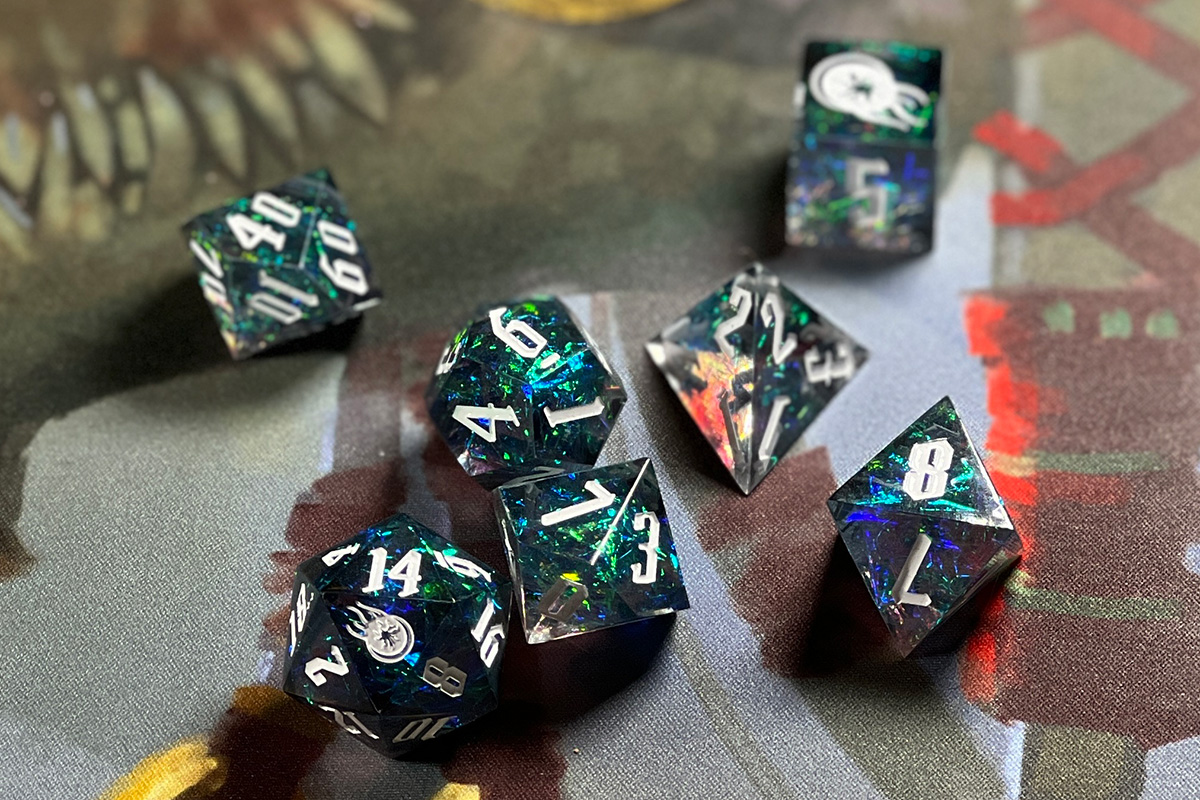 These are the stunning, large, hard-edged deluxe resin dice designed especially for Planebreaker by our friends at Metallic Dice Games. They're available now, in very limited quantities, at the MCG Shop. They come in a full polyhedral set—so you can roll in style no matter what game you're playing—and the d20 is specially marked for the Cypher System with special result indicators on the 17, 18,19, and 20 faces.
If your tastes run just a little less deluxe, there's also a "standard" set—though it's pretty beautiful by anyone's standards. They have a lovely purple and indigo translucency, flecked with specks of gold, and practically glow in your hand. Like the deluxe dice, they're marked for Cypher System but come in a full polyhedral set for use with any game!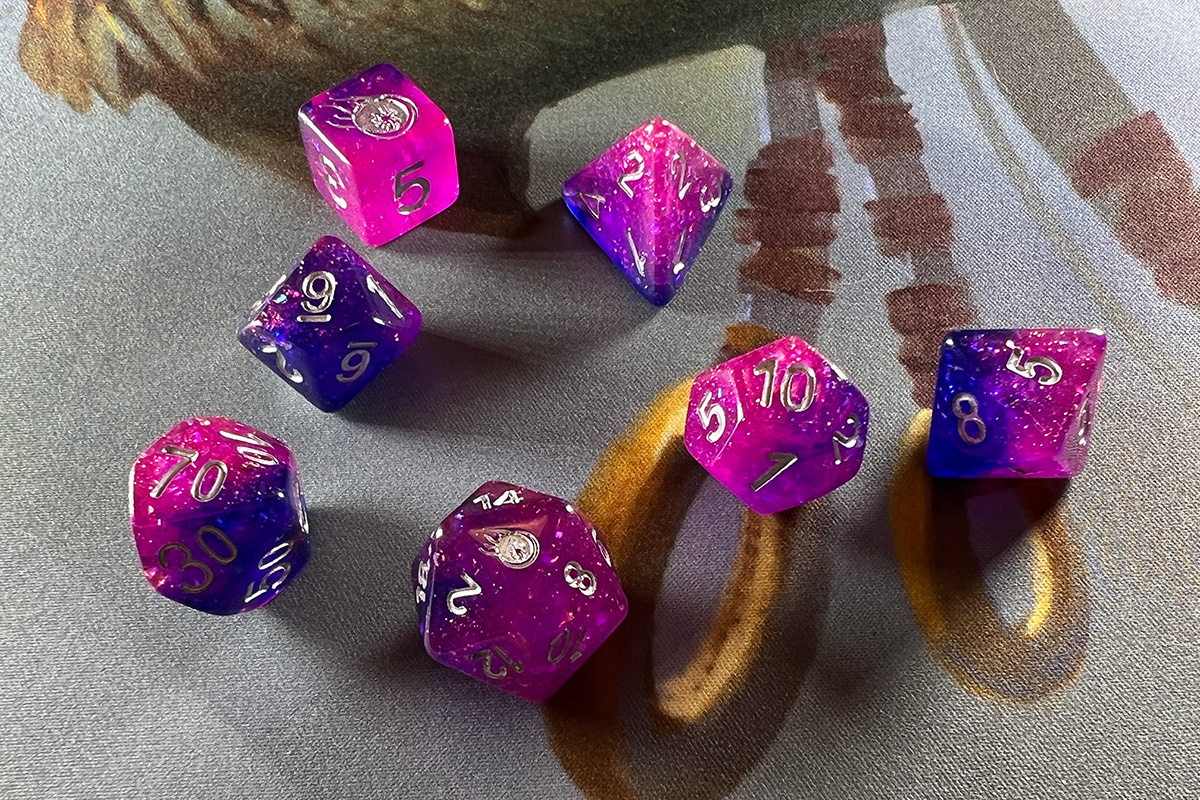 Stealing Stories for the Devil
Stealing Stories was one of the best things I played at GenCon this year. I can't wait to run it at my own table.

Malek A., GM
So much goodness packed into one little zero-prep package!

Matt Steele, GM
Set up takes 10 minutes and then it's game on. The fact that character creation is actually integral to the story is completely off the chain and so cool.

AlphaDean, GM
Getting to tinker with classic MCG-level weirdness in a heist game was amazing—I look forward to playing AND running this game in the future.

Eileen Barnes, player
Like nothing I had played or GMed before. This is not a game to pass up.

Steve Wilson, GM
Stealing Stories for the Devil is now in transit from the factory to our warehouses, and with any luck at all we're just weeks away from fulfilling it to backers. But if you missed out on the Kickstarter campaign, you don't have to wait until street date to get your hands on this fantastic, fun, zero-prep game—preorders are open now, and we'll ship preorders out as soon as fulfillment is complete. That might be a full month—or more—before general release!
We ran dozens and dozens of Stealing Stories games at Gen Con and Gamehole Con, and the response was universal: This game is fast-paced and fun.
Calling all GMs!
Speaking of running games at cons: We're already putting our plans together for 2023! And that means calling for GMs for Gen Con. And thaaat means . . . you!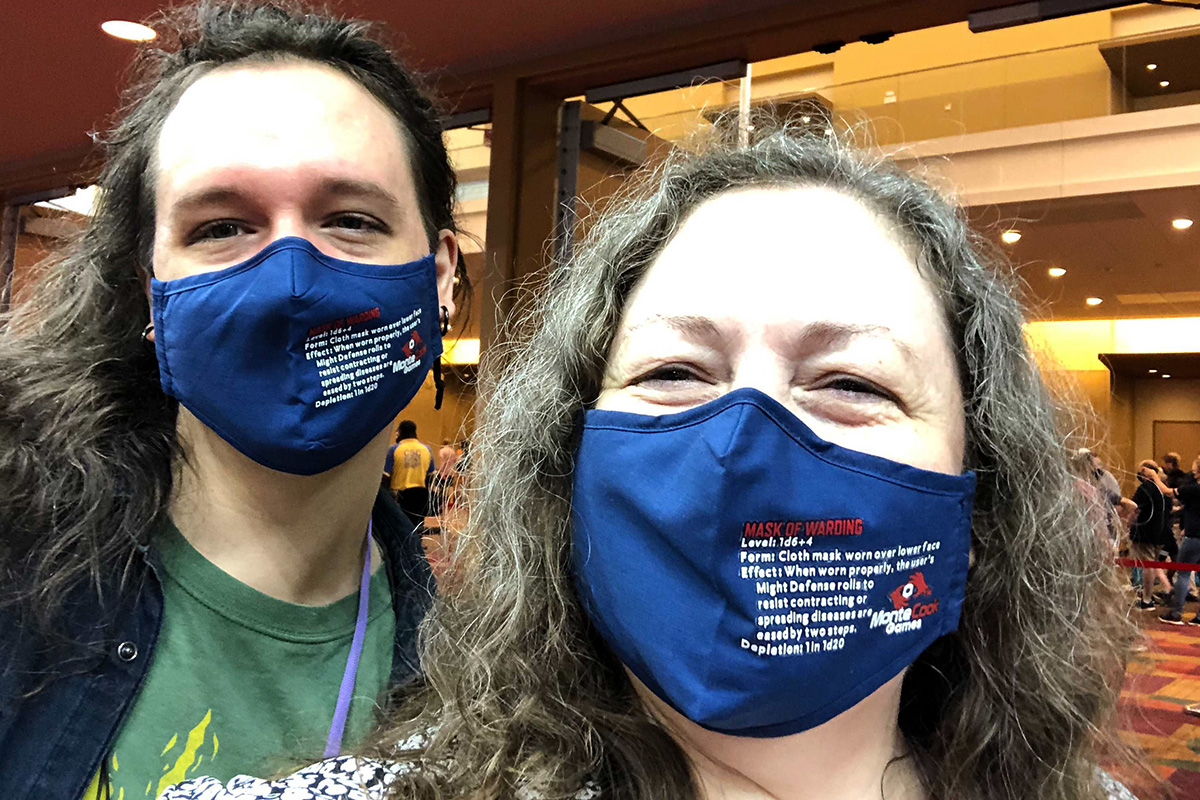 We have a great community of GMs, and we make Gen Con a fantastic experience for them. We can go on about the swag, the free Gen Con badge, the access to the MCG GM lounge and free drinks and snacks throughout the show—and that's all great, but it's not the best part.
The best part is you. You and the fun you'll have with—and bring to—our great community of players and GMs, and the MCG crew as well. Our game room starts with an exclusive gathering Wednesday night, and continues to be a four-day gaming party throughout the weekend. Gen Con is the Best Four Days in Gaming, and the MCG room is the best four days of Gen Con!
Consider joining us. It's much easier than you think, and it's an amazing amount of fun!

We have something special to share with you this week—a new project from our very own Art Director Bear Weiter!
Do you like creepy science-fictiony stuff? Do you like rich, immersive audio experiences? Do you like seeing what members of the team do that isn't for MCG?
Bear Weiter is more than just an amazing art director—he's a multi-talented creator who dabbles in a wide array of cool stuff. And he's part of the team behind Station 151, a new horror audio drama set at an isolated radio telescope facility in Antartica. It's on Kickstarter now, and you can check out the trailer as well!

With the recent departure of LaTia, the MCG marketing team is, temporarily, a little short-handed. Because of this (and to a lesser extent the uncertain future of Twitter), if you follow us on social media you may notice a slowdown in our activity. We're still around—just a little less active for the time being. In the meantime, here's a bit of animal-themed humor that's passed through our internal Slack this week.