In this issue of Cypher Chronicles, we recap Gen Con, look forward to Gamehole Con, and learn more about the Planebreaker. Plus, a new show brings some potential prior world realness to your TV screens.
You can get Cypher Chronicles, and other MCG news, delivered right to your inbox! Enter your email address and click the Subscribe button in the right-hand column, and you'll never miss a post. You can also suggest topics for Cypher Chronicles by emailing us at [email protected].

Gen Con Has Come and Gone!
Gen Con 2021 was much smaller than normal and so was our team, but that didn't stop us from having a good time and making lots of gamers happy! The convention saw less than half of its normal attendee count than in previous years, which made the event less crowded and less overwhelming. Despite the lower amount of people, our booth was humming and our event tables were full.
The Teen Labor Force™ (TLF), the teens who work in the Kansas warehouse and keep the shipping wheels spinning, came with us to Gen Con to help staff the booth. Olivia Ryan, who is an old hand at staffing the booth, said, "This year was really great. It felt more like hanging out than just selling things. Though we also sold plenty of games, too. It was the best of both."
And things in the event room were just as good. Both GMs and players had a great time running and playing our adventures. We ran adventures for Ptolus, Numenera, No Thank You, Evil!, Cypher System, and The Strange. We had a shortfall of GMs at first, but thanks to our amazingly committed GMs, we had to cancel very few events. We even had a celebrity GM—Bruce ran several sessions of Ptolus, which everyone greatly appreciated.
Thank you from the bottoms of our hearts to all of our GMs, event participants, customers, and friends. We can't wait to see you again next year.
24 Days 'Til Gamehole Con!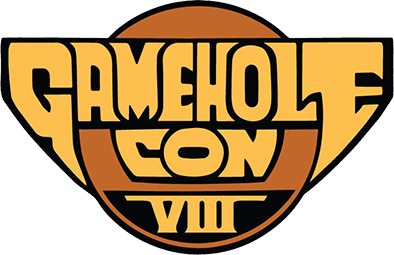 Have you seen our games list for Gamehole Con? Give it a look! We've got Numenera, Cypher System, and 5th Edition games on our roster, both in-person and virtually!
We could still use a few more helping hands to run tables and assist us in the MCG Lounge! Yes, you read that right—we have the lounge area of the skybridge, next to the bar; it's going to be a blast! If you'd like to help us out, let LaTia know by emailing her at [email protected], and we'll find a place for you!
Have You Heard about the Planebreaker?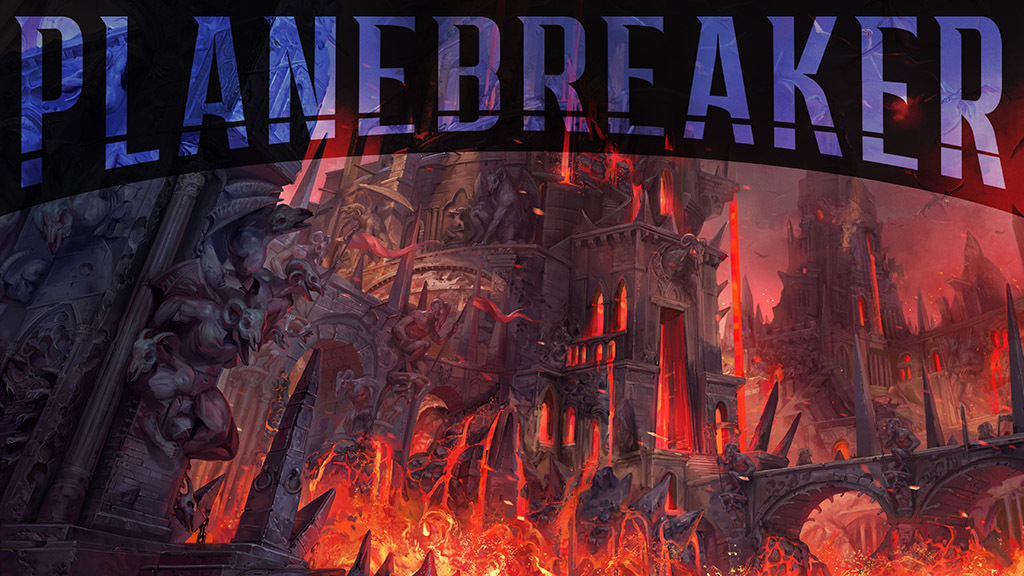 A cursed moon hurtles through the multiverse, crashing from one plane to the next, never at rest, forever fleeing a catastrophe that predates existence itself. Behold the Planebreaker!
The Planebreaker visits all planes, all demiworlds, and all dimensions. Gods and demons, angels and mortals, undead and outsiders alike—all eventually see it streak across their realm. Some worlds visited by the moon are known to sages and planar travelers. But in a multiverse stretching across epochs, the number of previously uncatalogued planes is vast. The Planebreaker races through all of them, in time.
Path of the Planebreaker is a sourcebook that brings the wonders, terrors, mysteries, and treasures of new, alternate worlds—plus the inexplicable Planebreaker, an ever-traveling moon—to 5th edition players and GMs. It includes:
Dozens of brand-new planes to explore and adventure in
A bestiary of planar creatures
Playable planar species for PCs
New planar class options for players including new subclasses
Exciting new feats and spells to help you explore these new planes
This gorgeously illustrated 192-page hardcover sourcebook gives you everything you need to add whole new dimensions to your 5e game.
The Kickstarter goes live this October. Sign up now to be notified when it launches. There will even be a free preview of Path of the Planebreaker at launch!

The internet is talking about Foundation, the tv show based on the book series of the same name by Isaac Asimov. People have noticed that certain aspects of the show look a lot like something you'd see in the Ninth World and we'd agree! There is something very prior worlds-esque about this…
Foundation tells the story of humans scattered throughout the galaxy, living under the rule of a galactic empire. It is available for streaming now on Apple TV+.