Wily tomb raider reminiscing, Season 3 of Callisto 6, International Tabletop Day, new Numenera adventure, Your Best Game Ever videos, and cool recommendations from the MCG team–all in this week's Cypher Chronicles.
You can get Cypher Chronicles, and other MCG news, delivered right to your inbox! Enter your email address and click the Subscribe button in the right-hand column, and you'll never miss a post. You can also suggest topics for Cypher Chronicles by emailing us at [email protected].
Lara Croft, Tomb Raider, is all I wanted to be when I grew up: snarky, devastatingly clever and capable, studies the ancient world, braves the dangers of remote climes for discoveries and treasure untold.
She might be ethically dubious at best, but you simply can't beat that fashion sense.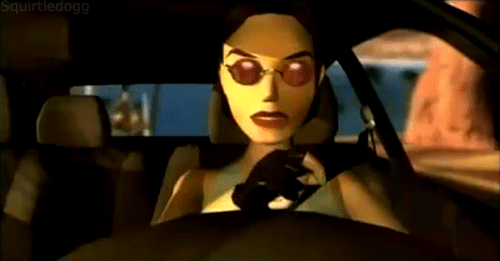 When my roommate set up the PlayStation in our living room and booted up the original Tomb Raider, I was shocked to realize that though the controls were quite dated and difficult, the game itself was still a darn delight. Hilarious and quite beautiful cutscenes, delightful puzzles and challenges in ruins, and of course the tutorial level in Croft Manor. The halls and columns of that fictional manor are permanently burned into my mind.
When I played Numenera for the first time at its Gen Con debut, the focus on exploration, mystery, and discovery captured me. I think it tapped into my desire to engage with those stories like the ones I imagined as Lara Croft. It gave me vistas and ruins and complexes full of puzzles, as well as weirdness far beyond the forgotten places of modern Earth.
Here's a gorgeous piece of art by Aaron Riley, which you can find in Forgetting Doomsday, the just-released Numenera adventure by Shanna Germain. Can't you just see Lara Croft climbing that strange, glowing rope?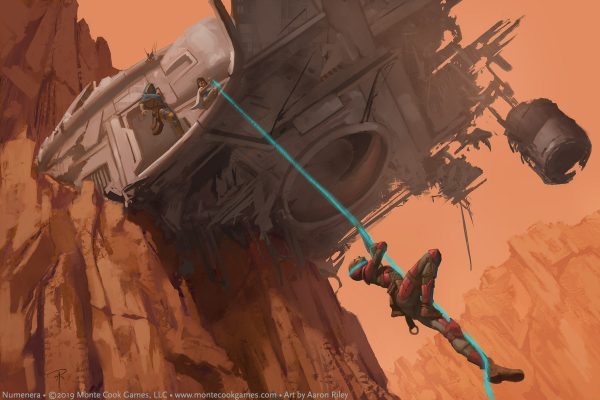 International Tabletop Day and Callisto 6 Season 3 Premiere
This Saturday, June 1st, tune in to Geek & Sundry's Twitch channel for a variety of International Tabletop Day events, including the premiere of Season 3 of Callisto 6
If you're not a Twitch aficionado, fear not: episodes are trickling their way to the Callisto 6 YouTube playlist as well!
Your Best Game Ever Video Series
Your Best Game Ever releases this summer, but no need to wait to level up your RPG skills!
Tuesdays at 5 p.m. Pacific / 7 p.m. Central, tune in live on MCG's Twitch to react along and discuss concepts from Your Best Game Ever. Videos will be uploaded to the Your Best Game Ever YouTube playlist following each episode's premiere.
Upcoming events can be found on our Online Events page, like next Tuesday's rebroadcast of "Finding the Gaming Group That's Right for You." Come join us in chat, or watch the video and Twitch chat later on! The week after that, we'll air the first of 10 brand-new videos with topics like worldbuilding, being a great player, character creation, adventure design, and more.
Origins and Gen Con
Convention season is nearly upon us, and we want to see you there!


If you want inspiration for your Invisible Sun game, you cannot go wrong by watching this documentary of fashion designer Alexander McQueen. Check out looks to stun even the streets of Satyrine!
Darcy is reading Blink by Malcolm Gladwell about the power and perils of the processing by the unconscious mind, which is blowing her scientific, conscious mind. She is reading this book on her Kindle and phone via the ebook library app Libby and her friendly local library-library (you should definitely try out getting ebooks from your library if you haven't yet!).
Shanna brings us a recommendation for Dust Wardens: "I love everything about this game: from the four unique stats (including Give) to its focus on bonds and safe havens. It uses a tarot deck instead of dice, and the characters swear vows to each other at the start of the game."