MCG fans make a nice donation to COVID-19 relief, and another nice one to Black Lives Matter. And we're fulfilling The Threshold and Beneath the Monolith to backers ahead of plan. An Invisible Sun chat and charity fundraiser with Shanna Germain is on the horizon. We all need a bit of good news these days, so that's what we have in this week's Cypher Chronicles!
You can get Cypher Chronicles, and other MCG news, delivered right to your inbox! Enter your email address and click the Subscribe button in the right-hand column, and you'll never miss a post. You can also suggest topics for Cypher Chronicles by emailing us at [email protected].
It's been a troubling week. Putting out a game company newsletter when so many people are struggling, either physically, with turmoil in their neighborhoods, or emotionally as they watch these events and contemplate the divisions that drive them, feels a tad frivolous. But we have a few bits of good news to share, so let's focus on that. Because who can't use a little good news this week?

A New Adventure for the Cypher System Drives $1500+ for BLM
Heist on Miracle IV: Your wealthy patron is convinced that evidence of alien intelligence has been uncovered on the research station Miracle IV, and she's paying you handsomely to retrieve it. But the station's staff has been replaced with synths, and its AI has some surprising tricks up its sleeve. And it soon becomes clear: whatever's been discovered at Miracle IV, it may be even bigger than alien intelligence. With mere hours to pull off the caper, can you and your associates uncover the truth—and make it off Miracle IV alive?
That's the premise of Heist on Miracle IV, a new adventure for the Cypher System and The Stars Are Fire we released this week. What makes this launch particularly special is that, for the entire month of June, we're donating all MCG proceeds from Heist on Miracle IV to Black Lives Matter. And on top of that, we'll make a matching donation for the first 500 copies sold.
As of this writing—just two days since Heist on Miracle IV launched—nearly 400 gamers have purchased the adventure on the MCG Shop and at DriveThruRPG. Including MCG's match, that's in the vicinity of $1,600 raised for Black Lives Matter so far. And hopefully that's just the beginning!
Support for COVID-19 Relief
A few weeks ago, we rolled out face masks with MCG designs on our Redbubble shop—dozens of beautiful options with art from Invisible Sun, Numenera, The Strange, the Cypher System, and No Thank You, Evil!. And we announced that all proceeds from Redbubble sales in the month of May would be donated to the charity Direct Relief, which "works in the U.S. and internationally to equip doctors and nurses with life-saving medical resources to care for the world's most vulnerable people."
We're thrilled to tell you that this week we sent $296 to Direct Relief! Thanks so much to all the MCG fans whose purchases will help in the fight to control the terrible effects of COVID-19 on vulnerable populations.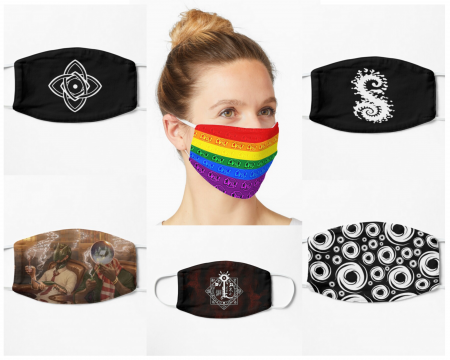 No Thank You, Evil! and the Numenera Starter Set COVID Pricing Is Extended
Since school closures and shelter-in-place orders began in March, many families have found themselves stuck at home for weeks or months, often with children who miss the variety of activities they get at school. We responded by offering a 50% discount on the entire No Thank You, Evil! line, as well as the Numenera Starter Set, on the MCG Shop.
The school year is coming to an end in most regions, and some areas have relaxed restrictions on gatherings, but are we completely out of the woods? Many families are playing it safe, and future shelter-in-place orders remain a possibility. So we're extending this offer for at least the next few weeks. And don't forget that we've also added the entire chapter on gaming online from Your Best Game Ever to the free preview of that title—a great resource if you're new to playing RPGs online!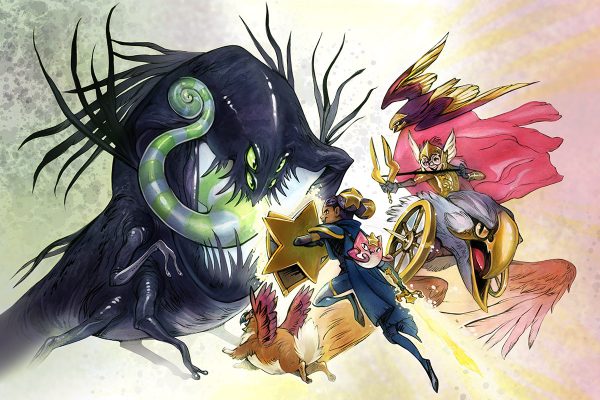 Early Releases for Kickstarter Backers
Today we'll begin the fulfillment process for both Beneath the Monolith and The Threshold. This is particularly thrilling for us since, due to pandemic-related supply chain disruptions, it looked like these books were going to be pushed back by a month or more. They will still hit stores in July—later than their original schedule—but we're able to fulfill them to backers and preorder customers now—and that's what's happening starting later today!
If you're a backer of the Arcana of the Ancients, Invisible Sun, or Invisible Sun: Return to the Actuality Kickstarter campaigns, and either of these books is among your rewards, check your email later this afternoon for your redemption instructions.
Beneath the Monolith brings the Ninth World setting to Fifth Edition. It's a complete sourcebook for running Numenera using 5e rules. If you missed the Kickstarter campaign, or if Beneath the Monolith isn't among your rewards, you can jump in on preorders now. We'll start shipping preorders once Kickstarter fulfillment is complete, so you can get the book weeks ahead of street date!
The Threshold goes on preorder next week. We'll have details about that innovative title for Invisible Sun in our next Cypher Chronicles.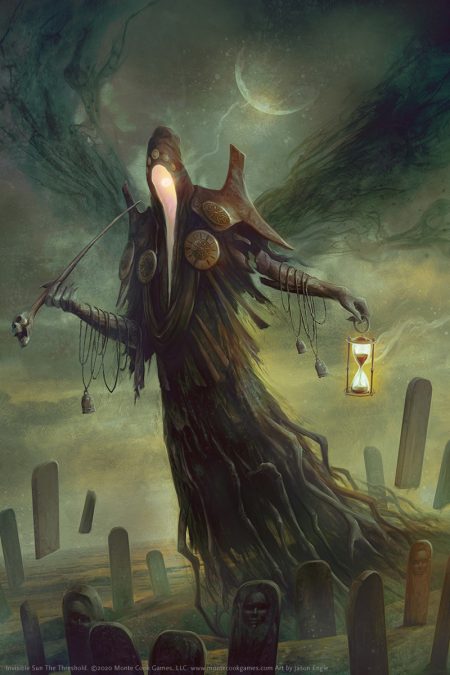 Invisible Sun Chat with Shanna Germain on Mxing It Up
On Tuesday morning, Shanna guests to talk about Invisible Sun on Aki's Twitch channel with Aki and Sam de Leve, who you might know from streams such as Callisto 6, Shield of Tomorrow, and the Geek & Sundry Cypher System Rules video! They'll be raising funds for the LGBTQ Freedom Fund. Join us for this morning chat on Tuesday, June 9th, at 8 a.m. PDT.