You can get Cypher Chronicles, and other MCG news, delivered right to your inbox! Enter your email address and click the Subscribe button in the right-hand column, and you'll never miss a post. You can also suggest topics for Cypher Chronicles by emailing us at [email protected].
Ursula K. LeGuin says that "the truth is a matter of the imagination."
This quote is just one insight among many from her stunning foreword to The Left Hand of Darkness, and it came to mind as I thought about this month celebrating both LGBT+ pride and women in tabletop.
My own identity as a queer woman has been discovered as much as constructed. Through play, exploration, and story, I've followed rabbit trails of fiction to find moments and insights of truth.
In a direct way, I learned a ton about gender dynamics and my own identity when I gamemastered my first group without any male participants for a short Numenera campaign. Each session would be followed by a discussion of social dynamics, the beautiful ridiculousness of the gender construct in the first place, and the more usual discussion of charming creatures and hideous monsters that we'd encountered.
I love the way that tabletop roleplaying gives me safe opportunities to try on what it's like to be a different kind of person. Perhaps a game leads me to a truth about myself, or perhaps it merely raises questions about what other people might be like. Roleplaying is no substitute for another person's lived experience, but it can be a useful exercise in shifting the lens through which we ordinarily see the world.
Whether or not you're navel-gazing as much as I am about pride and femininity, I hope you find communities (both gaming and otherwise) that bring you growth and validation in your identity. I hope you encounter the imaginings (and perhaps the games) that you need to get to the truth of the matter.
As The Suns Burn–Invisible Sun Crossover Stream
Dread Singles (Jordan Shiveley) is reprising his role as the logovore (book-eating) Apostate Noah Bezdan from Grant Ellis' series of Invisible Sun streams.
This Saturday at 6 p.m. PT, he crosses over from the Ellisverse onto the Variant Roles Twitch channel for the As The Suns Burn series. This series already boasts a group of players well worth watching! I'm a big fan of Samantha Darcy's cosplay of her character, Lucky, and his accouterment (exhibit A).
Come watch along with us!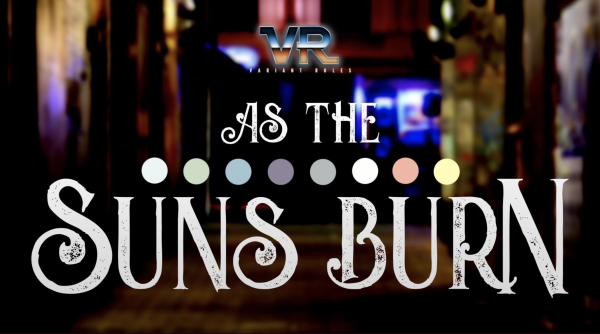 Drone Maps: Matthew New is using drones with high-resolution cameras to create amazing overhead photos and videos of natural, modern, fantasy, and sci-fi locations for use as maps with RPGs and wargaming.
Carnival Row: Are you on the edge of your seat in wait for We Are All Mad Here, Shanna Germain's upcoming Cypher System book of fables and fairy tales? Carnival Row is an upcoming TV series that may hold some inspiration for you; this victorian fantasy series starring Orlando Bloom and Cara Delevingne has murder, mystery, and mythological creatures in spades.
Masayo Fukuda's life-sized paper octopus takes my breath away. I'm convinced this work of art might brandish a sucker at me at any moment.