Whether it be gamemastery, paleontology, writing, technology, yoga, history, or Klingon, we love learning new things at MCG. Today, Darcy shares some of her current learning passions and applies her new study of the language of poetry to an excerpt from Shanna's upcoming Numenera novel Tomorrow's Bones!
You can get Cypher Chronicles, and other MCG news, delivered right to your inbox! Enter your email address and click the Subscribe button in the right-hand column, and you'll never miss a post. You can also suggest topics for Cypher Chronicles by emailing us at [email protected].
Practicing Our Best Selves
I would like to do all the things, please and thank you. Tragically, the space-time continuum and physical reality have a habit of imposing limits. Pushing endlessly against these limitations, I've been feeling a need to put my creative energies out into the world; I want to learn to use new skills, to create new works.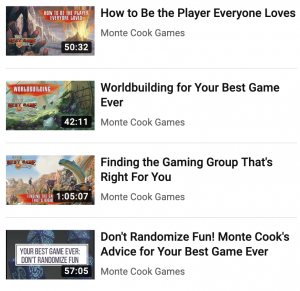 A sampling of my recent dabblings:
From recording Your Best Game Ever videos with Monte, I'm fired up about all the player and game master skills that I'd like to improve. I'm languorously sinking into three books in this field: The Ultimate RPG Character Backstory Guide by James D'Amato, Improv for Gamers by Karen Twelves, and Hamlet's Hit Points by Robin D. Laws.
Living with one of the world's foremost Klingon speakers, I'm also progressing throughThe Klingon Language Dictionary by Marc Okrand.
Yoga does wonders for my body and my mental health. I completed the excellent Dedicate video series from Yoga with Adriene in January, and am currently challenging myself with the Revolution series that I'd been on-again-off-again attempting to complete for years. I can't recommend her enough as a teacher!
For feeling a deep need to create with words, I recently finished Mary Oliver's two books on poetry craft: A Poetry Handbook and Rules for the Dance.
After building the initial learning foundation for a new skill, I need to practice not only doing the skill itself, but observing with the new skillset. If I'm carrying heavy boxes down a flight of stairs, can I notice how I'm holding my posture, and engage the muscles I've learned from yoga to help protect my body? Yoga with Adriene would tell me to "see feelingly." When I watch a new film, can I analyze the story beats and flow of the narrative like I've learned from Hamlet's Hit Points?
I want to share with you, dear reader, two pieces of writing from the draft of Shanna Germain's Tomorrow's Bones novel that struck me this week, even if I'm not quite proficient enough to understand precisely why they strike me so.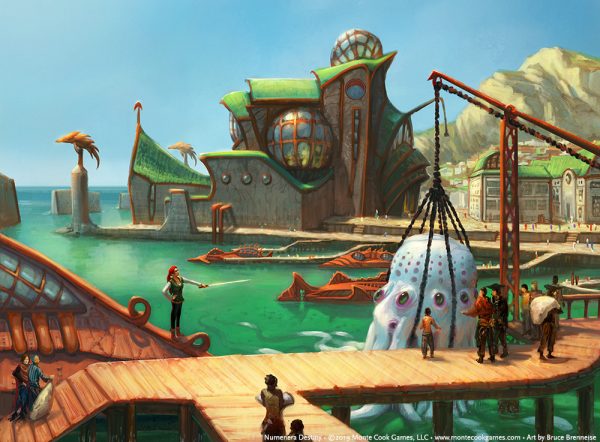 We open the book on a flashback through the point of view of Pivica of the Redfleets library and museum, an organization of seafaring thieves and scientists that you can read about in Numenera Discovery, page 219. Pivica views two children (our protagonists) who work for her as ephemeral tools to be used before their lives as street rats come to a premature but predictable end.
The trap of life would get them all, but it would snap upon this trembling, green-eyed child sooner than the rest.
It's one thing to be told that the two children are "street rats" and quite another to see one of them as a trembling, green-eyed creature caught in a trap. I love the encompassing futility in the phrase "The trap of life"–it's not any active or specific malice, but an uncaring world of dangers for these children.
That girl practically dreamed of the sea. You could almost smell it on her, like a salted lifeblood. Too bad she'd never make it off the shore. Pivica had seen street rats with dreams like this, a hundred times, and not one of them ever made it beyond the dark alleys of their lives.
"The dark alleys of their lives" is the phrase that made me put down the book and reel. It's exceptionally beautiful and evocative. I think it has something to do with the sounds of the words. In A Poetry Handbook, Mary Oliver suggests we consider the properties of consonants and vowels and how those properties influence the way that English is spoken (even in our mind's voice). Both the d and k in "dark" are mutes, which suddenly stop the breath at the end of a word. I read "dark" as a quick, hard, breath-stopping single syllable, and then slide into the smooth semivowels and "liquid" of the l sound. Your breath can cascade through those semivowels without halting, pulling you down that dark and fading alley.
I am loving this novel for its Numenera goodness (Redfleets! Weird creatures! A living ship!) and for the gorgeous words with which Shanna has brought it to life. Check out Shanna's Patreon for posts of excerpts of her writing, advice and inspiration for any creative, and even specific writing prompts and recommendations for writers.

Come GM with Us
Learning is all well and good, but putting your skills into practice in new environments is a great way to grow! Our Asset Team members and other wonderful fans ran games this past weekend for Origins Game Fair and for Free RPG Day. Looking forward, we're still looking for Gen Con GMs and have some pretty great incentives—find out all about that here: Gen Con GM Signup.
Stay tuned for calls for GMs for Gamehole Con and PAX Unplugged this year as well!


Treat yourself to a beautifully-produced and inspiring two-part podcast about 2001: A Space Odyssey from Studio 360. Learn about the history of how it came to be, how scientists and science-fiction writers and film creators came together to make a film that continues to impress and baffle audiences, and has an iPad 50 years before its time.
Adam Savage and the company Gravity are working together to create an Iron Man suit that can actually fly using a series of arm and back jets!
A new study suggests that T. rex had an impressive sense of smell—seems like a great opportunity for some fun search and rescue (or hunt-the-humans) scenarios in Predation.