The MCG crew does some virtual gaming, and we prep for more with Gen Con Online coming soon! We roll out over 140 awesome Ninth World creatures and characters for your gaming table. And following a week off, we have loads of inspiration and recommendations for you!
You can get Cypher Chronicles, and other MCG news, delivered right to your inbox! Enter your email address and click the Subscribe button in the right-hand column, and you'll never miss a post. You can also suggest topics for Cypher Chronicles by emailing us at [email protected].

We Had a Virtual Summit!
We here at MCG all work from our homes (even in non-pandemic times), but we normally get together two or three times a year. Gen Con is one instance, but we also have one or two summits per year, when we gather to plan, discuss the state of our company, hash out major future projects, and just be together. Our last gathering was Gen Con of 2019, and we might not be able to gather again until the middle of 2021—as much as two years! We can make up the business activity, but we all really miss the chance to get together and enjoy one another's company.
So last week we shut everything down for a few days and spent the time hanging out and playing games together—virtually, of course!
Bear ran a fantasy adventure that pitted high-tier PCs against a powerful demon and its cult.
Sean ran a really fun delve into Ptolus, making use of some of the early conversion work he's done to the Cypher System.
Tammie ran four teens and their faithful hound through a whacky adventure, the end of which the dangers were far more grave than some old guy in a rubber mask!
Shanna ran an adventure set in The Heartwood, the fairy-tale setting included in the forthcoming We Are All Mad Here.
And I (Charles) ran an adventure set in the Caribbean in the 1700s that found the PCs facing a Mythos horror with nothing but swords and muskets—and their wits—to fight it.
We also enjoyed some coffee mornings and happy hours, played some party games, and ate meals and watched movies together—all online. Nothing beats face-to-face gatherings, but it was really nice to spend quality time together, if only virtually!
Look at These Numenera Standups!
Numenera Character and Creature Standups are coming in August. You're looking at a first-off-the-presses copy, and boy howdy it looks great. The box includes over 140 creatures and characters from the Ninth World, printed double-sided on heavy gameboard stock, with plastic bases. It's an entire miniatures collection—no painting required!—and it's on preorder now!
Are You Going to Gen Con (Virtually?)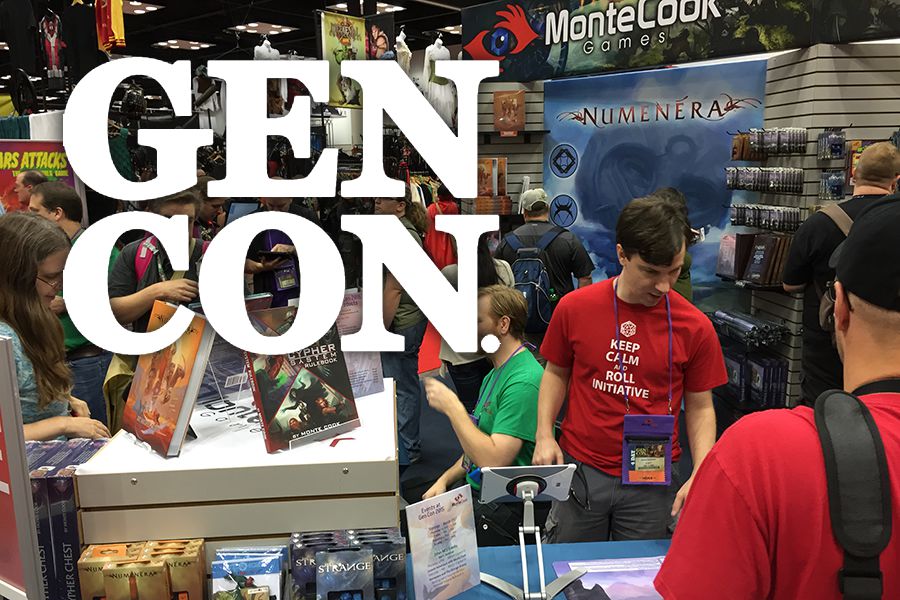 Gen Con is on—and this year everyone can attend!
OK, so maybe it's not the grand, in-person bacchanalia of gaming togetherness that draws 70,000 gamers to Indianapolis most summers. This year it's online—which of course makes it available to gamers around the world, not just those who can afford to take a week off and travel to Indiana. MCG will be there. Look for events and other announcements (from Gen Con, and also MCG's plans) to start rolling out next week.
We'll miss getting together for Gen Con proper, but we're really looking forward to seeing you for the Best Four Days in Gaming online!

A man called a living fossil. It seems that the inside of the shell is a cavity that allows you to lift and sink gas and body fluids. What applied it is the "submarine". Are these the cryptic notes of an Aeon Priest living in some isolated clave in The Beyond? Nope, they're actually from a poorly-translated tweet about this absolutely incredible Lego nautilus! Legos probably don't exist a billion years from now, but this thing conjures a floating, tentacled, bio-mechanical creature that roams the Ninth World.
NASA has compiled thousands of images from the Solar Dynamics Observatory to make a time-lapse of the Sun's activity over the past ten years. It's beautiful and entrancing. With Edge of the Sun on the horizon, it may get your creative juices flowing. And unlike an eclipse, it's safe to watch this video with your naked eye…

Having skipped a week of Cypher Chronicles due to our virtual summit, we have lots of great stuff to share this week!