Iadace, and welcome to Cypher Chronicles!
MCG News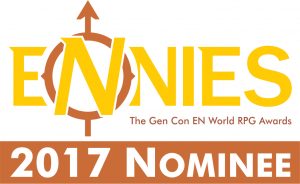 Speaking of the ENnies, be our date this year! Team MCG is a Dream Date for the ENnies, and we'd love to watch the award ceremony with you. Plus, we'll bring a cool bag of swag just for you.
Mysterious, powerful, and usually dangerous, the vast ruins of 
the prior worlds contain secrets and marvels beyond imagining. Explore one such gigantic ruin—the Jade Colossus—in detail. Or create your own, using the Numenera Ruin Mapping Engine to design ancient sites large or small, with all the wonder and weirdness you expect in the Ninth World setting. Jade Colossus: Ruins of the Prior Worlds, not part of any Kickstarter, is now available for pre-order on the MCG Shop.
Don't miss Ruination Weekend, July 15th and 16th! Find a participating store and play in a demo of Jade Colossus: Ruins of the Prior Worlds, with its awesome prior-world encounters, creatures, and locations. If you are an Asset Team Member, contact Darcy ([email protected]) to volunteer to run a demo for Ruination Weekend.
Curious about the art creation process for our products? Artist Anton Magdalina has posted time lapse videos of creating illustrations for Jade Colossus: Ruins of Prior Worlds.
Did you catch Bruce via Twitch on July 6th? If you missed it, check it out on MCG's YouTube channel, and while you are there, have a look around. There are loads of cool videos to watch, including live play videos, How to Play videos, unboxing videos, video taken at previous Gen Cons, and fan-made videos.
Lawful Good Gaming is playing Predation as part of an upcoming charity event, with the donations benefiting Conservation International. Play a game, do some good.
Recommendations
We highly recommend picking up Fraction | The Art of Lie Setiawan. Fraction is a gathering of over 70 of Lie's illustrations from 2015 to the present, in a beautiful softcover book.
Dungeon of Doom: Handcrafted Game Terrain, by Dwarven Forge. The ultimate fully modular terrain for Dungeons & Dragons, available fully hand painted.
HELLSCAPES: Post Apocalyptic Survival for DnD 5e, by Scrivened, LLC. This is a new Kickstarter from the team that put out HYPERLANES. HELLSCAPES is a post apocalyptic survival game using D&D 5e.
Foldio3 – Take bigger ideas, by orange monkie: For photographers who need to take photos of objects on a regular basis, this seems like a handy device. (Bear, MCG's Art Director, has the Foldio2, and has backed this Kickstarter as well.)
New Paths Compendium: Pathfinder RPG Expanded Edition, by Kobold Press. Our Kobold Friends are creating a revised an expanded hardcover for Pathfinder with new classes, feats, spells, and art, from arcane paladins to warlocks.
Get Inspired
Inspire Us
If you have something you'd like to see published in Cypher Chronicles next week, share it with us! Send your recommendations to [email protected] (submitting a recommendation does not guarantee publication). And if you have an ongoing streaming game of Numenera, The Strange, or the Cypher System, let us know!
Share
You can play an important role in helping us thrive and create more great games: Leave a review at DriveThruRPG, Amazon, or with your local game store. Share these chronicles with other gamers you know (the social media buttons are at the bottom of this post).
Subscribe
You can subscribe to get these blog posts right in your inbox. Right down there, at the bottom of this post! Just enter your email, and you'll never miss a post (we won't use your email for anything else, we promise).
Keep up with MCG! Follow Monte Cook Games, the Weird of Numenera, and The Strange RPG on Twitter, like Monte Cook Games on Facebook, and subscribe to our MCG channel on YouTube. We also have a Pinterest account, which isn't news, per se, but it has lots of pretty pictures.