Iadace, and welcome to Cypher Chronicles, now with a spiffy new look.
Get Cypher Chronicles, and other MCG news, delivered right to your inbox! Enter your email address and click the Subscribe button in the right-hand column, and you'll never miss a post. You can also suggest topics for Cypher Chronicles by emailing us at [email protected]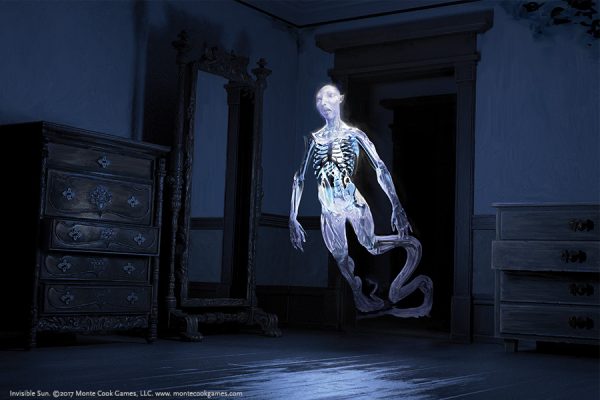 This world you see around you is Shadow–a world illuminated only by the Grey Sun. You think it is your home, but that's because you have forgotten your true self. Awaken. Return to the Actuality, and Satyrine, the city under the Indigo Sun. You are a vislae, a wielder of fabulous powers and capabilities, a shaper of reality itself. You sought shelter in Shadow to escape the war, but the war is now over and your home has called you back.
Invisible Sun is a game of surreal fantasy, secrets, and magic that is truly magical. Wield fabulous powers as you uncover the secrets of reality itself.
Jade Colossus preorders are now open, and include a free PDF!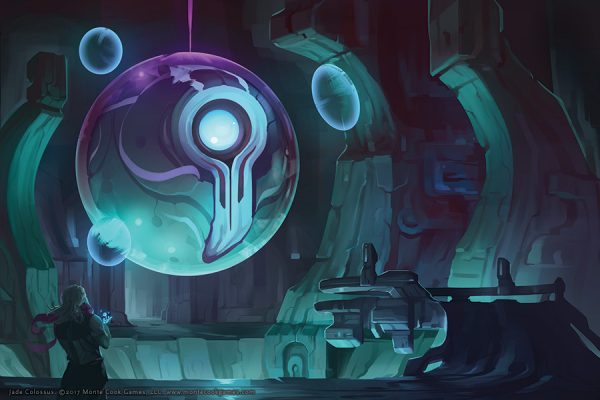 Mysterious, powerful, and usually dangerous, the vast ruins of 
the prior worlds contain secrets and marvels beyond imagining. Explore one such gigantic ruin—the Jade Colossus—in detail. Or create your own, using the Numenera Ruin Mapping Engine to create ancient sites large or small, with all the wonder and weirdness you expect in the Ninth World setting.
Jade Colossus: Ruins of the Prior Worlds is available now to pre-order, and–thanks to a successful social media campaign–every hardcover preorder includes the PDF for free—and you'll get it extra early!
Don't miss Ruination Weekend, July 15th and 16th, to test drive Jade Colossus: Ruins of the Prior Worlds. The MCG Asset Team will be running demos all weekend. Click through for a list of events.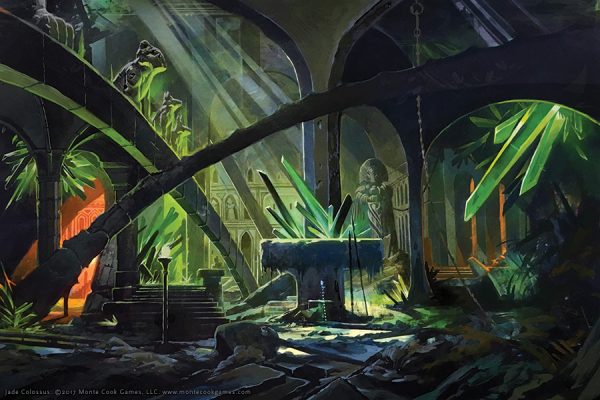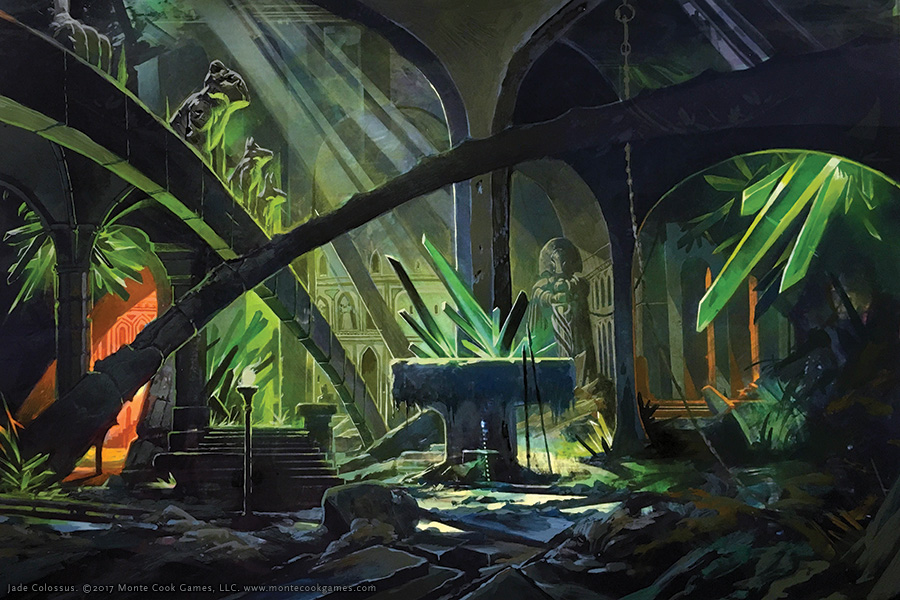 But voting closes soon–Friday July 21st at 11 PM ET–so make sure to cast your vote!
Gods of the Fall received a nomination for its incredible artwork in the category Best Art, Interior.
Torment: Tides of Numenera–The Explorer's Guide, the supplement that ties in with the award-winning videogame by InXile entertainment, received nominations for its art, setting, and overall awesomeness in the categories: Best Art–Cover, Best Cartography, Best Setting, and Product of the Year.
We're grateful to be among the excellent products nominated for ENnies this year, and proud of the many creatives who made these products happen. Many thanks to our fans for loving the works and inspiring us to keep on creating!




Recieved my @MonteCookGames warehouse sale box today! This completes my collection of everything printed! pic.twitter.com/ljevSW6uaG
— Troy Pichelman (@TroyP23) July 13, 2017




The Into the Ninth World Collector's Slipcase neatly and beautifully holds your Numenera hardcovers. Although specifically designed for Into the Night, Into the Deep, and Into the Outside (making a very handsome ensemble), it can also fit a variety of other configurations perfectly. The slipcase is as sturdy and durable as it is elegant on your bookshelf and on display.
In a universe as vast as ours, with tens of billions of planets potentially supporting life, Enrico Fermi's famous question—"Where is everyone?"—has never been more relevant. That's what Katherine Manners learned when she discovered, in a secure server room, the melted form of an unknown man clutching a message of doom from another world. A world, it turns out, in orbit of our own. Hidden in the dark recesses of a nether dimension called The Strange. A dimension that hosts countless other micro-worlds, many of them copies—or recursions—of Earth itself. Worlds home to beings sometimes jealous of our own. Worlds filled with dangers and riches, mysteries—and answers. Myth of the Maker, written by Bruce R. Cordell, is the first official novel set in the universe of The Strange, and is presented in a deluxe, limited hardcover edition.
Navigating a reality of pure sound, a realm with only two dimensions, or a plane where time is inconstant, can be a serious challenge to Numenera characters—and an even greater challenge to Numenera GMs. Enter In Alternate Dimensions, which gives the GM three critical tools that make exploring alternate dimensions fun for everyone (well, maybe not fun for everyone, but at least truly interesting).