Iadace, and welcome to Cypher Chronicles.
Get Cypher Chronicles, and other MCG news, delivered right to your inbox! Enter your email address and click the Subscribe button in the right-hand column, and you'll never miss a post. You can also suggest topics for Cypher Chronicles by emailing us at cychron@montecookgames.com.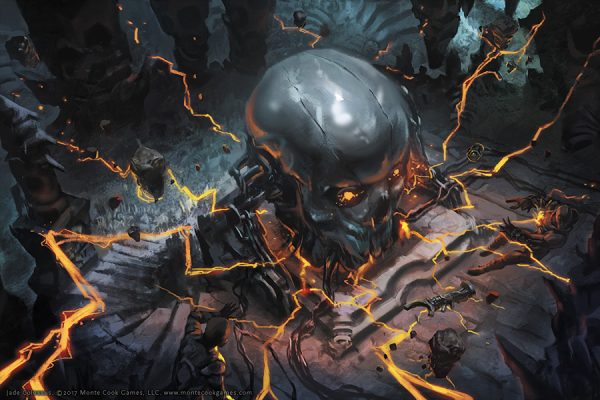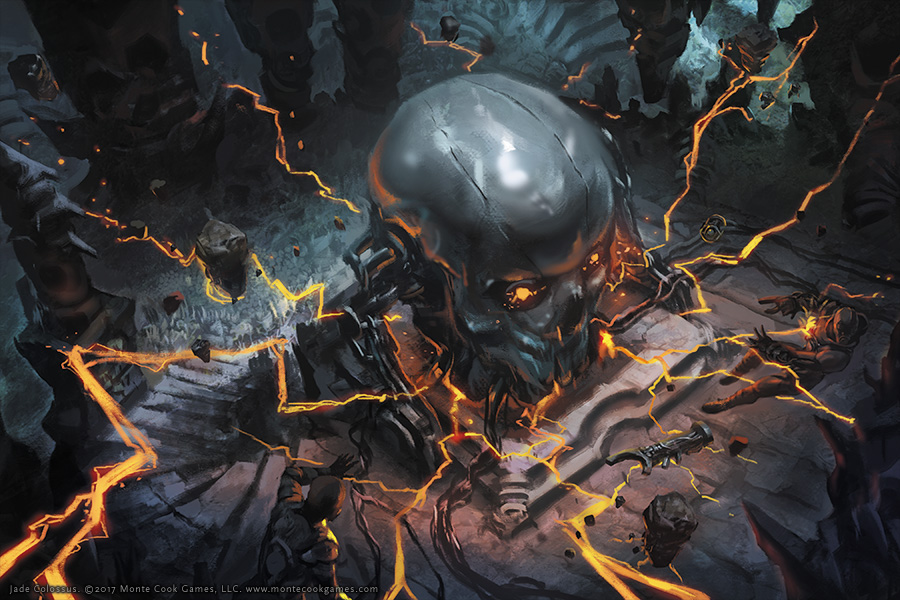 If you preordered Jade Colossus: Ruins of the Prior Worlds from the MCG Shop, your copy is making its way to you. And very soon, if it has not already happened, you will receive your redemption instructions for Jade Colossus in PDF.
Gen Con is coming up fast!
In additional to their other duties, Charles and Bear have been hard at work on the design of the MCG Gen Con booth (2519). We have a new location this year, and we're hoping to make the very best of it, so please come visit us.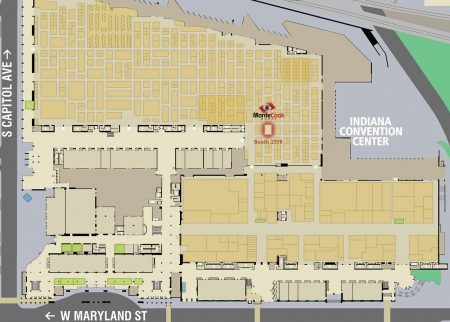 There are still spots left in our events and seminars, including seats in the interactive Make Your Invisible Sun Character workshops. Making a character for Invisible Sun is an active, collaborative, and unique experience, which results in a character you can't wait to play. Currently, we've scheduled two Make Your Invisible Sun Character workshops (Game IDs WSK17119175 and WSK17119178), and Gen Con has told us if we fill up those two workshops, we can add more, which we think would be super. So, if your Gen Con schedule isn't full, we would love to see you at our events.
If you can't make it to Gen Con this year, we'd love for you to take part in Recursion GC17. During Gen Con weekend, August 17th-20th, our Asset Team members will run events at friendly local gaming stores using the exact same adventures being run at Gen Con proper. To see if your FLGS is participating, check out Recursion GC17.
Invisible Sun Directed Campaign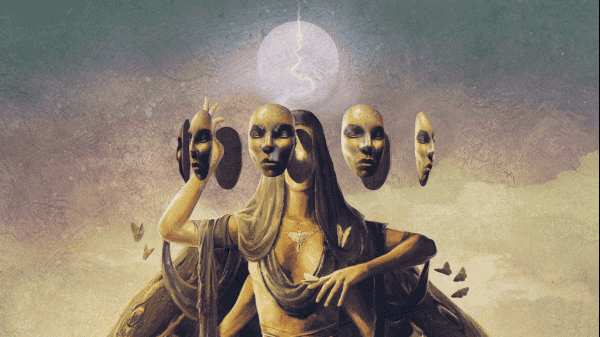 One of the aspects of the Invisible Sun Kickstarter campaign and preorder sale that most excites me is the Directed Campaign. If you're not familiar with the Invisible Sun Directed Campaign, it is a subscription service that runs for twelve months and delivers digital content and physical props tailored to your players and campaign. I'm doubly excited about it. First, I can't wait to see what awesome stuff the design team comes up with for the content and props. Second, I get the pleasure of delivering these goodies to the recipients, which makes me very happy.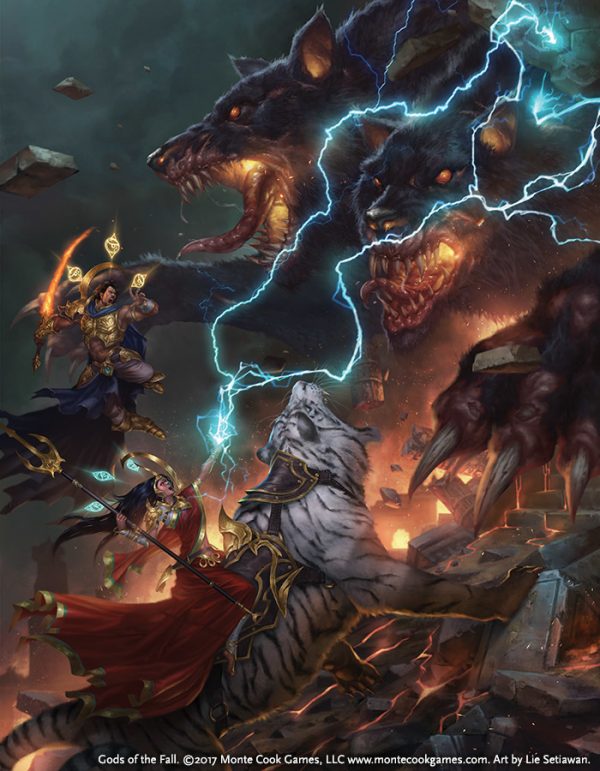 If you're looking for inspiration for your Gods of the Fall campaign, the Dictionnaire Infernal, created by Jacques Collin de Plancy in 1863, is filled with evocative descriptions and illustrations of demons of all types. (And because it is so old, it seems very mystical to me.) And if the occult horror genre is new to you and you'd like to read more, check out this short list complied by Matt Staggs, So You Want to Read Occult Horror: Here's Where to Start.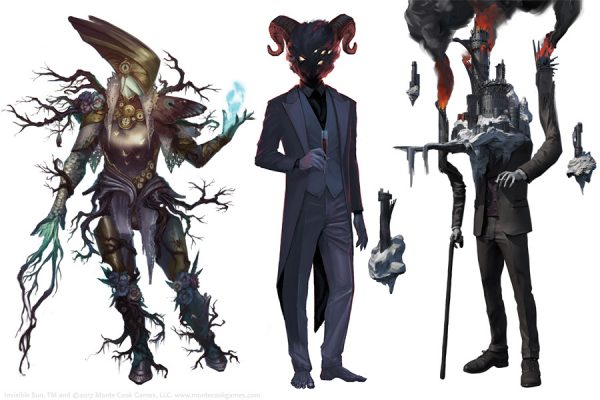 We've two articles to share with you this week, and they're both about Invisible Sun. Sean's article, Vislae Aren't Like Other People, gives you a glimpse into the characters he and a few others are playing in Monte's Invisible Sun campaign. The Path of Notes is an article from Bruce, and takes us behind the scenes of Monte's Invisible Sun campaign to see the unique way each player keeps session notes.


#Numenera Weird Discovery game at Narxoz University, Kazakhstan. Three players new to Numenera, one to RPGs @ShannaGermain @MonteCookGames pic.twitter.com/eX7l29ew5E
— KazakhCon (@KazakhCon) July 9, 2017
Setup and ready to rollCome out to Beyond the Board in Dublin, Oh to play a #Numenera demo of Jade Colossus#CypherSystemMonte Cook Games
Posted by Trent Slabaugh on Saturday, July 15, 2017


Cathy Wilkins, human-of-all-trades and MCG illustrator, has just launched Little Soap of Horrors on Etsy. If you like baby beasties, you're going to like her handmade soaps.
This is unusual, and could be really fun. Brendan Bradley has launched a Kickstarter to fund BattleMat, a personal training program that uses fantasy card game strategies and lore to make working out more fun.
James D'Amato and the team at ONE SHOT have launched a Kickstarter to create The Dungeon Dome, a multimedia actual play project, set in a fictional gladiatorial arena where teams of over-the-top heroes battle for wealth and glory, with active audience participation.
A mysterious cult worships something called "the Vortex" in a temple like nothing anyone in the Ninth World has ever seen. PCs explore the strange complex to find a missing boy, and become embroiled in multiple scenarios, one of which might just take them unimaginably far from home! This 18-page adventure was the Gen Con 2013 Numenera "launch" scenario, presented in two parts, and is ideal to use as an introduction to the game, a stand-alone scenario, or as part of an ongoing campaign. Also included are six pre-generated characters, so you have everything you need to play.