A very Numenera Cypher Chronicles awaits you. A brand new Numenera stream with an exciting premise is launching tonight at 4 p.m. Pacific on Tablestory: Simulacrum. Watch live with us, and enter their raffle to win a Numenera Discovery and Destiny Slipcase Set.
Plus, Darcy explains why she adores Numenera setting material the most as a GM and is over-the-green-banded-moon about the upcoming Liminal Shores Kickstarter. In our recommended links section, you'll get hype about larvae and a cool gaming newsletter.
You can get Cypher Chronicles, and other MCG news, delivered right to your inbox! Enter your email address and click the Subscribe button in the right-hand column, and you'll never miss a post. You can also suggest topics for Cypher Chronicles by emailing us at [email protected].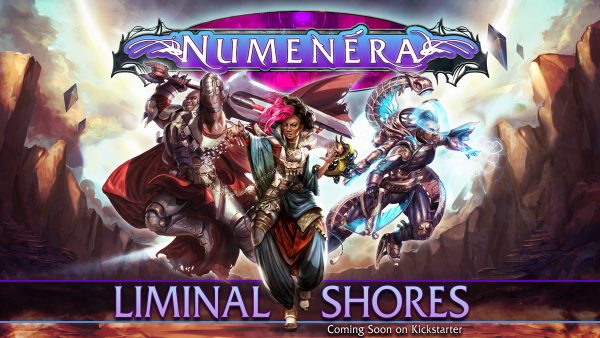 One of the most valuable assets as a Numenera GM is inspiration for a weird, wild setting. The mechanics of the Cypher System take a lot off of the GM, helped further by my use of decks like the Cypher Decks, XP Deck, and Creature Decks. What remains? All the work of storytelling, checking in with players, and keeping that setting weird.
Now, I'm a marine biologist—I can get you some weird stuff. The trick is finding new kinds of weird and avoiding the first thing that comes to mind (which often will be something you've used before). When I prep, I love diving into setting material for Numenera. The books have beautiful art, maps, and new weirdness to keep my game fresh and take my players to new places.
I'm thrilled that we'll be taking the Ninth World to some really wild new places with upcoming Kickstarter Liminal Shores! It launches Tuesday, August 13th, and will feature these three hardcover books:
Voices of the Datasphere opens up a whole new aspect of game play, as characters explore the reaches of the datasphere.
Liminal Shore offers a new land in the Ninth World, discovered only through clues found in the datasphere. What new people live there? What wonders do they command? What secrets can they reveal about the mysterious prior worlds? Do they have cyphers and artifacts never before seen by anyone from the Steadfast or the Beyond?
Edge of the Sun brings us a jaw-dropping, entirely new adventuring locale out in the infinite void, and thrilling, epic adventures that potentially affect the entirety of the Ninth World itself.
Share your excitement with the hashtag #LiminalShores! We can't wait to show you what's in store.
A new Numenera stream begins tonight at 4 p.m. Pacific: Simulacrum by Tablestory. The premise of this show is unique and an amazing reveal, so while I won't spoil the details, I can tell you that I've spoken with GM Wacksteven and player Pumpkinberry and they have some wild ideas that are going to be amazing to discover. The GM is also keeping many of these ideas secret from the players, so get ready for a rollercoaster of surprises.
To celebrate, they're doing a raffle of the ENnie Award nominated Numenera Discovery and Destiny Slipcase Set! Enter the giveaway here.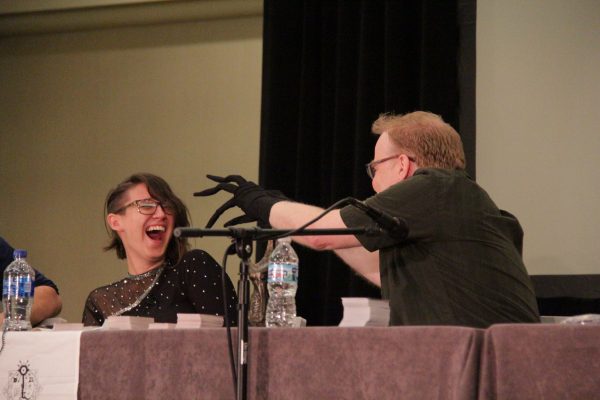 Gen Con
Gen Con is upon us! We will be at Gen Con next week, and we would love to see you there. Meet us in Booth 2519 and at our events, panels, parties, and seminars. Our official seminars are listed below, but you can also check out the full list of MCG Gen Con appearances, including Shanna's and Monte's Guest of Honor events.
MCG Seminars
Thursday, 7 p.m.: An Evening with Monte Cook Games

Come hang with Team MCG in an intimate, unique experience. Join us to celebrate another great year, the launch of Your Best Game Ever, the Cypher System Rulebook, and plenty of Numenera and Invisible Sun releases!

Friday, 3 p.m.: How to Have Your Best Game Ever

Join members of Team MCG and Your Best Game Ever contributors to get tips on having the best RPG games ever. There will be GM tips, player tips, & game stories with a positive spin.

Saturday, 10 a.m.: Instant Adventure with Monte Cook Games

Work with designer Sean K Reynolds to create an adventure from scratch, transforming an idea into a complete adventure in just 30 minutes. Then watch it run live for an unsuspecting panel of players!


I was reading this really cool post on larval forms across animals and learned that the word "larva" in Latin means "evil spirit, ghost, or mask." Invertebrate larvae absolutely blow my mind, and few capture their majesty better than Rafael Marine Microfauna on Twitter. His videos consistently spark joy! Guess which adult animal this little guy will grow up to be:
More Seats at the Table is a newsletter I adore! Its focus is to "highlight analog games made by designers and creators who are cis women, non-binary and agender folk, and trans folk." Sign up for their free newsletter and you can support them on Patreon. There are so many cool games out there it can be hard to keep up, but this newsletter helps me get a great view of a wide variety of games at a glance.